Greek-style Baked Fish with Feta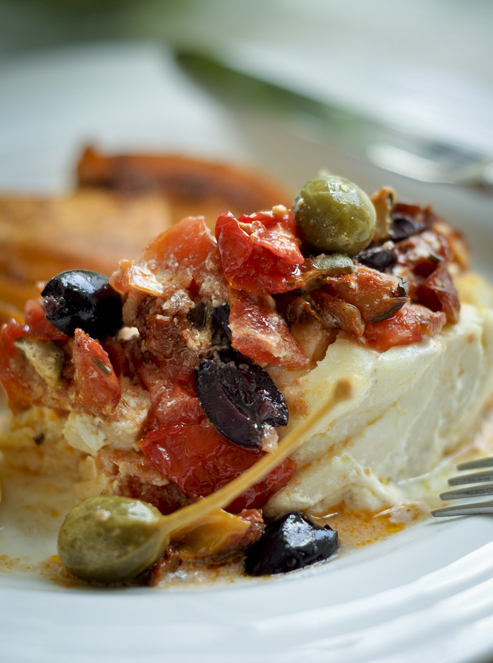 Free from: Gluten, cow's dairy, eggs, soy and yeast
I've been making this dish for years because it's easy to do, healthy and the ingredients are basic, flavorful Mediterranean staples.
Typically I don't measure anything, I just chop and spread the ingredients over the fish until it looks about right. The point is, you might want more feta or fewer olives. I'll give you an outline. I typically use pitted black kalamata olives but nicoise work too. If you prefer green olives or stuffed olives go ahead. The key is getting a piece of fish thick enough that allows the vegetables to cook in tandem with the fish, without overcooking the fish.
Meaty white fish fillets work best. I used to use Chilean Seabass (actually Patagonian Toothfish) but it's difficult to verify if it's been caught sustainably. If I don't feel comfortable with the source I get Alaskan cod. In the UK a good choice is Icelandic cod.
For more information about making ecologically friendly fish choices visit Monterey Bay Aquarium's Seafood Watch. It provides a wealth of constantly updated information.
Preheat oven to 375°F (190°C)
You'll need a baking dish large enough to hold fish so fillets have a bit a room around them. I generally use enamel like Le Creuset or a glass baking dish.
Serves 4
Ingredients:
Extra virgin olive oil
4 thick (1-1½-inches or 2.5-4 cm)) fish fillets about 6 ounces each (170 grams) or 1½ pounds (just under 700 grams) cut into serving size pieces
2 medium tomatoes chopped into small dice
¾-1 (180-240 ml) cup pitted black olives, roughly chopped
½ cup (120 ml) of capers
½ pound feta (225 grams); make sure it's sheep or goat, preferably stored in salty brine)
2 lemons
Salt and pepper
Preparation:
1. Rinse fish fillets and pat dry
2. Pour about ¼ cup (60 ml) or more of olive oil in baking dish (to coat bottom).
3. Lay fish fillets in baking dish and cover with in this order: tomatoes, olives, capers and feta.
4. Zest on lemon and sprinkle over top. Squeeze juice of that lemon over as well.
5. Sprinkle freshly ground pepper. and drizzle with a bit more olive oil.
6. Bake for about 20-25 minutes depending on thickness of fish. I sometimes zap under a hot broiler for a minute to brown the feta, but be careful yo don't over cook the fish.
7. Taste the juice and ad a bit of salt or let people do it at the table to their individual tastes.
8. Plate with rice or quinoa and evenly distribute juice and bits from baking dish over all. Garnish with lemon wedge. Serve with a green salad.
Variation: Replace chopped olives with tapenade. Spread over fillets first then add tomatoes, capers etc. and proceed. You can also pour a scant ½ cup (120 ml) of white wine in the baking dish to produce more juice. Usually though the fish and vegetables release enough juice to satisfy me.