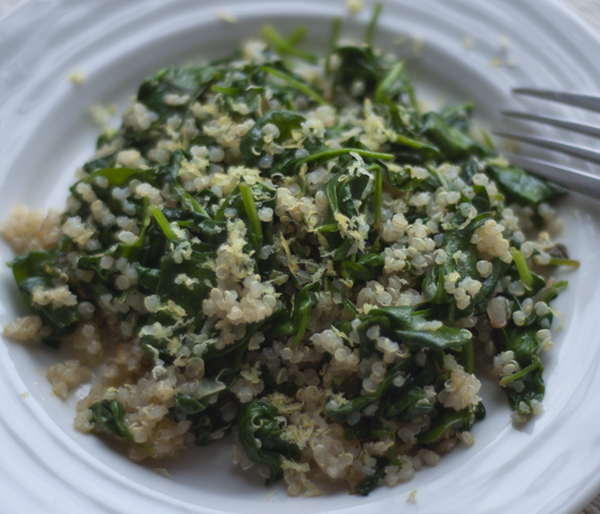 Free from: gluten, eggs, dairy, yeast, soy and corn
When I was growing up one of my favorite comfort foods was Spanakoriso — Greek spinach and rice. It wasn't fancy and in fact my mother used frozen spinach. Simply saute a chopped onion in a healthy douse of olive oil, add one cup of white rice and place two boxes of frozen chopped spinach on top. Turn heat to very low. As the spinach defrosts break it up with a spoon and stir into the rice. The moisture from the frozen spinach cooks the rice. When the rice is cooked, it's done. Add some salt, juice of one lemon and a bit of pepper. Voila! Greek comfort food.
As I got older I've switched to fresh organic vegetables almost all the time. I also use quinoa because it has more protein. This recipe is a simple spin on my childhood favorite.
Ingredients:
1 cup quinoa, rinsed
¼- ½ cup extra virgin olive oil
1 medium onion, chopped
½ teaspoon coarse salt or Maldon sea salt flakes
1 teaspoon dried or 1 tablespoon fresh chopped dill
About 1 pound (or 500 gram bag) fresh spinach thoroughly washed and drained (I use baby spinach that comes pre-washed)
Preparation:
1. Put rinsed quinoa in saucepan with 2 cups water. Bring to a boil, lower heat and cover. Quinoa will be ready when water is absorbed; about 15 minutes.
2. While quinoa is cooking, heat olive oil (it should coat the bottom of the pan liberally), sprinkle with salt and dill and add onions. Cook until onions are transparent.
3. Add spinach and toss until all the leaves are coated with oil and start to wilt. Let cook a few more minutes until spinach is soft.
4. Add the cooked quinoa to the spinach and mix evenly. Add juice of one lemon, or more if you like. Taste and adjust seasonings.
Enjoy! If I'm home alone I might eat just this for lunch or dinner. Otherwise it sidles up nicely with roast chicken, lemon and garlic or grilled lamb chops with rosemary.