Raspberry Thumbprint cookies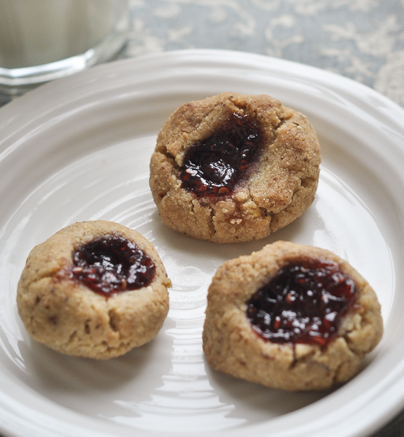 Free from: gluten, dairy, egg, yeast, corn and soy. Vegan. Contains nuts.
Valentine's Day is just around the corner and what better way to say "I love you" than these home-baked thumbprint cookies with passionate red raspberry centers. Don't get me wrong, I love dark chocolate, red wine, truffles (the white ones from Italy), champagne and garlic — all reputed to have aphrodisiac effects. But a home-baked morsel of sweet perfection and made by hand is a truly heartfelt sentiment.
I suppose you could make these heart-shaped, but I have yet to try.
Makes 20-24 cookies
Ingredients:
¾ cup ground almonds
½ cup sugar (Palm or granulated)
1 cup gluten-free flour ( I used Dove's plain white gluten-free blend)
¼ teaspoon salt
1 Tablespoon ground flax seed
½-¾ cup dairy-free "butter" ( I use an organic sunflower-based one)
½ teaspoon of vanilla
¼ cup raspberry jam
Preparation:
Pre-heat oven to 350° F (180°C)
1. Mix ground almonds, sugar, flour, salt and flax seed in a bowl.
2. Add ½ cup of "butter" and vanilla then using a pastry blender incorporate with the dry ingredients until the mixture forms coarse lumpy bits. Add a bit more dairy-free "butter" if the mixture is too dry to form into a ball.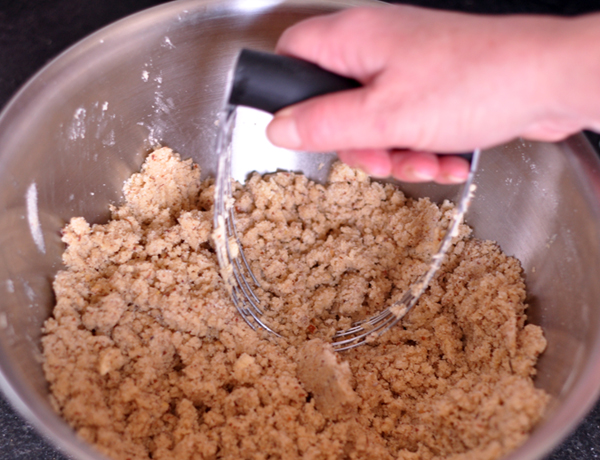 3. Pick up a hefty tablespoon of the mixture and roll it in your hands to form a ball. If it completely falls apart, you'll need to add a bit more fat.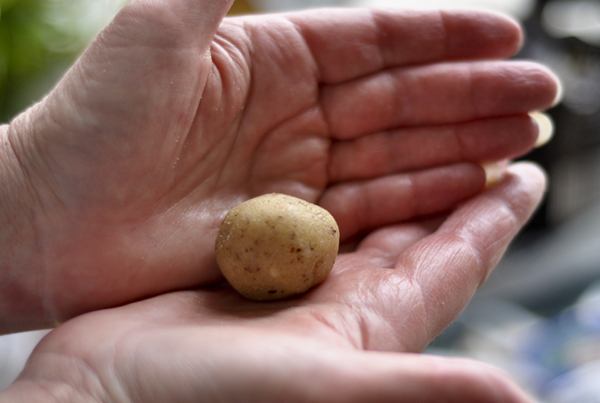 4. With the ball of dough in your hand make an imprint with your thumb. The outer edges might look a bit cracked but that's ok as long as the cookie holds it's shape.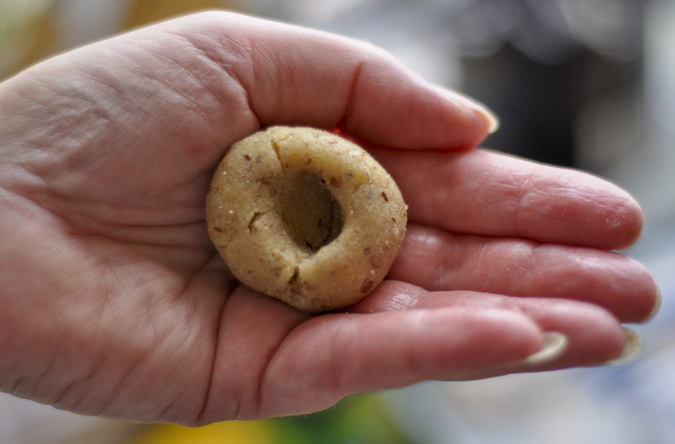 5. Place the cookie on a cookie tray lined with a silicone, non-stick baking mat. (I recently discovered these silicone sheets and love them for making cookies and rolling out pie dough; they are well worth a small investment.
6. Continue rolling the balls and imprinting your thumb until the dough is used up. The cookies do not spread much so they can be placed fairly close together.
7. Bake cookies for 8-10 minutes. they should still be soft, but feel a bit crusty to the touch.
8. Remove the baking tray from the oven and drop a small amount of raspberry jam in the center of each cookie.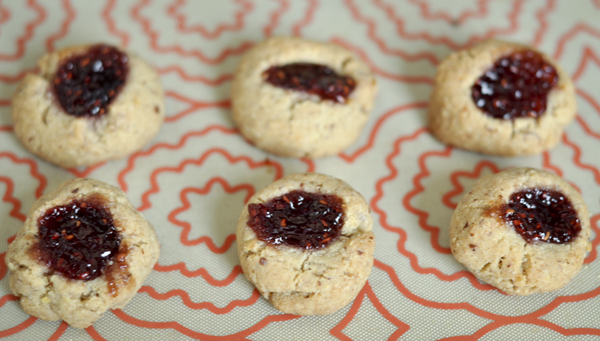 9. Return to the oven and bake for 5 more minutes. Cookies should be firm and golden. Remove from oven.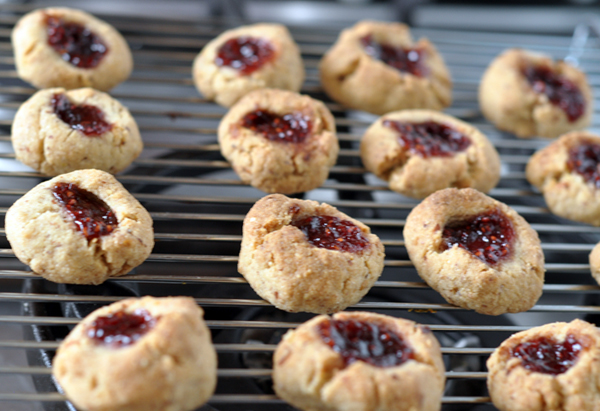 10. Let cool a bit on the baking sheet then move to a rack to cool completely (by now you will have eaten at least two cookies).