Gluten-friendly Osteria Basilico, near Portobello Market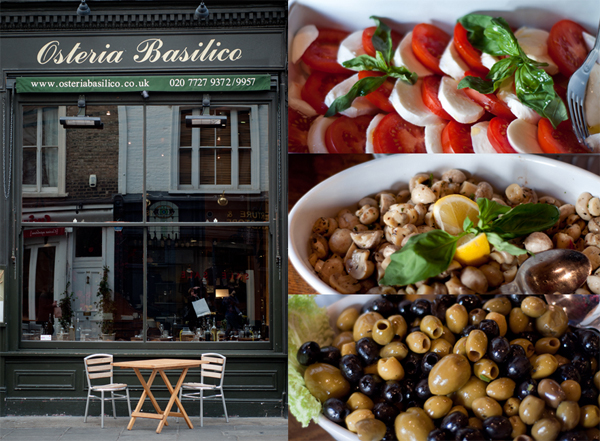 Will cook your gluten-free pasta if you bring it.
Osteria Basilico is one of our favorite restaurants in all of London. It's probably not on a top ten list; it isn't very big; and it doesn't try to be more than it is. What it is, is a deliciously authentic, Italian, Italian restaurant off Portobello Road in Notting Hill.
We found it by chance after picking our way through the crowds peering into the giant woks of beans and sausage and African food and roast pork on a spit on our first foray to the Portobello Market. It truly did look and smell delicious and we have on occasion brought food home from some of the steamy stalls. This day, however, we wanted a sit down with a glass of wine, ok make that a bottle. And I needed to get off the shoulder-to-shoulder Portobello Road, strangling in tourists and newbies to London like us.
Don't get me wrong, Portobello Market is a visual and shopper's playland if you can handle the crowds. And there are stores on the side streets that if I go into, my wallet flies open uncontrollably. Ceramica Bleu where Ernie always tries to bargain and they are good natured to banter with him (we did get a free Sophie Conran plate once); The Spice Shop where I first had a slightly surly shopkeeper tell me she hated New Yorkers after I inquired about her accent, and then I told her that's where I grew up and she got nicer (maybe she was just having a bad day). That said the spice selection is the best, and on subsequent trips I haven't run into her again. And one of my very favorites, Books for Cooks where they stock thousands of cookbooks and will ship anywhere in the world. They even offer workshops where they cook from the cookbooks. How great is that? Yes there is a travel book store in Notting Hill that apparently was the inspiration for the shop in the movie, but it is not the one from the movie, and I've never once seen Hugh Grant or Julia Roberts there. Surprisingly, we went in one time with a visiting friend and were rudely told it was definitely not that store and no pictures were allowed. Quite hysterical, they are missing a huge marketing opportunity on that one.
Instead, we headed off one block to Kensington Park Road, parallel to Portobello without the harried crowds and a smattering of restaurants that all looked interesting. Three were Italian* on the same block. We picked Osteria Basilico because the host chatted us up outside in a congenial, not pushy, way and he was clearly Italian. And when we peered in the door there was an antipasto table laden with grilled eggplant and mushrooms and mozzarella di bufala , and, and….
We walked through the very tall double doors into a tiny dining room. As I recall the manager got up from his seat close to the kitchen so they could squeeze us in. Also, this was before we knew we had all the intolerances so we ate whatever we wanted: antipasti from the buffet, real pasta, cheesecake. I probably had Bolognese sauce or meatballs because for me if an Italian kitchen makes a good sauce and a decent meatball the rest of the food is bound to be good.
We've been back many times and up until our last visit I've skirted the whole pasta issue by eating other things: grilled seafood platter (one of the best I've ever had); grilled calamari with chili (perfectly cooked, very fresh); osso bucco with saffron risotto or the simply grilled fish of the day.
Since then I've become a more ardent intolerant (kind of like a Feminist in the early 70's) and call restaurants and ask if they will cook our gluten-free for  us (Osteria said of course). I don't know what I would say if they said no, because no one ever has. So I brought it; they cooked it; we ate it. I think part of the reason Italian restaurants are open to this is almost always there is someone in the kitchen or on the floor who is also gluten intolerant.
We try to get to Osteria around 12:15 before the usual London lunch crowd. (I think if we ever moved back to London I'd seriously consider trying to live in Notting Hill. ) There were already families with strikingly adorable children speaking French and Italian and English occupying half the tables upstairs that seats maybe 30. Downstairs seats another 40 or so. By 1:15 there's a cluster of hungry regulars hanging out on the street.
The ceilings are at least 18 feet high. The walls are plastered and painted terra cotta. There's a warm polished wood staircase leading to the downstairs dining room with a fireplace. The furniture is simple wood, which isn't the most comfortable, but charming.  An enormous flower arrangement towers over the carved Italian buffet brimming with antipasto. And there's a constant buzz as waiters dance between the limited aisle space back and forth to the wee kitchen.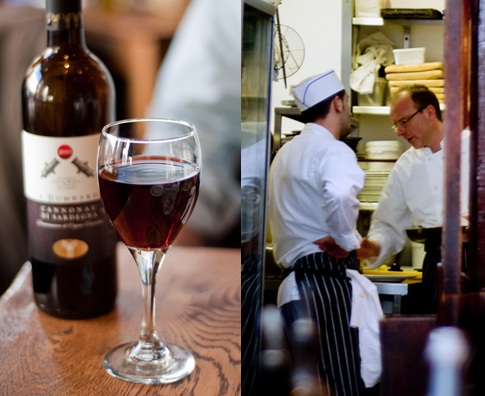 Look into the kitchen and every so often one of the chefs comes out and looks around the room, asks a waiter lord knows what with lots of gesticulating, and then dashes back into the kitchen with his arm waving already deep in conversation with one of the other cooks. It's the kind of place that feels good. It caters to locals and families and people like us who find their way off the main drag.
The wine, by the way, is a Cannonau di Sardegna — a medium-bodied, ruby red with the flavor of berries and spice, maybe coffee but my palette isn't that discerning. It is called vino nero or black wine because it has a higher concentration of pigment than other red wines. We drink Cannanou because I read in The Blue Zones that sheep herders living in the mountains of Sardinia have 20X more men living beyond 100 than almost anywhere else on Earth. Guess what they drink? Cannanou di Sardegna. It has more concentrated pigments that provide more antioxidants than any other wine.  And they drink about a bottle a day! Of course they also tromp about five miles a day up and down hills and eat a Mediterranean diet with lots of fruits and vegetables, whole grain bread, hard sheep's milk cheese and very little meat according to Dan Buettner, the author of Blue Zones and a new book called Thrive about where the happiest people live.
Now back to the food. To start, we shared a big plate of antipasti: grilled eggplant, peppers and zucchini; marinated mushrooms; and tomatoes with mozzarella di bufula (for Ernie). And olives.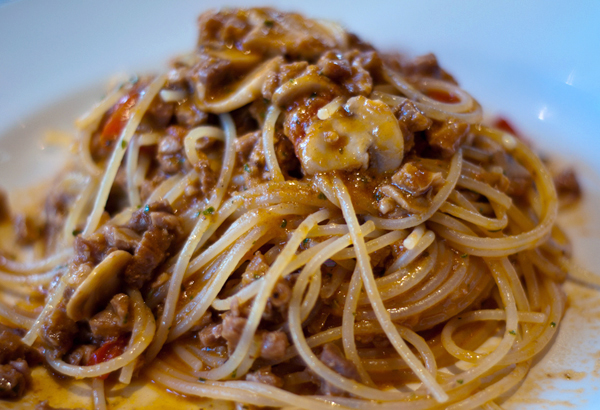 I had the special pasta sauce of the day. A richly flavored lamb ragout with small bits of lamb and mushrooms and a generous splash of truffle oil. The balance between the tomatoes, lamb, mushrooms and truffle oil was perfect. The woman at the next table sat down and I heard her sigh when she smelled my truffle oil. The lamb added a sweetness to the sauce that could only have come from a long-simmered stock. Served over our favorite gluten-free pasta, Saluté that comes from Italy. We get it at Waitrose and it pretty much tastes like the real deal. It's corn based with rice and also has lupine and pea concentrate, both high in protein. Lupine is a legume similar to peanuts, so if you have a peanut allergy, stay away. Note to self, buy a ton to ship back to the States before we leave.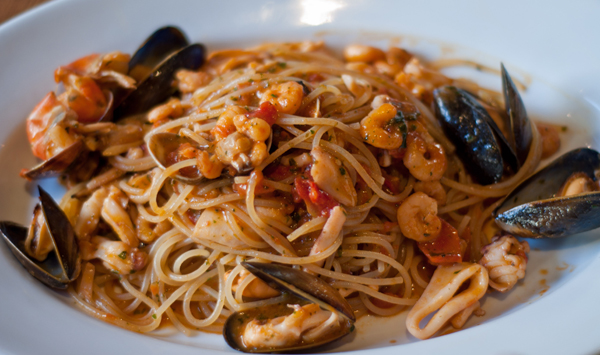 Ernie had the pasta with mixed seafood: clams, mussels, calamari, and prawns in a light tomato sauce that didn't overpower the seafood like a heavier tomato sauce can. He added a  few shakes of dried peperoncini flakes. Perfect.
They brought us each a complimentary limoncello and asked if we wanted dessert. No thank you. We were full. No dessert. Couldn't possibly. Let's just take a look at the menu. Oh they have sorbet. What flavors? Chocolate? You have chocolate sorbet, no dairy? Si, si. Now you have to realize that the only place I've had chocolate sorbet in London, or anywhere for that matter, is Locanda Locatelli a wonderful one-star restaurant that caters to gluten-intolerants like us. And now here, they've had it at Osteria Basilico all this time and I never noticed! We each ordered one scoop and I ate mine and half of Ernie's. La dolce vita.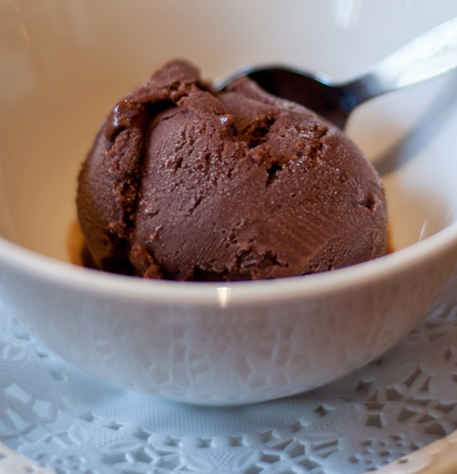 *Mediterraneo and Essenza are sister restaurants of Osteria Basilico on the same street. I suppose we ought to check them out.
29 Kensington Park Road
Notting Hill Gate
London
W11 2EU
Tel: 020 7727 9957
Monday – Friday
Lunch 12.30pm-3pm
Dinner 6.30pm-11.30pm
Saturday
Lunch 12pm-4.30pm
Dinner 6.30pm-11.30pm
Sunday
Lunch 12.30pm-4pm
Dinner 6.30pm-10.30pm