Roast Pumpkin with Rosemary and Toasted Walnuts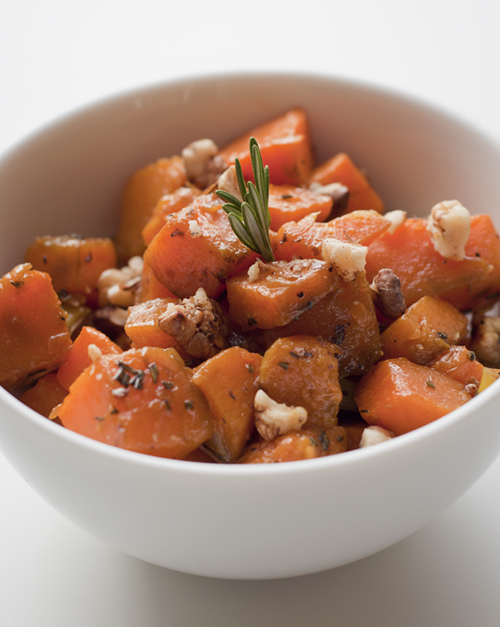 Free from: Gluten, soy, eggs, dairy, corn and yeast. Vegan.
Yikes, I just noticed this is another squash recipe. Maybe my body is craving vitamin A.
This cozy dish comes together lickety split. The sweetness of the pumpkin combines nicely with the piney, sweet taste of the rosemary. The final crunch of toasted walnuts add an earthy finish.
This is the long version: We were just back from Seville where we indulged heartily both lunch and dinner for five days straight. The next morning I headed to Regent's Park for my walk/run thing that I do when consumed by the need to feel fit.
Walk/Run Interval Exercise: This works for me and is hard to say you can't do… walk two minutes/run one minute for five cycles. Plus a ten minute walk each way to the park. In 35 minutes I get in a brief interval workout that seriously makes a difference. If I were to do that three, four, or  five days a week I can  lose a pound a week without changing what I eat. I know because I've done it, however I got a bit slack (in more ways than one) over the holiday stretch. You can increase the workout by upping the time running by a minute at each interval. I always feel amazingly virtuous after I've done this. It must be the runner's high.
So, on my way back from the park I stopped at our local healthy grocer where they have lots of gluten-free items, my favorite coconut milk and some, not all, organic vegetables. I bought a beautiful wedge of vibrant orange pumpkin. The following quick and easy recipe is what came of it.
Preheat oven to 350°F (185°C)
Ingredients:
1 pound (about 500 grams)  fresh pumpkin
3-4 Tablespoons of olive oil
1 Tablespoon chopped fresh rosemary (dried won't be the same)
2 small baby leeks or a shallot, roughly chopped
½ teaspoon sea salt or crushed Maldon salt flakes
⅓ cup roughly chopped walnut pieces
1 Tablespoon Balsamic or red wine vinegar (optional)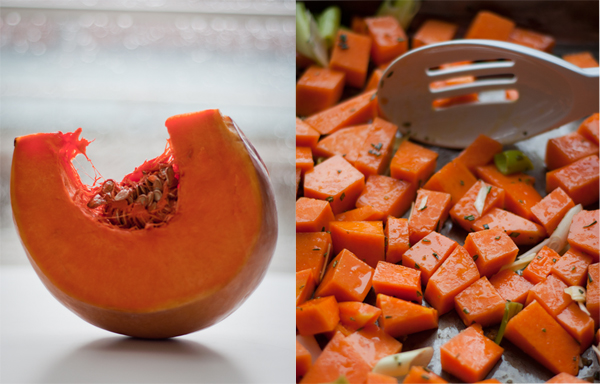 Preparation:
1. Scoop out seeds and peel pumpkin. Cut into roughly 1-inch (2.5 c) cubes.
2. Spread pumpkin cubes in one layer into a baking pan. Drizzle with olive oil, and sprinkle with rosemary and salt. Divide chopped leeks or shallot over top. Stir and spread evenly.
3. Bake pumpkin mixture for about 20-30 minutes until fork tender.
4. Place a small saute pan over medium heat. Add walnut pieces and let them brown. Shake the pan and keep an eye on it. The time between smelling them turn brown and burnt is infinitesimal.
5. Place pumpkin  mixture in a serving bowl. Add vinegar if using and stir. Add walnuts. Taste for seasoning and add more salt and rosemary if needed.
That's it. This sweet and savory dish is warming on a cold winter day and packed, as I said, with vitamin A.
Variation: For a more robust meal, saute two or three cloves of chopped garlic in a bit of olive oil. Add a 14 ounce can of tomatoes, a can of cannellini beans rinsed and drained and a bay leaf. Let cook while pumpkin is baking. When pumpkin is cooked mix with sauce and beans for a hearty stew.