Gluten and dairy-free Thai Green Curry Chicken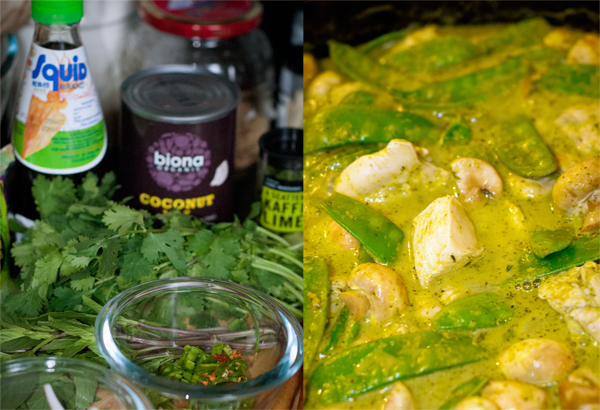 Free from: Gluten, Dairy, Eggs, Soy and Yeast
Ever since I recommended having shirataki noodles with Green Curry Chicken I've been craving this dish. Truth is, lots of times I have just used store-bought green curry paste (she said hanging her head in shame). As luck would have it, I was on the bus going from my pilates class to Planet Organic  when I spied a Thai grocery store on Chepstow Road just off  Westbourne Grove. I hopped off hoping to find  the authentic ingredients I would need.
For the most part I did: fresh lemongrass, Thai basil and galanga (Thai ginger). I also got some gluten and soy-free fish sauce, not knowing how old the bottle was on the refrigerator door. I already had organic boneless chicken breasts, fresh cilantro (coriander) and freeze-dried kaffir lime leaves. The Thai store had frozen kaffir lime leaves but I had smelled the freeze-dried ones I got at Waitrose and they were quite fragrant so I decided to go with them.
I don't have a fancy food processor in London, just an inexpensive blender. So, I chopped everything first, thinking the blender might not handle it. A food processor would probably do the job all in one go.
Working with Chili's
I can't tell you how many times I've chopped fresh chili's and then rubbed something I shouldn't have. You either have to be extremely careful about not touching the seeds or veins or wear disposable plastic gloves. Then wash your hands carefully when you're done.
For fresh chili's, cut off the stem, cut in half, carefully remove seeds and veins then chop. For dried chili's, chop if they are big; sometimes a recipe might want you to soak them first. Birdseye chili's are small so I just threw them into the blender whole.
Ingredient Exchange Options
I was lucky enough to have true Thai ingredients. In particular, Thai basil is distinctly different from regular basil. I think I would try a combination of fresh basil and mint to approximate the taste of Thai basil if I couldn't get it. Ginger root will probably work as well as galanga. If you can't find any form of kaffir lime leaves I would use grated lime peel. You'll have to play with the amounts to get it to your taste.
You could easily replace chicken with prawns or for a vegan dish, make sure to use vegetarian stock and replace chicken with tofu.
Note: All the ingredients up to the cocnut milk are going into the blender. Don't waste your time chopping into tiny little bits; rough chop is OK.
Makes enough for 3-4 portions
Ingredients:
2 stalks fresh lemongrass, thinly sliced and one stalk for sauce later
2-3 fresh green chili's (Thai or jalapeno), deseeded and chopped
6-8 dried Thai birdseye chili's (if you have fresh use them whole; you'll have to taste to manage the heat)
1 medium shallot chopped or about ¼ cup
4-6 cloves garlic, chopped
2-3 tablespoons minced galanga root
1 cup fresh cilantro, chopped
1 cup Thai basil leaves, chopped
8 freeze-dried kaffir lime leaves or fresh if you can get them
1 teaspoon ground cumin
1 teaspoon, ground coriander
3 tablespoons gluten-free fish sauce
¼ cup fresh lime juice
½-1 teaspoon brown or palm sugar
1 can coconut milk ( I use full fat)
1 cup gluten-free chicken or vegetable stock
1¼ pounds (550g) organic, boneless chicken breasts (4 half breasts)
1 box (punnet) small white button mushrooms, washed and cut in half
8 ounces (250 grams) sugar snap peas or
8 ounces (250 grams) eggplant cut into 1-inch cubes (small Asian eggplants would be best)
Preparation:
1. Put the first stalk of sliced lemongrass, chili's, shallot, garlic, galanga root, fresh cilantro, Thai basil, kaffir lime leaves, cumin, coriander, fish sauce, lime juice, sugar and ¼ cup of coconut milk into blender. Whirl until smooth. Taste for seasoning and add more of anything you think it needs.
2. Cut the chicken breasts into roughly 1½ -inch (4cm) pieces.
3. Heat the remaining coconut milk and stock in a wide frying pan or wok over high heat. Add the remaining lemon grass stalk chopped into roughly 2-inch (6cm) pieces and add to sauce. Stir in about half the the green curry paste and taste. Keep adding paste until it tastes good to you. (In the end I used all of it but you can add it in stages to your liking).
4. Add the chicken pieces and vegetables and stir so everything gets evenly distributed.
5. Keep heat high until it starts to bubble then turn down the heat to medium and cover with the lid slightly ajar.
6. Cook gently for about 10 minutes until chicken is white and vegetables are soft but not mushy.
7. Serve over jasmine rice, rice or shirataki noodles.