Gluten, dairy, egg and soy-free Apple Tart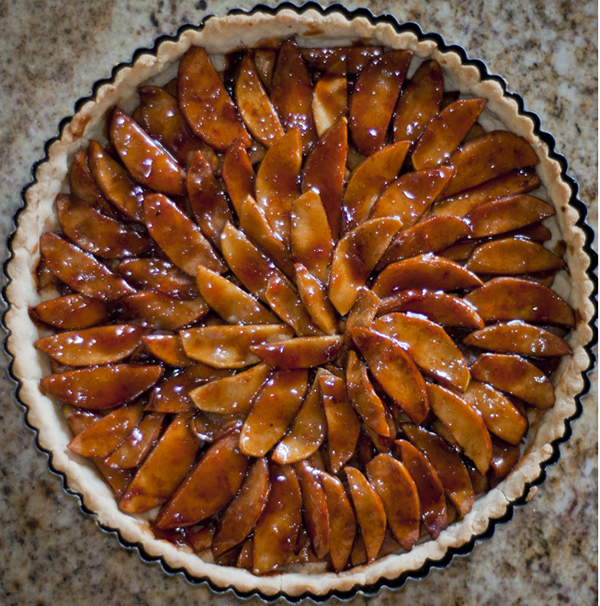 Gluten dairy, egg and soy-free. Vegan. contains nuts.
Thanksgiving is coming and I am committed to making gluten, dairy, soy and egg-free desserts. I made a quince tart when I arrived in California last week totally jet-lagged. It was delicious but the amount of dough relative to the tart pan I had was off and the crust became too thin because I had to roll it so much to fit the pan, hence no pictures. I had also used an Earth Balance Vegan Buttery Stick that worked fine but it is made from soy that I shouldn't really eat. Then I made this apple tart.
With a new, smaller tart pan from Williams Sonoma I made an apple tart using a combination of ghee (lactose and casein-free) and coconut butter. I glazed it with the quince syrup left over from my first tart. I also used ground almonds meal/flour because I wanted fewer carbs, but it also made me think of crusts I had as a kid from the German bakery where I grew up on Long Island.
I was so excited about using the ghee because it is lactose and casein free. Butter. Ok, ghee, but with the flavor of butter. It's made by Purity Farms . Like traditional Indian style ghee, the milk solids and water are removed, leaving a rich, semisoft spread for baking and cooking. I wrote to Purity Farms to ask if I could do a 1:1 switch. Howard Feldenkreis responded right away and suggested not using ghee alone; it needed to be mixed with another fat like coconut butter or shortening. So that's what I did.
Aside: As it turned out Howard was related to Moshe Feldenkreis, the creator of the Feldenkreis Method. Feldenkreis teaches you to move with less effort. It's based on the relationship between movement and thought. A practitioner subtly moves your body with gentle manipulations to help retrain your body to work better. Of course it's more complex than that but that's the gist of it. All I can tell you is when I have been worked on by a good practitioner, stress is freed, muscles release and I feel better from head to toe.
The crust, or at least my crust, also needed some gentle mooshing and cajoling to stand against the inner walls of the tart pan. With gentle manipulation the dough does conform to the sides of the tart pan. I think I let it un-chill a bit more than I should have.
I brought the tart to dinner at our friends Lindsey and Tom's who live near an amazing bakery in Capitola called Gayle's where we would usually get a pie or chocolate mousse cake for dessert. Then in the morning, Tom would normally go early and come back with a waxed white bakery bag filled with rolls and cinnamon buns, maybe a cheese danish. Since we dashed any idea of dessert from Gayle's I thought I ought to step up. We could have the tart for dessert that night and there might be a bit left for breakfast. Not so; it was gone.
In the end, Ernie suffered some stomach issues we think because of the ghee. It could be that he has a problem with butterfat, not lactose after all. His worst dairy reactions are to cream, ice cream and butter from cows. Goat and sheep products are fine. I need to look into that. We're also going to do another test, to be sure. I loved the buttery flavor of the ghee and had already used it in a wild porcini sauce we were having that night.
Finally, the tart. I used a 10¼-inch nonstick round tart pan with a removable bottom from Williams Sonoma.
Ghee and Coconut Butter Shortcrust
1 cup brown rice flour
1 cup ground almonds (or almond flour)
1 tablespoon sugar
¼ teaspoon salt
4 tablespoons ghee at room temperature
4 tablespoons coconut butter at room temperature
½ teaspoon vanilla
3-4 tablespoons ice water
Pre-heat oven to 350°F
Crust Preparation
1. Put the flour, ground almonds, sugar and salt in a food processor. Pulse to mix.
2. Add the ghee and coconut butter in little chunks all over the top. Pulse until fat is well integrated and mixture looks like coarse lumps.
3. With machine running, add a tablespoon of ice water, one at a time, until dough pulls from sides.
4. Gather dough from food processor and form a disk. Wrap in cellophane wrap and chill for at least one, if not two, hours before rolling.
5. Dust a sheet of parchment paper with a little gluten-free flour. Carefully roll dough so that it is about an inch and a half wider than tart pan.
6. Place the tart pan upside down over the rolled out dough then carefully slide your hand underneath the parchment paper. Flip the whole thing over. This is how I did it. Admittedly the edges broke a bit. I simply pieced it together (mooshing) until I had a uniform crust all the way around.
7. Cover lightly with aluminum foil. If you have little pie weights toss a few around; I used quarters because that's what I had.
8. Place tart pan on cookie sheet and bake for 8-10 minutes until crust just starts to color, then remove from oven to cool.
Note: If the bottom has any little cracks rub a little ghee or shortening over the cracks to prevent sticking once the apples are added.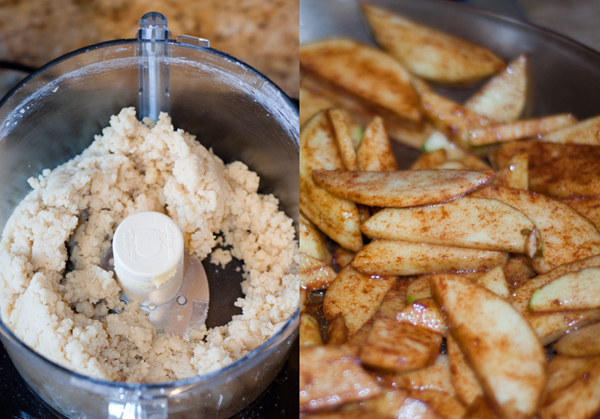 Apple Filling
6 pippin apples, peeled, cored and sliced thin*
Juice of half a lemon
2 tablespoons brown sugar
½-1 teaspoon of cinnamon (use the full teaspoon if you really like cinnamon)
2 tablespoons ghee (or vegan shortening)
2 tablespoons apple or quince jelly for glazing
*You can make a simple glaze by putting all the peels and cores in a sauce pan, cover with water and three tablespoons of white sugar and boil down until a syrup forms.
1. Toss apples in lemon juice, then add sugar and cinnamon and stir being careful not to break apples.
2. Melt ghee in wide saute pan. Add apples and saute over medium heat until the sugar just starts to caramelize.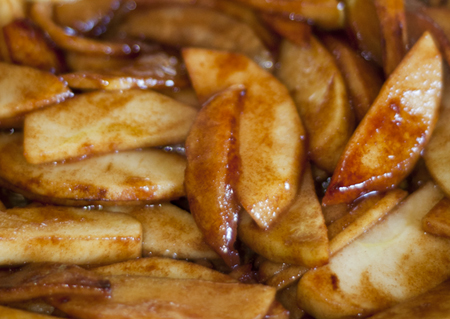 Make the Tart
1. Pour about half the apple mixture into pre-baked tart crust and spread evenly over bottom.
2. Starting from the outside arrange remaining apple slices into circular pattern.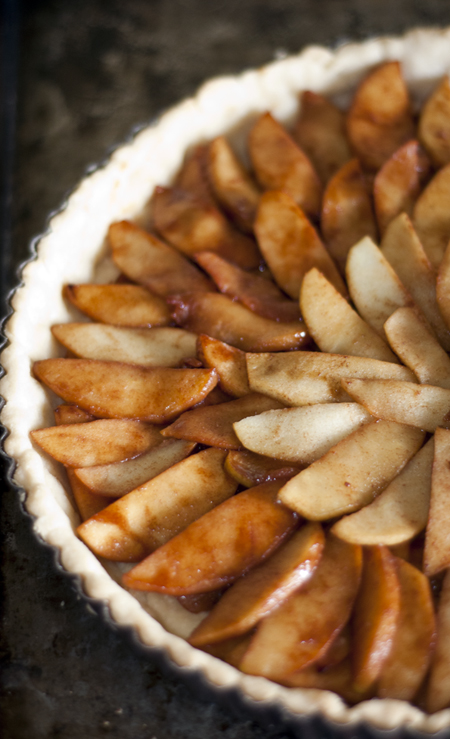 3. Place cookie sheet on middle rack of oven and bake for 20 minutes. Crust edges will have browned a bit.
4. Brush apples with warmed quince or apple jelly, or apple syrup you have made while tart is still warm.