Why I Love Tapas Brindisa and their Shop at Borough Market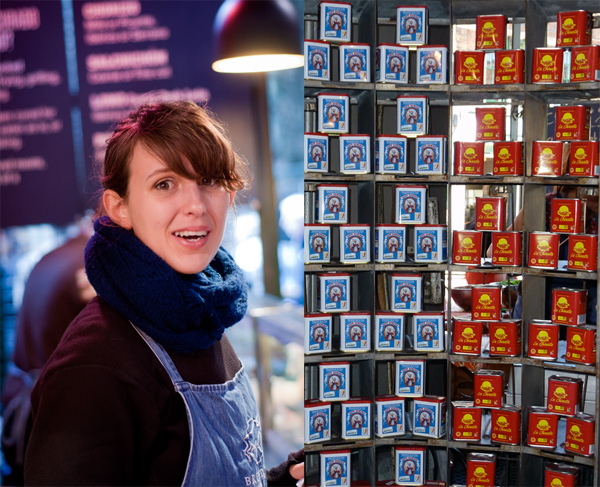 The first time we went to Brindisa we were on a food high as it was also our first foray to "London's Larder"— the Borough Market. Situated on the south bank of the Thames, under graceful Victorian railway viaducts, this vibrant food haven offers locals and tourists alike a culinary bounty of high-quality fare from more than 100 dedicated British and International vendors. This was before we knew of all our food intolerances. To say the least,  I was a bit revved up.
At the time, I was writing an article about Borough, probably the most touristed and fabulous of the London food markets. Under the guise of "research" Ernie and I were tasting our way from one end of the market to the other. Sort of like a wine tasting, without the spitting. We would buy one serving — a sandwich from Hobbs, fish and chips from Fish! Kitchen, or a cardboard punnet of steaming  paella from Furness Fish & Game— take a taste and toss it out. That was the only way we could cover as much territory as we did.
We ate and tossed at several stops until we got to Kappacasein. They offer only two dishes — grilled cheese sandwiches and raclette. I desperately wanted to devour my grilled cheese sandwich but hesitatingly gave up after only a few bites.  These two items are almost worth the price of a plane ticket to London. Tess and I constantly weigh the pros and cons each time she comes to London to see if this would be the visit we would succumb. We've been good so far. I won't even tempt with an image.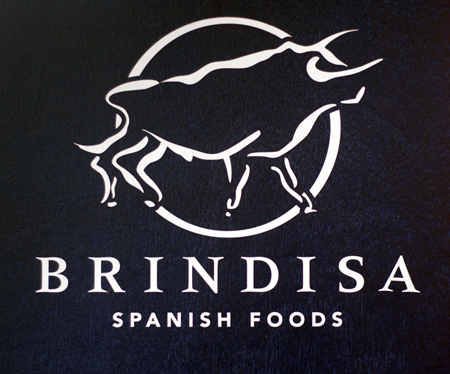 Eventually we made our way to the Brindisa store at the West end of the market. They have a ham bar. Center stage — amidst all the wonderful imported Spanish olive oils, sherry vinegars, paprika, cheese, tuna, anchovies, and you-name-it Spanish foodstuffs — they have a ham bar. In fact they offer a Jamón class. I have yet to take the class but the guys cutting the ham (hamsters? jamónistas?) are a wealth of information and willing to answer all your questions. You can taste and savor, then place your order. Then, like surgeons, they painstakingly slice each thin rosy slice. It's at least half an hour before your parcel of porcine goodness is ready.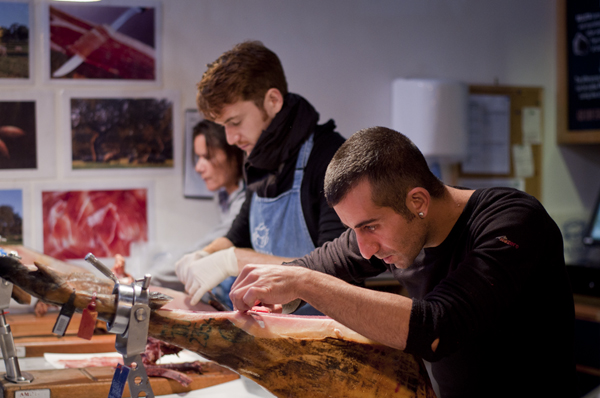 With time to kill, we wandered into the street only to find that they had a restaurant too! We managed to side-step the Spanish Alejandro chorizo sandwiches grilling just outside their door. (I did have one of those sandwiches on another trip — spicy chorizo, hot off the grill, slathered with a smokey paprika oil, strips of roasted red pepper and fresh arugula that adds a little crunch. I understand why the line snakes long into the alley starting around noon.)
We turned left and ended up on the southwest perimeter of the market and there was Tapas Brindisa. We put our names on the list (they don't take reservations) and waited. We weren't starving (after all) so the 20 minute wait was actually a welcome respite.
When our table was ready we were seated against the wall which I love because then I can watch everything going on. As my Dad had a restaurant and I worked many a table in my waitressing days, I love to see how a place works. Are the waitstaff efficient, knowledgeable, good-humored? Do they care about their customers? When I got my first waitress job in a Long Island coffee shop, my Dad said  "treat people the way you want to be treated yourself." That seems to be the modus operandi at Brindisa too. It's part of the reason we keep going back.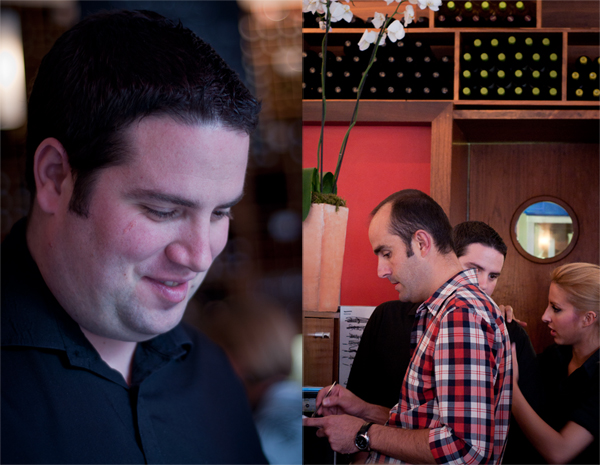 Here are just a few dishes we've tried on the several occasions we've been to Brindisa: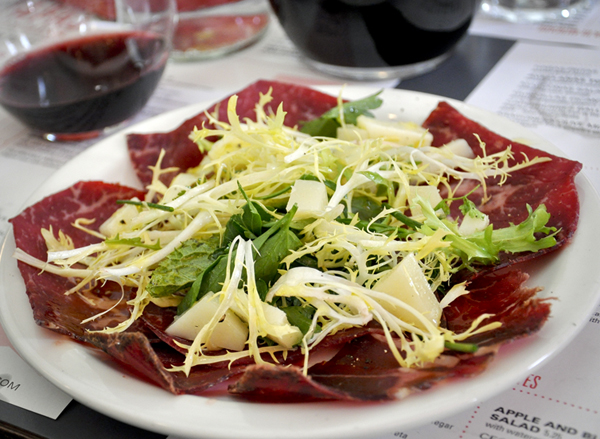 Intensely flavored cecina de vaca is a salt-cured,  air-dried, beef delicacy that dates back to the 4th century in northwestern Spain. The dried beef leg would be kept to feed the family throughout the winter. It's very similar to Italian bresaola and I would be hard-pressed to tell the difference unless I tasted them side by side. The salad at Tapas Brindisa is served with chunks of manchego (which Ernie ate) and served with a salad of curly endive or frisée and a tart vinaigrette. The deep cherry slices are not overly salty and go perfectly with the bitter greens. You can't get cecina in the States yet but perhaps the powers that be will relent as they finally have for jamón ibérico.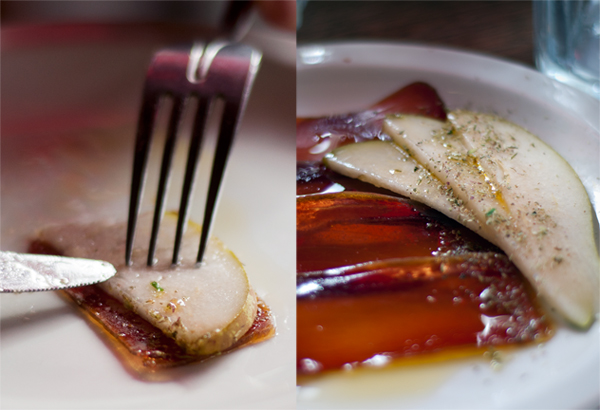 Another air-cured, low-fat appetizer, Mojama is a popular tapas bar offering throughout Spain. I first had it in Seville served simply on it's own. I didn't love it. Too chewy. Too fishy. At Brindisa it was sliced a bit thinner, served with slices of crisp pear. The sweetness of the pear, coupled with the salty tuna loin then drizzled with peppery olive oil came together in a completely different, delicious way than my first encounter.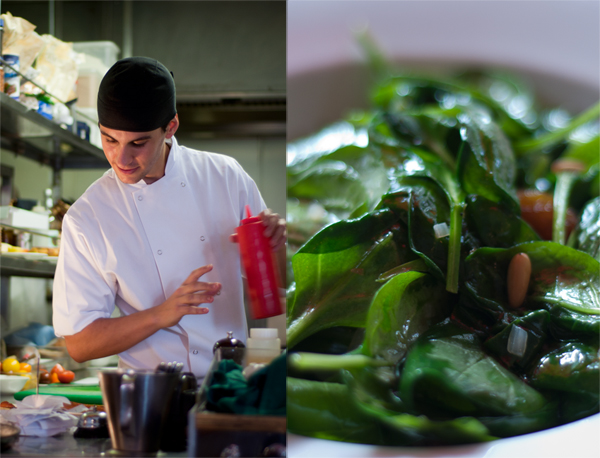 Lightly wilted Catalan Spinach salad with pine nuts and raisins is one of my go-to orders every time we visit  Brindisa. Ernie is not a big fan of dark leafy greens but he'll eat this simple dish that makes you feel healthy for having it. I could eat buckets of it.
Some other dishes we love, without pictures because we got carried away eating:
Traditional black rice with squid and alioli. The last time we had it was the best black rice with squid I've ever had.
Patatas brava with spicy tomato sauce or alioli is a traditional favorite.
Gordal olives with orange and oregano have become my green olives standard. The sweet orange against the meaty olive is perfect.
The ibérico selection of hams and sausages is a great choice if you're with people who don't know Spanish charcuteria. It offers four choices, two sausage and two ham. served with bread (wah) and olive oil.
If we're really into meat that day we order either the crispy pork belly served with quince jam or the grilled lamb cutlets with alioli and fresh mint. Perfectly cooked, not too much.
Dessert is a disappointment for me as there's not much to choose from. The first time we went, (pre intolerances) we had goat's milk ice cream and it was heaven.  Sweet with the tart tang of goat's milk, it's served with caramelised peach. I can't have the ice cream any more however they do have sorbets.  Depending on the flavor I'll have it. The last time I was there it was a pear, apple combo that didn't dazzle.
I've just tried Casa Brindisa near the Victora & Albert museum. Without going off on a tangent I can say the service, atmosphere, food and wine are as good and I see no reason to eat anywhere else when visiting museum row. And, like Tapas Brindisa, Casa offers lots of gluten, dairy, soy, yeast and egg-free options. If some of those foods are not a problem for you there are many more choices to enjoy.