Mercada de Triana, Seville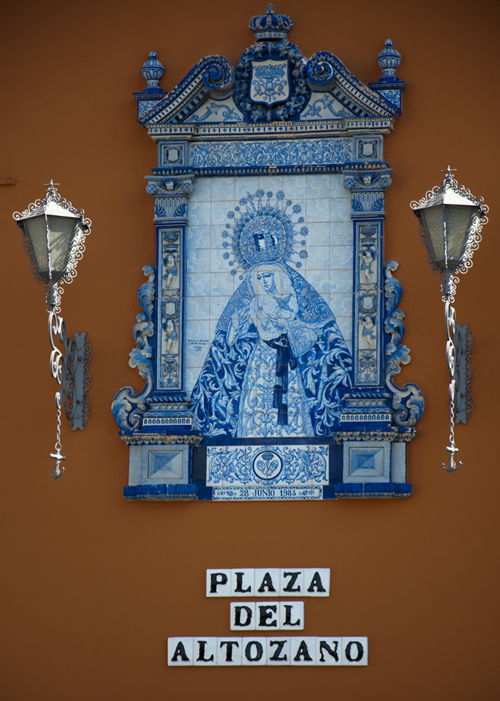 I'm sitting here trying to remember all the details of day four the Natural Light-Natural Food photography workshop. It's taken far longer than I ever anticipated organizing images, picking ones I thought might be interesting and trying to put together a cohesive story. In the end I think I'll deal them out with the what random thoughts they evoke.
We tumbled into Mark and Thomi's (fellow photography students) rented car about 10AM headed for Seville. It was already getting warm and we were at a higher elevation. Seville was predicting unseasonably warm weather, the kind that makes me crabby if I'm not careful.
Barreling down the highway,  Tim (our fearless leader) would gleefully call out "pig" every few minutes and we would all whip our heads around looking for the famed black-hoofed pigs the area was known for. We never did see a pig. Not one. It was a hoax. Tim thought that was funny.
Just over an hour from Finca Buen Vino we arrived in the the very religious, beautifully tiled and now very hot city of Seville.
Our first stop, situated between the Plaza del Altozano and the river Guadalquiver, was the Mercado de Triana, the main market for the the Triana district. Located on the "other" side of the river from the well-touristed Santa Cruz area, the Triana Market was alive with people from the neighborhood shopping as they probably did every day. We stepped into the vibrant market awash in color and thankfully cool. Here are some images from that hot, vibrant morning.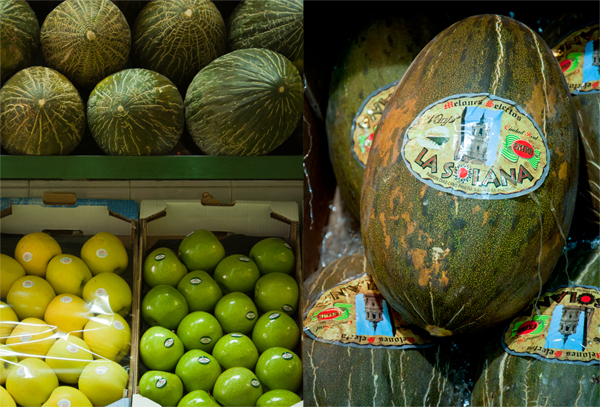 These football-sized melons I think are known as Santa Claus melons given their especially long shelf life. We were at the market in October and they apparently can last until Christmas.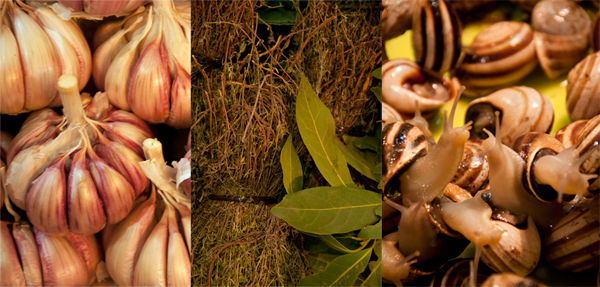 Garlic, thyme, bay leaves and fresh snails; possibly the beginning of recipe. I have never actually bought live snails, or even seen them in the US. Years ago, when I worked at Sunset I recall someone wrote an article on how to turn ordinary garden snails into escargots. I didn't try it then and probably won't now. That said these little fellows were climbing over themselves and up the sides of the tub and I could not resist taking their picture.
If you are interested, preparing live snails is a tedious process. You first need to feed them "clean" food or don't feed them at all for several days to purge their digestive systems. Then you need to cover them with salt so they will disgorge any final impurities. Next there's blanching and taking them out of their little homes and cleaning some more. At that point they are cooked over very low temperature in a broth until they are tender. Then finally you get to toss them in butter or olive oil with garlic and herbs and enjoy. I now wonder, without the baquette, is it worth it?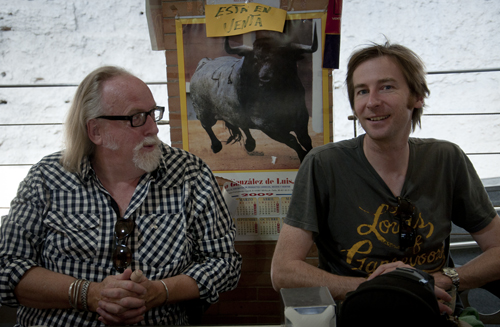 Just past the snail stall I ran into Tim and Mark finishing cups of espresso. Notice the calendar on the wall behind them. Seville and bullfighting are apparently synonymous and the Triana district is where many matadors, along with flamenco dancers and gypsies lived. We did not go to a bullfight on this trip; I'm not sure I could.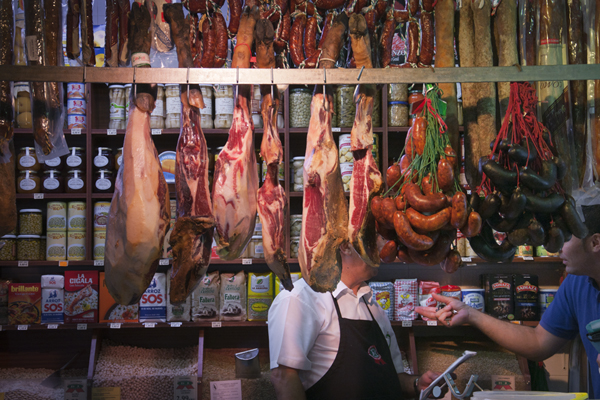 This is the stall, that sold the jamón, that was made from the pigs, who live near Seville. It's also where I bought slices of chewy, ruby red, jamón ibérico de bellota and a hunk of cured pork (whose specific name I've forgotten) that made their way back to London and we are still enjoying.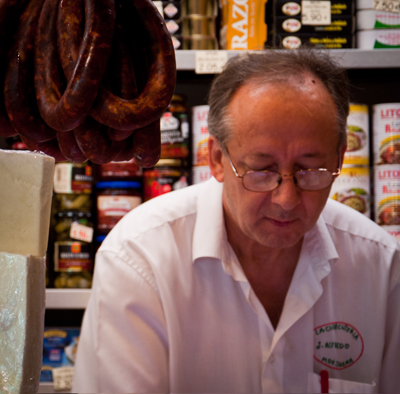 And this is the man who was having a serious discussion behind the hanging hams and sausages in the photo above. Luckily, Thomi could translate what I wanted or the transaction would have taken much longer. It's shocking to me how little Spanish I know.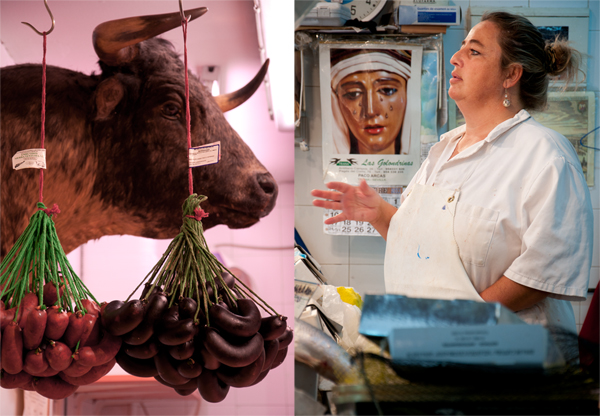 I'm not quite sure why I've paired these two (three if you count the crying Virgin on the wall). The bull head was on the wall at a butcher shop and the woman was selling fish, or at least talking about selling fish. I would say every stall at the market had at least one, if not more, religious posters gracing their walls and hopefully bringing them good business.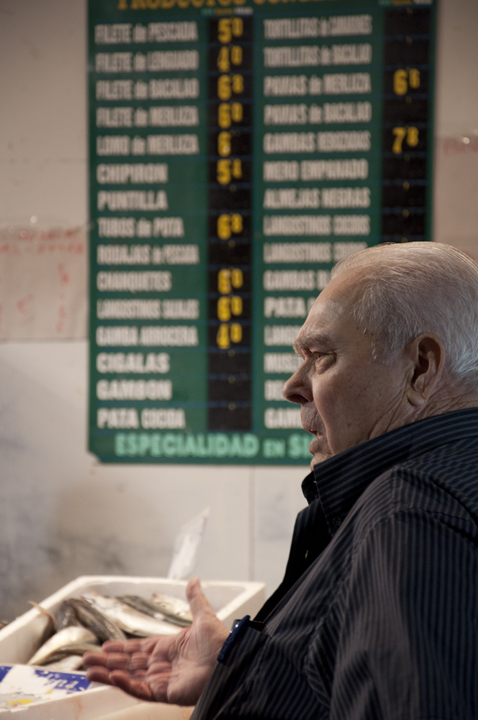 Don't you love him? I watched this man chatting with a friend the entire time I drank my coffee across the water-stained aisle. I think he frequents the market often and has many friends there.
And that was how we spent our morning at Mercada de Triana, Seville, Andalucia, Spain. Adios!