Quinoa, Kale, Squash and Pumpkin Seeds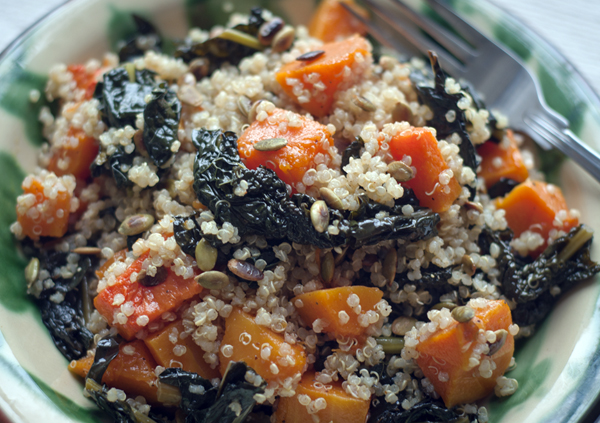 Free from: gluten, eggs, soy, dairy, yeast and corn. Vegan.

I must admit, we're still in the throes of holiday eating while relaxing for a few days in Seville. That said, the countdown to the New Year has started and like every January for at least the last 30 years that means I'm contemplating how to adjust my eating to recover from the over consumption of the last few months (or maybe an entire year).
My plan is to go vegetarian for at least a few days to give my digestive system a reprieve. After that, we'll have to see how drastic I'm willing to take this. Dishes like this will be featured all next week (although I may slip in some photos from this week's trip.)
This healthy combination of quinoa, kale, squash and pumpkin seeds provide more than a days daily requirements for vitamin A and C; a healthy dose of calcium, magnesium and zinc; has an overall low glycemic load (which means it won't spike your blood sugar); is relatively low in saturated fat; and supplies protein and fiber.
All that with a flavorful dribble of extra virgin olive oil and a touch of spicy heat make this a nutritious and filling main or side dish.
I used Tuscan kale that I think has a sweeter, less bitter taste than ordinary kale, but you can use either.
Makes 4 main dish servings
Pre-heat oven to 350°F (185°C)
Ingredients:
1 pound (about 450 grams) pre-peeled, cubed orange squash (like butternut)
½ cup+ extra virgin olive oil
1 cup organic quinoa
2½ cups water
1 big bunch Tuscan kale (also called cavola nero or dinousaur kale)
¼ cup pumpkin seeds
½ teaspoon dried chili flakes (optional)
½ teaspoon sea salt
1 Tablespoon sherry, red wine or balsamic vinegar (optional)
Preparation:
1. Spread cubes of squash onto baking dish. Drizzle with 3 tablespoons of olive oil, the salt and a few grinds of fresh pepper. Place in oven and bake for about 20-30 minutes until fork tender.
2. Rinse quinoa in fine sieve then place in saucepan with 2 cups of water (quinoa will double is size so make sure your pot is large enough to hold quinoa when cooked). Cover and bring to a boil, then lower heat to a simmer. Watch quinoa carefully as you bring it to a boil or it will quickly boil all over the stove. Quinoa will absorb the water and be done in about 15 minutes. Remove from heat when done.
3. While squash and quinoa are cooking, wash kale, remove stems (save for juice or soup) and cut into roughly 1 x 2-inch strips. Heat 3 tablespoons of olive oil in wide saute pan and add kale. Toss to coat with oil and add ½ cup water. Stir again, cover and let steam/braise for 5 minutes. Remove cover and let cook until water has steamed off. Taste. Kale should be tender. Remove from heat.
4. Heat a small saute pan and carefully toast pumpkin seeds until they start to give off a nutty aroma and brown slightly.
5. Put quinoa, squash, kale and pumpkin seeds in a large bowl. Drizzle with 3-4 tablespoons olive oil and a splash of vinegar if using. Sprinkle chili flakes (if using) on top. Toss gently and taste for seasoning. Add more salt, olive oil, vinegar, and chili flakes if needed.