Gluten, Dairy and Egg-free Gingerbread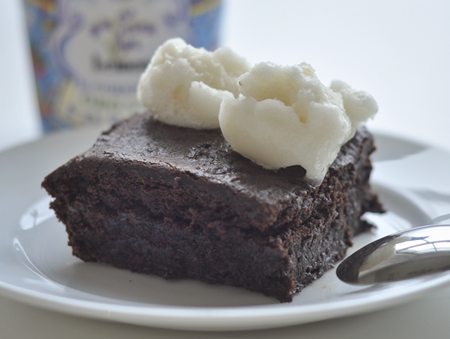 Free from: Gluten, dairy, egg, soy, nuts and yeast. Vegan.
This is our first, and perhaps only, Christmas in London. It's dreary grey outside but the house is warm and full of family. With two daughters and two grandchildren here we're having a cozy holiday filled with joyful screeching, heaps of wrapping paper, and the wonder of so many gosh darned presents.
After family, for me, the holidays mean cooking. What special dishes will we make to sustain body and soul through the albeit festive, but sometimes intense, yuletide season.
Dessert, for instance, is challenging.  What can I make that:
a) The kids like because, after all, aren't they what Christmas is all about? The kids that is.
b) Does not contain gluten, dairy, eggs, or soy and still tastes yummy and finally…
c) I don't have to make too many times before coming up with recipes that work
The baked ricotta (for everyone but me) cheesecake without eggs, while good-ish, did not resemble a true, baked Italian cheesecake. Will keep working on that. However the shortbread crust from the cheesecake morphed into the Raspberry Thumbprint Cookies.
And while looking for a way to cut the time to make several batches of ginger snaps at once, I created this spicy, moist, and I must admit, very delicious gingerbread. I hope you enjoy.
Happy Holidays!
Makes about 9 servings.
Preheat the oven to 350ºF (180°). Position the rack in middle of oven. Line an 8 x 8 x 1½-inch glass baking pan (20 x 20 x 4 cm) with a piece of parchment paper that rises up the sides of the pan a bit.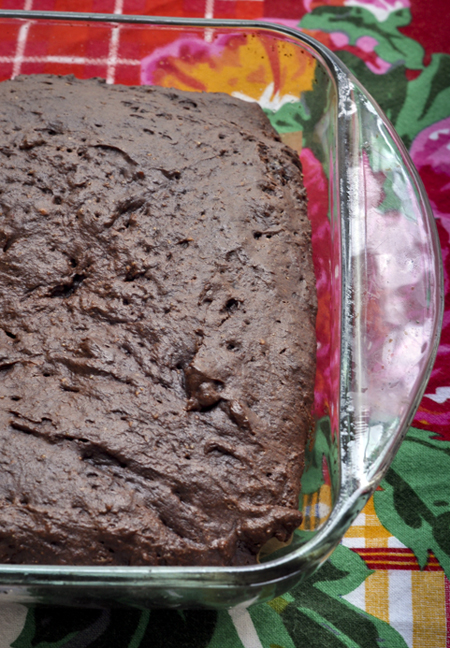 Ingredients:
1 cup gluten-free flour blend or your own mix
¾ cup almond meal
½ cup brown sugar
½ cup raw cane sugar
¼ cup unsweetened cocoa powder
2 teaspoons baking powder
¾ teaspoon baking soda
1 teaspoon xantham gum*
1 Tablespoon ground ginger
1 teaspoon ground cinnamon
½ teaspoon fine sea salt
½-¾ teaspoon nutmeg
2 Tablespoons ground flax seed
5 Tablespoons warm water
2 Tablespoons unsulphured molasses
¾ cup organic sunflower oil
¾ cup non-dairy milk
1 teaspoon bourbon vanilla extract
*When I first started baking gluten-free I used xantham gum as a binder. Since then I've stopped using it as I'm not convinced it's good for us. I've prepared this recipe without and it works just fine.
Preparation:
1. Whisk together dry ingredients from flour through nutmeg. Break up larger pieces of brown sugar with your fingers.
2. Mix flax seed with warm water to make a slurry. Let sit a few minutes until it starts to get gelatinous.
3. Add the slurry, molasses, sunflower oil, non-dairy milk and vanilla extract. Then mix with  hand mixer (which is all I have here in London). If the batter climbs up the beaters, push it back into the bowl with a rubber spatula and continue mixing until all the ingredients are well blended. The batter will be quite thick and sticky.
4.  Using the rubber spatula push it into prepared baking pan and smooth out evenly.
5. Bake 35-40 minutes. Insert a sharp clean knife, a toothpick or a cake tester into the center; when it comes out clean, the gingerbread is done. If not, let it bake a bit longer until knife inserted comes out clean.
6. Let cool in the baking dish for about 15-20  minutes or until you can handle easily. Remove from pan and place on wire rack to finish cooling.
To serve, cut into squares. While I would love a dollop of freshly whipped or clotted  cream, I can't have that so instead I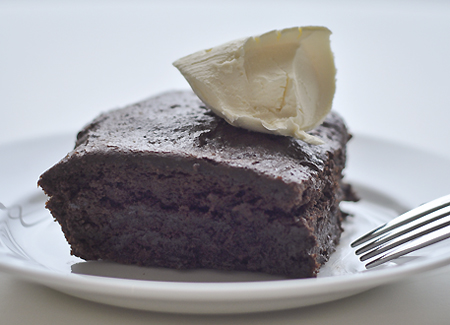 serve with tangy lemon sorbet which complements the spicy ginger cake. You could also make a lemon glaze with confectioner's sugar and lemon juice. If you do this, drizzle over the gingerbread while still warm so it can absorb the lemony sweetness.
Finished results: the center of the gingerbread might be soft as compared to the outer edges. That's ok, some people like the more puddingy texture. A 6½ x 3-inch tube pan with straight sides would probably help make the gingerbread bake evenly throughout. If you change the type of pan, try to pick one that holds about the same amount of batter, about 5 cups.
Note on sorbet. Having a digestive system that is capable of turning itself inside out at the hint of whipped cream, or pie crust, or baked ricotta cheesecake has made ordering dessert in a restaurant a bit of a minefield.
My turn-to dessert is sorbet. (I'm sorry, a fruit cup doesn't cut it.) I've had sorbet in many restaurants in many cities.  In fact, I've become a bit of a snob about it. Sorbet can be so creamy it coats your tongue like ice cream.
Locanda Locatelli in London has chocolate sorbet that I swear every time I ask them if it is indeed dairy free and every time they assure me it is.  Delfina in San Francisco also serves a silky smooth, sorbet that has an ice-cream-like consistency. When asked, they told me it had something to do with the emulsifiers or stabilizers. I can't justify getting an ice cream machine until we get back to California. Rats. Author's note: I did return from California, got an ice cream machine, and did create a creamy and rich chocolate sorbet.