Fuyu Persimmon and Avocado Salad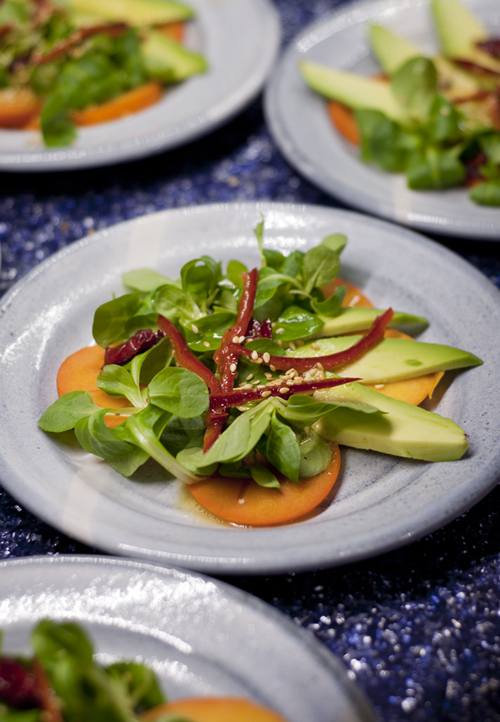 Free from: gluten, eggs, soy, dairy, corn and yeast
Recently several of my dearest and oldest friends got together for our annual Scorpio shindig. We have been gathering around food, and wine, for more than 30 years.
We met at Atari where we created packaging in multiple languages for the likes of Pac Man, Pole Position, Mario Brothers and many more of the earliest video games. None of us were game fanatics. We were designers and writers; editors and producers. We were an island in a sea of slightly altered folks. That's where our tradition began and we've nurtured it through all these years.
We recently met in Santa Cruz, CA for the 2011 event. Good champagne, a pot luck of appetizers, a heap of cracked crab with clarified butter (no casein or lactose), spicy Vietnamese dipping sauce and classic cocktail sauce, all homemade. This spicy/sweet salad, inspired by Kim's tree full of poppy orange persimmons, was the colorful,  refreshing side.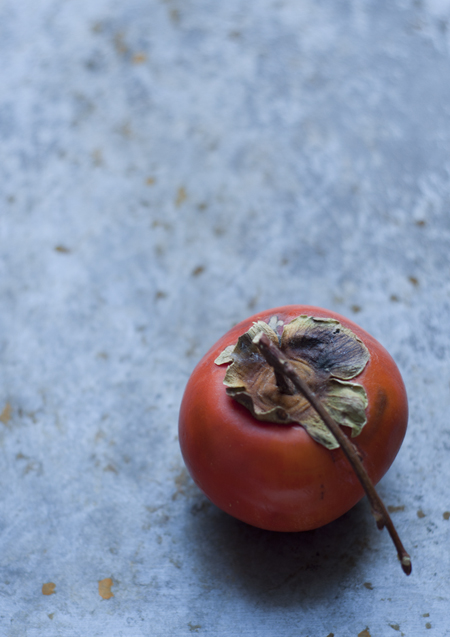 Fuyu persimmons are short, squat and sweet winter fruits that found their way to California, via Japan in the 1800's. They have a honey-like sweetness that's subtle, not cloying. You can eat Fuyu's before they are fully ripe and they will still be sweet. These were just ripe and fragrant with a crispy, sweet bite.
The more bitter, heart-shaped Hachiya persimmon have to be practically squishy before you can cook with them and are better suited for puddings, breads and cakes.
Note, try fresh pomegranate seeds instead of  dried cranberries and sliced sweet pepper.
Serves 8
Ingredients:
Salad dressing
2 red or green hot chili's, de-seeded and chopped fine
2-inch (6 cm) cube fresh ginger, grated (about 1 Tablespoon)
6 Tablespoons orange juice
3 Tablespoons rice vinegar
6 Tablespoons peanut oil
1 Tablespoon sesame oil, or to taste
¼ teaspoon salt and several grinds of fresh pepper
Zest of 1 and juice of 2 limes
Salad
2 large ripe avocados
3-4 ripe Fuyu persimmons
3 cups washed, drained and dried mizuna leaves, mache or arugula (rocket)
½ cup dried cranberries
1 sweet red pepper, de-seeded and cut into thin slivers
¼ cup lightly toasted sesame seeds
Preparation:
1. Mix all salad dressing ingredients in bowl. Taste and adjust seasoning to taste.
2. Wash and thinly slice persimmons (no need to peel).  Arrange 3-4 slices of persimmon as a base on each of 8 salad plates.
3. Peel and slice avocado, then fan 3 slices on side of each plate on top of persimmons.
4. Place a handful of greens centered on top.
5. Spoon dressing over each salad.
6. Place a few slivers of red pepper and several dried cranberries over each salad and finish with a sprinkle of toasted sesame seeds.