Delfina Restaurant, San Francisco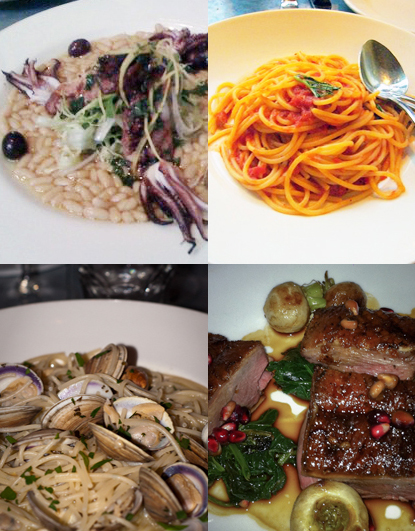 Free from: gluten, dairy (by choice), egg, soy, corn and yeast.
Just a block from sun-strewn Dolores Park in the Mission district of San Francisco (where they have free movie night in the summer), we arrived for our 6PM dinner reservation at Delfina. The evening was special on every level. In no particular order:
First, I was with some of my best girl friends and my guy, Ernie.
Second, the space was warm and inviting, not overly designed and everyone eating seemed happy.
Third, they prepared the gluten-free pasta we brought.
Fourth, the kitchen turns out delicious, well-crafted dishes of seasonal components that let the ingredients stand out.
Fifth, we found lovely bottles of wine that complemented our food and didn't break the bank.
And finally, the service is exceptional.
It was a birthday celebration for four of us spanning October-December. Happy Birthday to us!
Some basic birthday rules: birthdays divisible by five can be celebrated for about six months. Birthdays divisible by ten entitles one to party for a year. Those are my birthday rules and I'm sticking to them. This year my birthday was divisible by ten. Rock on.
Shockingly Ernie and I had never been to Delfina. Every other time I've called (too late) we couldn't get a table. A crying shame really. Years have gone by that we might have been eating here.
A note on getting what you want: I book a lot of reservations on Open Table and if you do too you know you can send comments to the restaurant when you book the table. This is where I outline our various food issues; it's easier in fact than trying to explain to someone on the phone.
It's also the first test to see if the restaurant is paying attention and I can tell you there are some "up there" restaurants who seem to care less or are simply careless. In any case, I sent a note to Delfina asking if they had gluten-free pasta and if not could we bring our own. I got a phone call right away saying they did not, but of course they would prepare it for us if we brought some.
From the moment you walk into Delfina you feel good — not just welcomed, you feel good. The host was smiling and seemed genuinely happy to see us. We were seated right away even though our entire party of six wasn't there. The waitstaff was instantly at hand. They took the gluten-free pasta we brought and before I had my jacket off they were pouring the prosecco. The service continued to be knowledgeable, friendly and attentive the entire evening despite our asking a ton of questions and asking for more than one adjustment to the menu. No wonder they have won awards not only for the food, but for taking good care as well.
The dining room isn't huge; seats about 70. The floors and counter that divides the dining room is a reddish brown wood. The walls are warm yellow. The tables are zinc which, while metallic, have a warm, inviting patina. Simple frosted white glass fistures hang from the high ceiling. There's a silvery quilted wall wrap on the backside of the counter where our table was and at the ceiling to absorb sound.
We were there early and there were families with little kids enjoying dinner — no doubt neighborhood locals. And by the time we left there were people patiently waiting outside. Clearly a popular place with a well-deserved culinary reputation, I'm still scratching my head over the fact we had never been.
Finally the food. Seasonal food, cooked Tuscan style, with notes of California. The menu is not huge but very balanced. Every dish sounded tempting. Bonni and Joyce had both been here before multiple times so we had some insight into the menu. Here's a rundown of what we ordered:
Antipasti- shared
Warm Castelveltrano Olives- Warming helped bring out their meaty flavor.
Grilled Fresh Calamari with warm white bean salad. A table favorite, we ordered two. The squid was small and tender, almost sweet and the bean salad with citrus highlights was outstanding. Cheryl and I scarfed every last morsel.
Speck with shaved artichoke crudo. Super thin slices of buttery, pale pink ham were served with with shaved, lightly marinated slivers of artichoke heart that were crunchy but not too and added an artichokey flavor without overpowering the subtlety of the ham.
Fritto Misto. Ernie ordered this all vegetable dish knowing he and I could not eat it, but didn't bother to check, or remember, that women choose their carbs, especially deep-fried ones, with great discretion. So while delicious (I was told) the plate was not empty when it was cleared from the table.
Puntarelle alla Romana with salt-packed anchovy. This spiky-leafed Roman  chicory was shredded in a pile and dressed with ground anchovies in olive oil and vinegar. It was crunchy, light and refreshing and the anchovy was not overpowering.
Pasta
Bolognese sauce with gluten-free pasta. Ernie had the daily special as a primi. He asked for, and graciously received, extra sauce. It was savory and meaty without too much tomato. The richness of the meat came through.
Chitarra Integrale with spicy cauliflower. Bonni ordered this instead of her usual favorite— spaghetti with plum tomatoes, garlic, extra-virgin olive oil and pepperoncini. The house-made pasta was made of spelt, so my guess is it was a bit toothier than spaghetti. She said the sauce was unusual and delicious although a wee bit salty.
Note: Salt is tricky. A lot of people don't use salt anymore thinking it's bad for blood pressure, which it is in large quantities but if you cut out processed foods, soda and beer you have nearly eliminated the problem unless of course you dump tons of salt all over.
Linguini with Double Clam Sauce. Cheryl and I both had this, mine of course with gluten-free pasta. This was one of my father's signature dishes, which makes it especially difficult to measure up to. The base sauce was made with cherrystone clams, steamed, removed from there shells and chopped.  The final presentation was served with littlenecks in their shells on top. The clams were perfectly cooked and tender but for me the sauce was missing something; it needed more punch. I added pepperoncini which helped but overall I would have liked more garlic and lemon and a bit more juice.
Since I started writing this post we've been back to Delfina and I had an amazing pasta dish with a tomato fennel broth served with wee bits of grilled cod. It was light and flavorful. The fish was delicate and perfectly cooked. A winner. One of our guests that night, an Italian who now lives in Munich, said the pasta with plum tomato sauce was like going home. Again our waiter was knowledgeable, patient and helpful. Another stellar dinner.
Mains
Liberty Duck Breast with roasted turnips and pomegranate. Ernie and Joyce ordered this rosy, crispy-skinned, off-the-hook duck breast. Definitely a winner, in fact the next time we went to Delfina four of us ordered it as a main.
Meyer Ranch Hanger Steak and French Fries. Julieta ordered this with brussel sprouts on the side instead of French fries (rats). I didn't taste the steak but she, Joyce and Cheryl said it was beautifully tender. The brussel sprouts were sauteed in olive oil with honey, hazelnuts and rosemary. We had to order a second dish for the table.
Dessert
There wasn't much for me choose from (dessert is rough without gluten, eggs or dairy) but they did have a house-made Quince Sorbetto that I could not pass up given my recent fascination with quince. It was amazingly smooth and creamy.
How do they do that? We asked our server to double check it had no dairy, which it shouldn't have of course. The server said the creaminess had to do with the emulsifiers (I think). I would love to know how they do it because I want to make chocolate sorbetto as creamy as this as they do at Locanda Locatelli in London.
Ernie and Julieta ordered goat cheese and I noticed a plate of Walnut Nocino Cantucci (cookies) on the table in front of Bonni. Ernie raved about the cheese, served with honey. I know because as I turned my head to speak to him he shoved a piece in my mouth. It was worth raving about. Although I'm not supposed to eat casein, I do have bits of goat or sheep cheese every now and then which doesn't bother me unless I go overboard.
Casein, by the way, is a protein that comes from the milk of any four-legged animal. Apparently the smaller the animal, the smaller the offending globules of casein, that's why I stick to goat or sheep indiscretions.
So there you have it. Delfina is every bit as good as the reviews say they are. The environment is warm and bustley. The food is terrific and the service is outstanding. I would love to try Pizzeria Delfina next door but they will have to make a gluten and yeast-free crust I can eat. The gauntlet is down.
Thank you Delfina for a most wonderful dining experience.