Primavera Breakfast at San Francisco Ferry Building Farmers Market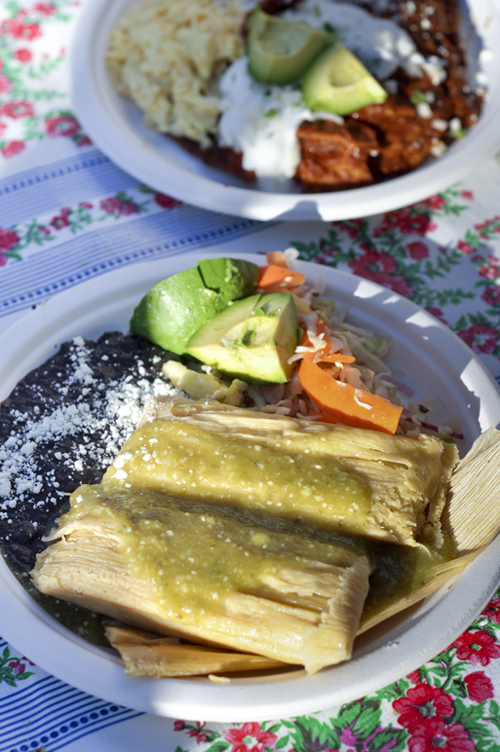 Gluten, soy, and yeast free.
Jet-lagged and hungry for food I can't get in London, we headed to the San Francisco Ferry building to meet Bonni for breakfast at the Farmer's Market. It was glorious. A brilliantly blue sky flecked with white. The air was brisk but when the wind fell off you could feel the sun.
We wanted to try Boulettes Larder which, as it turns out, does not serve breakfast on Saturday. That worked in my favor as their online menu didn't reveal much I could eat.  Also they chastised me for trying to take a picture. (Why exactly I have no idea.)
In my jet-lagged stupor I remembered Primavera where they make plates laden with Mexican culinary goodness. Bonni and Ernie had the Chilaquilles Veracruz— organic scrambled eggs with ancho chili red sauce over refried beans and thick homemade corn tortilla chips topped with chunks of avocado and a sprinkling of crumbly queso blanco. It also came with a ladleful of crema that Ernie had to forgo. There clearly was a following for this dish.
However, even if I could eat eggs, I would have chosen the tamales. I love tamales. Niman Ranch pork chili verde tamales made with organic stone-ground masa covered with tomatillo sauce and served with a side of refried beans and cabbage salad. There was a bit of queso blanca that I pushed to the side (mostly).
The tamales are deliciously moist and flavorful. The masa is the right thickness and texture. The tomatillo sauce is tart and spicy. And they remove the corn husk for you so you're not dinking around with it while you're trying to dig in. It was Mayan magic on a plate.
We sat at a long picnic table overlooking the water with the Bay bridge in sight and musicians strumming close by. It's nice to be home.