Dreamy Dairy-free Chocolate "Ice Cream"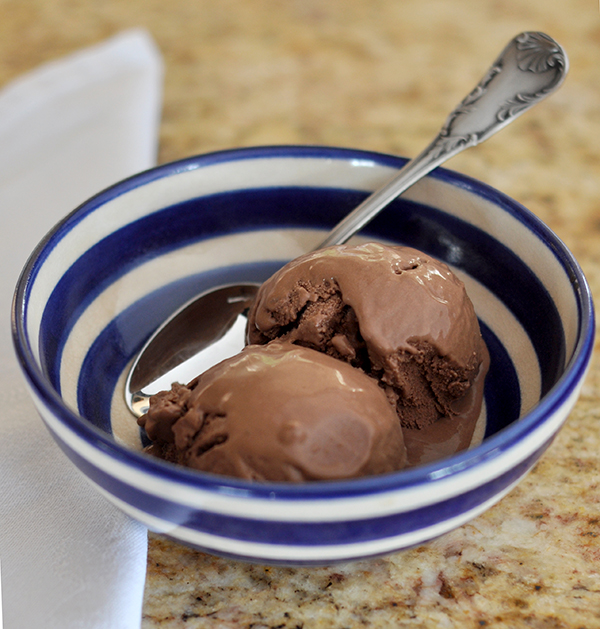 Gluten, dairy, eggs, soy, yeast, and nut free.
Lots of restaurants serve sorbet—basil, key lime, pear with hints of coriander, lemon, lemon, or lemon. Made from fruit, sometimes coconut, and very occasionally chocolate, plus water and sugar. Sorbet is usually the only dessert option, other than fruit, for those of us who can't eat gluten, dairy, or eggs. It gets boring. Sorbets, even in some very good restaurants are often too sweet, too icy, or too blah. Just putting something cold in my mouth at the end of a meal doesn't always cut it.
While living in London, we discovered a few Italian restaurants (Locanda Locatelli and Osteria Basilico are two favorites) that made what they called chocolate sorbet; really good chocolate sorbet. It was creamy and rich and almost as good as ice cream. But, I couldn't go out to eat everyday (could I?).  We did finally discover Booja-Booja Hunky Punky Chocolate organic "ice cream"; a true dairy-free alternative to real chocolate ice cream. Sadly, it hasn't made its way across the pond, but if you are ever in London look for it at Planet Organic or Whole Foods. They have those little one serving containers like we used to get from the ice cream truck when I was growing up.
So when we reluctantly returned to California, I set out to make a dairy and egg-free "ice cream" that would deliver a balanced (chocolate to sugar) and creamy, decadently rich "ice cream" without the dietary consequences.
Mind you, I had never made ice cream or sorbet and I didn't have an ice cream maker. Fortuitously for me, a friend from Chicago, whom had been a pastry chef for Charlie Trotter, visited a few days after our return. She suggested an ice cream maker warning me ahead that it was expensive. "What's expensive?" I asked. She said "maybe a thousand dollars." Now, even I don't have any countertop appliances that expensive, but still my mind was running around trying to rationalize why $1000 would be okay. In fact, it was more like $4000. $4000!  I wasn't ready to chuck it all and become a professional, dairy-free ice cream maker, so I went back to her for a less pricey option.
She then said buy a Lello gelato maker. It's Italian. Italians know a thing or two about ice cream, or rather gelato. So that's what I got — the 4070 Lello Gelato Junior.  It makes one quart of frozen deliciousness in about 30 minutes.. It has a compressor/freezer which was the primary thing I was looking for. It cost about $250 on Amazon. Score!
Now I needed a recipe. My first thought was David Leibovitz, a former pastry chef from Chez Panisse turned food writer and blogger who lives in Paris and seems to be living a perfectly lovely life. I found his recipe for chocolate sorbet. I made the chocolate recipe to spec. The family was wowed, but for me, it was too chocolatey. So from his sweet inspiration I adapted the recipe below. I don't know what to call it. It's technically not ice cream or sorbet, and may indeed be more like dairy-free sherbet. Does it matter?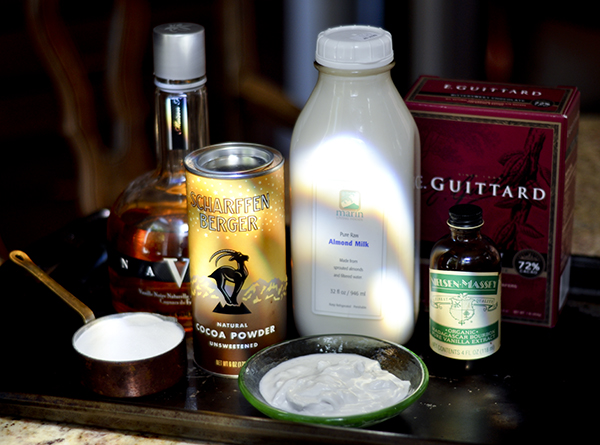 Dairy-free Chocolate "Ice Cream"
The magic behind this deliciously satisfying, silky dessert comes from the thick, fat-rich coconut cream and of course good, dark, non-dairy cocoa and bittersweet chocolate.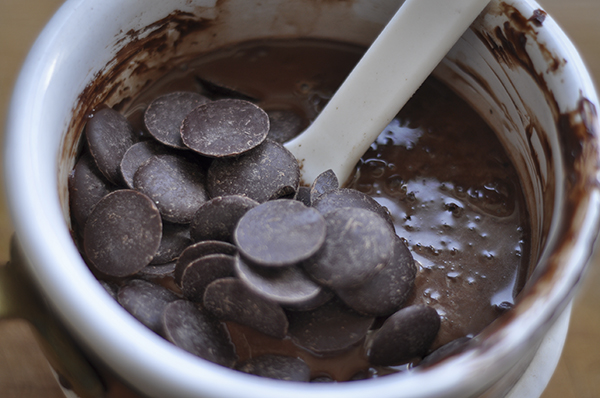 Servings: Just less than a quart serves 4-6
Ingredients:
1 1/2 cups unsweetened almond or coconut milk, or a combination of the two
3/4 cup Baker's sugar (or 1 cup granulated)
3/4 cup unsweetened cocoa (I use Rapunzel Organic or Scharffenburger unsweetened))
6 ounces bittersweet (at least 70%) chocolate (E.Guittard makes little disks that are easy to work with)
1/2 cup coconut cream (I like the Trader Joes brand; all cream, no milk)
1/2 teaspoon vanilla (I use bourbon vanilla)
Pinch of salt
2 Tablespoons Cognac, Armagnac, or vodka (optional however it helps manage icy crystals). Or if you're feeling wild you can use an orange-based liqueur like Cointreau.
Preparation
1. Put almond or coconut milk, sugar, and cocoa in top of double boiler; heat and stir until sugar dissolves; about 5 minutes
2. Remove pan from double boiler and add coconut cream and solid bits of chocolate; stir to blend and chocolate pieces melt
3. Add salt, vanilla, and alcohol (if using)
4. Put in a blender and whirl until very smooth
5. Put in a bowl and chill until cold, at least two hours
6. Put mixture in ice cream maker, following ice cream maker's instructions, freeze until done. Mine takes about 30 minutes.
Serve as is or, for complete decadence, serve with whipped coconut cream.