Salmon with Tomatoes, Fennel, and Ginger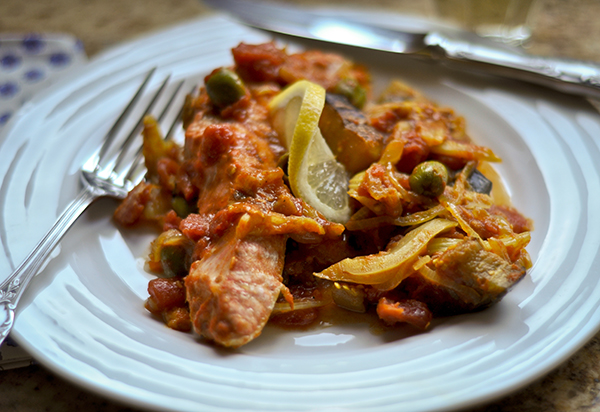 Gluten, dairy, egg, soy, yeast, and nut free.
My 87-year-old mom, a Catholic all her years, does not eat meat on Fridays. That means that we eat fish that night. As a kid, I hated Friday night fish dinners except for creamed tuna on toast; preferably with frozen green peas. It meant I didn't have to eat something that actually tasted, or looked like, fish.
Now I consider seafood on par with meat. And, wild caught, oily fish in particular, is healthy for you—packing a powerful mix of Vitamin A and D and omega-3 fatty acids and lacking any added hormones or antibiotics. So I eat fish often. Ernie, on the other hand, sometimes makes a face when I tell him what we're having fish on Friday. Not because he doesn't like seafood, but simply because he hates abiding by rules. That said, I try to create recipes that give him some flavor complexity and meet my mother's religious leanings too.
There are several reasons to like this dish: it's healthy, quick to prepare, has an interesting flavor profile that leans towards Indian, but not quite. The vegetable sauce the salmon bakes in came about because I spent a weekend sampling dishes from "The French Kitchen Cookbook" by Patricia Wells. At first, the recipes seemed very simplistic and not what I would expect from a book that was going to show me what a French kitchen was all about. The recipes meander from Provence to Italy, on to Thailand with Japanese accents. I guess it's about a particular French kitchen and once I accepted that I warmed up to the recipes more easily.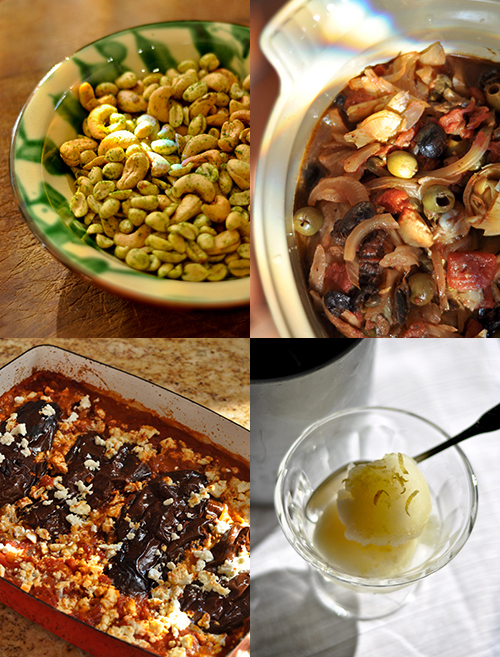 After all, kaffir lime leaf dust. What was that? I had fresh kaffir lime leaves in the refrigerator already. I picked four dishes from the cookbook and made them over the course of a weekend: Asian mixed nuts with Kaffir Lime Dust; Fricassée of Chicken with Fennel, Capers, Artichokes, and Tomatoes; Eggplant in Spicy Tomato Sauce with Feta; and Fresh Ginger Sorbet. And from this medley of flavors, the following recipe was born.
Salmon with Tomatoes, Fennel, and Ginger
This combination of vegetables—eggplant, fennel, tomatoes, green olives, and onions—is a perfect Mediterranean medley. Add to that a hot infusion of freshly grated ginger and the subtle nutty sweetness of ground cumin and you're suddenly traveling east towards India.
Pre-heat oven to 375°F
Serves 6
Ingredients
1 large eggplant, cut roughly into 1-inch cubes
2 Tablespoons of olive oil
Sprinkle of sea salt
2 Tablespoons coconut oil
2 fennel bulbs, thinly sliced
1 medium onion, cut in half lengthwise and thinly sliced
2 Tablespoons ground cumin
1 Tablespoon ground turmeric
1/2 teaspoon cayenne
1 teaspoon sea salt
Several fresh grinds of pepper
1/2 cup white wine
2 Tablespoons ginger, shredded
1 28 ounce can chopped or diced tomatoes
2 Tablespoons tomato paste
1/2 cup pitted green olives
Juice of 1 lemon
1 1/2 lbs. Alaskan king salmon steaks or thick fillets
Preparation
1. Spread eggplant cubes on a rimmed baking sheet and drizzle with 2 Tablespoons of olive oil. Sprinkle with a 1/2 teaspoon of salt. Toss to coat, then bake for 20 minutes stirring once.
2. Heat coconut oil in large ovenproof skillet that will fit in your oven
3. Add sliced onions and fennel and saute over low-medium low until onion and fennel are soft, but not browned about 10 minutes
4. While vegetables are cooking add the cumin, turmeric, cayenne, salt, and pepper and stir
5. When onions and fennel are soft, add white wine, raise the heat a bit and let wine cook off by about half
6. Add the ginger, tomatoes, and tomato paste. Stir to blend. Add olives.
7. Let sauce cook stirring occasionally until sauce starts to thicken and vegetables are soft,15-20 minutes
8. Add lemon juice and stir. Turn off the heat.
9. Place the salmon in the sauce making sure to cover with a bit of sauce
10. Bake for 20 minutes or when fish reaches 135°F