Almond Coconut Milk Sweetened with Date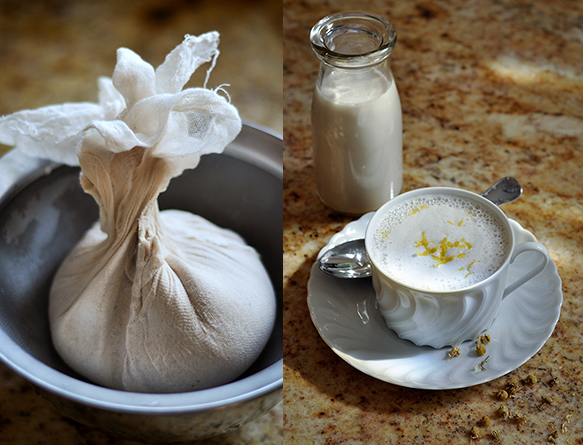 Free from: gluten, dairy, eggs, soy, yeast. Vegan.
I love my morning ritual of heating milk, adding a shot of espresso, and a bit of hot water. When I had to give up half and half, I needed an alternative. I've tried lots of coconut and almond milks and some are ok; some are downright awful. Why not make my own? Once you do, it is very hard to turn back. Suddenly store-bought almond milks tasted chemically or like plastic. So here it is, my most favorite recipe.
I typically get raw almonds from Massa Organics at the Ferry Plaza Farmer's Market in SF; their almond butter is also dreamy. By the way, California grows nearly all the almonds for the US market. Does that mean we get the very best? One would think so.
Not a coffee drinker? One way to enjoy it not with coffee is with chamomile tea infused with lemon. Tess and I had this at a uber chaming breakfast place in Santa Barbara called the Scarlett Begonia. Highly recommended for breakfast if you are in town. To prepare: make your favorite chamomile tea; add two thin slivers of lemon rind per cup while steeping; then add steamed almond milk. It's very soothing right before bed.
If you live in the SF Bay area you have some other options for fresh almond milk. You can buy fresh, raw almond milk from Marin Living Foods available in Marin (of course), SF, and Berkeley, but not the Peninsula where I live. If I'm in the city I go to Rainbow Grocery (milk is delivered on Friday). And then, it turns out these two companies deliver almond milk; old style, in glass bottles, right to your door: Milk Man SF and Can Can Nut Milk. There are delivery limitations, so I'm afraid this is a very local tip.
To make this almond milk you'll need: a blender, fine cotton cheese cloth, and a fine strainer
Ingredients
1 cup raw organic almonds (they'll have their skins)
½ cup unsweetened, raw, organic, shredded coconut
1½ cups water or enough to make 2½ cups as measured in your blender
1 Medjool date, pitted
Pinch of salt
Preparation
1. Put almonds in a bowl, cover with water, and soak overnight. If I forget this step and need fresh almond milk in a hurry you can soak the almonds in hot water for about 20 minutes.
2. Rinse the almonds under cool water. Depending on where your almonds come from or if they are sprouted the peels may have wrinkled and pulled away from the nut. Now, you don't have to peel the almonds but I find if the skins come off easily by squeezing the almond between you thumb and index finger, I end up peeling the whole batch. I'd like to say it's a zen experience but in fact I often just feel stupid for doing it. I've tested the milk with and without skins and it doesn't taste that different.
3. Put all the ingredients in a blender. I have a Blendtec that can grind an umbrella apparently; don't try that at home.