Italian Roasted Red Peppers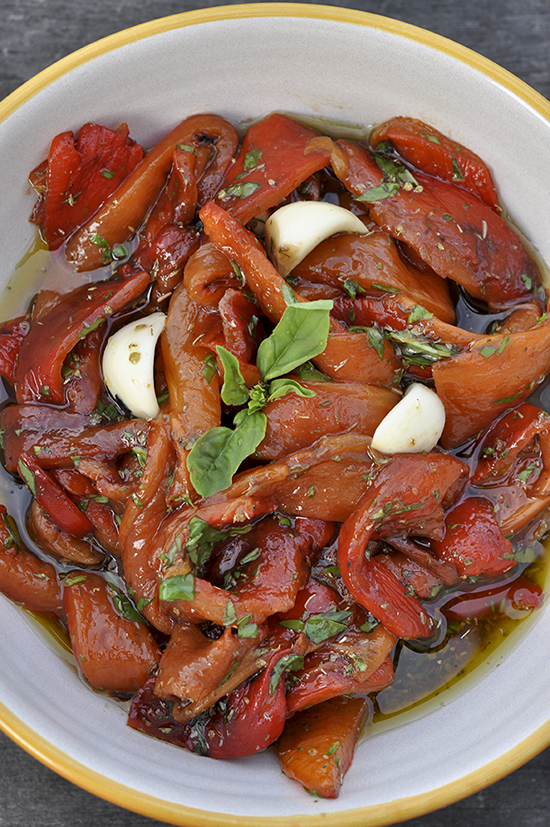 Free from: gluten, dairy, eggs, soy, yeast, and nuts. Vegan.
The first time Ernie fed me at his home, he served these rustic roast peppers steeped in peppery olive oil with a touch of sweet balsamic. Roasted over a fire, redolent with garlic, and accented with freshly chopped basil, these silky, blood-red slivers were so succulent and sensuous they made my head spin.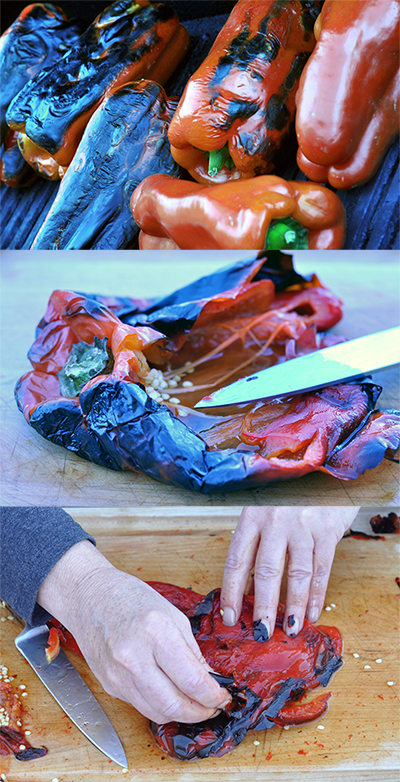 Served with a small palette of sheep and goat cheeses, some paper-thin slices of prosciutto, crusty bread*, and of course, a smooth, dry Italian red. This was in fact, a calculated event to lure me closer to the fire. Indeed, I was already smitten, but this unassuming little spread and, in particular, these peppers, presented a culinary profile of the man I was going to fall in love with shortly thereafter. This recipe is his.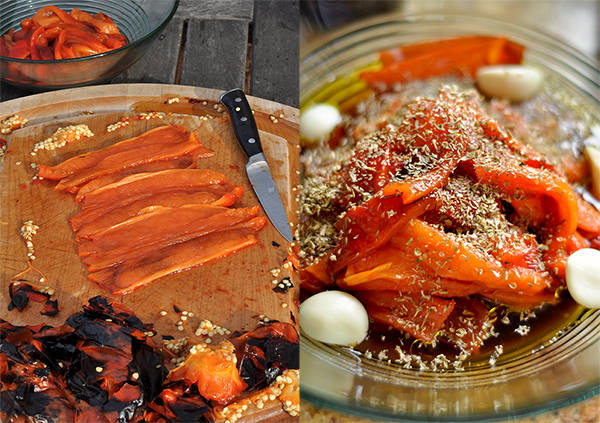 * Pre-awareness of our gluten intolerance
Ingredients
4-6 shiny, bright red, organic peppers free of spots or blistery bits
5 cloves of garlic, peeled
2 teaspoons dried oregano or chopped fresh to taste
1 teaspoon sea salt or crusty salt flakes (I use Maldon)
½ cup olive oil (use the good stuff)
3 Tablespoons balsamic vinegar (don't scrimp here either)
½ cup fresh basil, roughly chopped
a few grinds black pepper
Preparation
1. Place peppers on a  hot BBQ grill. You can do this in a toaster oven or even over a gas cooktop flame (I have put them right on the grate; just keep an eye on them). Grill until the skin is charred black, about 10 minutes. Turn and grill on each side about 6 minutes more per side.
2. When peppers are charred all over, remove from grill with tongs and place in a brown pepper bag to sweat. This loosens the skin from the flesh.
3. When the peppers are cool enough to handle, place on a cutting board and with a sharp paring knife cut around the stem and gently pull the stem from the body of the pepper. If you're lucky you will have removed most of the seeds.
4. Using your fingers and the paring knife, carefully scrape the skin from the peppers along with any seeds still inside the cavity.
5. Slice the peppers into thin strips about ½ to ¾-inch wide and place in a bowl large enough to hold all the peppers.
6. Add the garlic, oregano, salt, olive oil, and balsamic. Taste and adjust for seasoning.
7. Add some fresh ground pepper and the basil.
Serve at room temperature for the fullest flavor as a side dish with any kind of grilled meat or fish, or make it part of a roast vegetable platter. Use the leftovers for peppers and eggs. Yowza.
Save