Spicy Fried Chickpeas from Moro Restaurant in London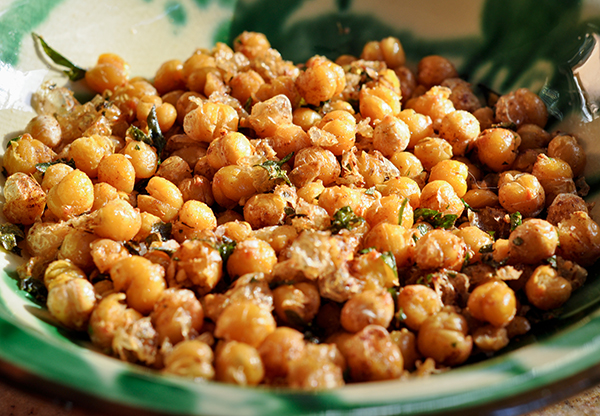 Gluten, dairy, egg, soy, yeast and nut free.
The first time I went to Moro Restaurant was last September when Tess was moving to London for graduate school. Moro was on my restaurant radar since 2010 when Ernie and I first moved to London. Sam and Sam (Samantha) Clark opened Moro in 1997 to serve inventive Moorish dishes with all day tapas. Both had worked under Ruth Rogers and the late Rose Gray at The River Café, whose overarching philosophy is to source the best and most authentic ingredients and then not getting in their way with overly complex preparation. (This is another restaurant I always try to get to when I'm in London and in fact get cranky if I can't go. More on The River Café later.) When we left London two years later, we still had never been to Moro. Truth is, I did try. It was enough of a trek from where we lived that you wouldn't want to get there and not get in. That meant booking in advance. We're not great at that.
During that ridiculously stressful week of trying to get Tess settled in an apartment, we were actually staying a short walk from Moro; we had to go. I called the restaurant about 6PM on a Friday evening. Of course there were no tables. But there was room at the bar if we got our tails there right away. We walked quickly in the mist, worried that the bar stools with our names on them would be gone. We walked in, got seated, and audibly both let out a sigh.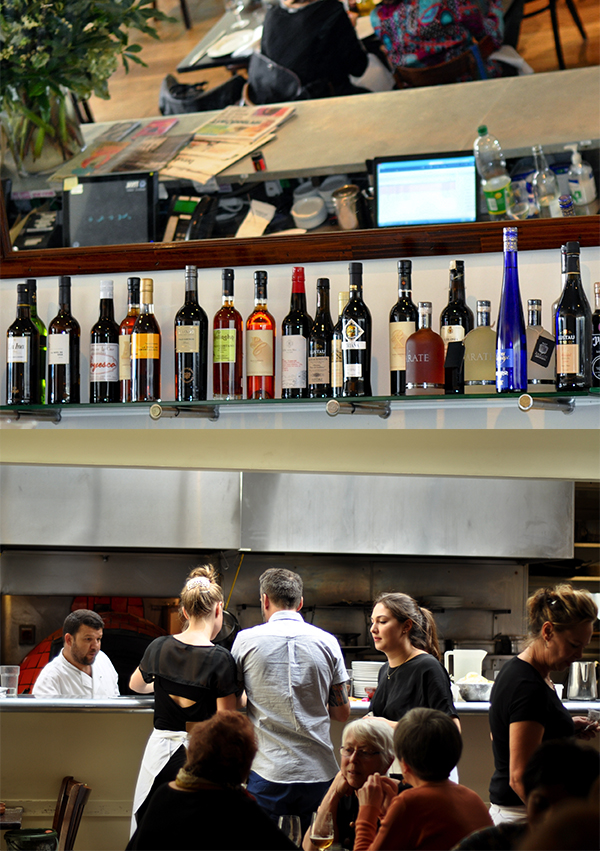 The dining room is bathed in a golden glow from subtle lighting that outlines the dining room at the ceiling. The wall is painted above the booths a Spanishy green with off white above to the lighting. The effect is calming despite the convivial clamor of conversation. There's a long steely bar that runs the length of the restaurant leading to the bee hive of an open kitchen across the back. The decor overall is low-key and casual, but sophisticated and inviting. We felt immediately comfortable and probably too excited.
We ordered a beautiful bottle of Tempranillo described simply as gutsy, uncomplicated, and fresh (hey, that's how I'd like to be described). The wine came, we described our food issues to the patient bartender and ordered several small plates: olives, fried chorizo for me, anchovies for Tess, babaganoush, padron peppers, patatas bravas with aioli, and the vegetable mezze platter with babaganoush, an eggplant salad, probably some greens, piquant harissa sauce—a hot red pepper paste used frequently in North African cuisine—and their signature fried spiced chick peas that Tess would describe as magical morsels of crispy perfection. They even brought to us gluten-free rice cakes for the dippy things. The dishes are not too complex individually, but the balance of flavors when eaten side by side creates an overall flavor collage that I would go back for over and over again. It's Spanish, Moroccan, and Middle Eastern fare at its best.
We went to Moro three times during the ten days I was there and we haven't tried Morito, their laid back tapas bar next door.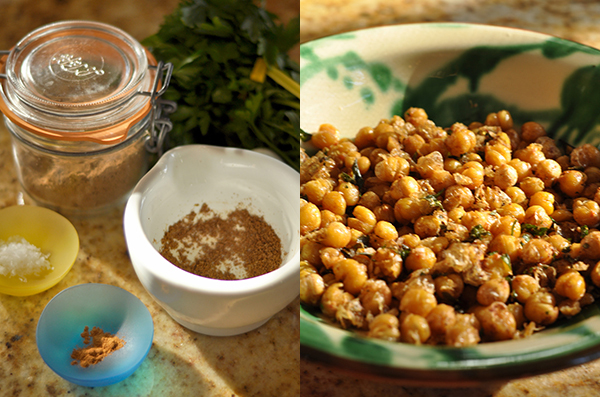 Fried Spiced Chick Peas
Adapted from the Morito Cookbook. Download the app at  Morito: Inspirational Tapas & Mezze
Serves 2-4 as part of an appetizer plate.
1/2 cup olive oil
1 jar chickpeas, drained, rinsed, and dried
1 teaspoon salt
1 teaspoon toasted whole cumin seeds ground
1 teaspoon cinnamon
1 teaspoon ground coriander
1/2 teaspoon cayenne (optional)
1/2 teaspoon coarsely ground salt or salt flakes ( I use Maldon salt flakes)
3 Tablespoons washed, dried, and roughly chopped Italian parsley
Juice of half a lemon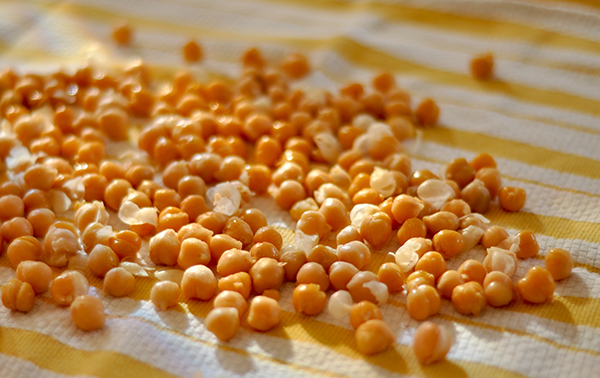 1. Heat the olive oil in a 12-inch pan until a drop of water spatters; oil should be about 350°F.  Then test oil by dropping one chickpea into the pan. If it sizzles excited the oil is hot enough.
2. Fry the chickpeas in the oil, in batches giving each batch of chickpeas enough room to cook evenly and uncrowded.
3. While chickpeas are cooking mix all the spices together in a bowl
4. As chickpeas start to get golden brown and crispy, remove from oil with a slotted spoon and drain in a bowl lined with paper towels.
5. When all the chickpeas are done, carefully put the chopped parsley in the hot oil; in my experience the parsley will make the oil splatter, so stand back. As the parsley starts to darken remove from the oil with a slotted spoon and drain on paper towels.
6. Remove the paper from the chickpeas, add the drained fried parsley, the spice mixture, and the juice from half a lemon.toss lightly and enjoy.