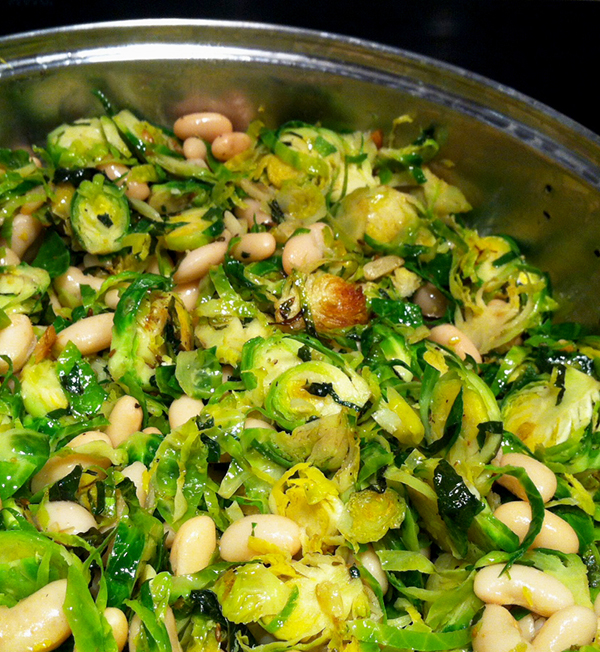 Gluten, soy, dairy, egg, yeast, and nut free.
By Tessa Tapscott
Remember how Brussels sprouts used to be the terror of the dinner table? Not anymore. These tiny cabbage-like vegetables are coming up in the [foodie] world and they're delicious. I guess I can understand how the plain boiled, greenish-grey sprout would not be the most appetizing to a child or most adults for that matter, but who just boils things anymore, really? Roast them; sauté them; bake them; grill them-Brussels sprout kebabs anyone? Okay, I haven't tried that last one, but the point is that the Brussels sprout holds great potential and not only as a side dish.
My mother taught me that peeling the leaves away from the sprout, rather than leaving them as a dense mass, allows for more of those lovely crispy bits that always get picked off the plate first. So, if I chopped them, logically, I might achieve a similar effect, no? I had been working through a large bag for several days and had grown tired of roasting them, so instead, I would sauté them. At this point "Operation: Chopped Brussels" went into action, I roughly chopped the Brussels sprouts and tossed them into a pan slick with melted coconut oil and bits of garlic. Then I quickly zested half a lemon, coarsely chopped a handful of fresh mint leaves, and drained and washed a can of chickpeas (for protein) and dumped it all in. I shook the pan a few times then transferred the pile to a dish and gave it a generous squeeze of lemon. Lovely (as they say here in England).
In my humble opinion, "Operation: Chopped Brussels" was quite a success. This dish offers the right amount of golden brown crispiness in proportion to the soft, sweet core of the sprout. I used small white cannellini beans, but it would also be great with chick peas.
Serves 2-3
Ingredients
10-15 Brussels sprouts, washed and roughly chopped
2 Tablespoons coconut oil
3 cloves of garlic, chopped fine
1 lemon, for zest and juice (preferably unwaxed and organic)
1 handful of mint, washed and roughly chopped (about ½ cup when chopped)
½ teaspoon salt
Cracked black pepper to taste
1 can cannellini beans, rinsed and drained
Preparation
1. Heat the coconut oil in a large sauce pan
2. Add chopped garlic when oil is hot, then reduce heat
3. When garlic begins to turn golden add Brussels sprouts and stir to coat with oil
4. Stir periodically to ensure even browning of the sprouts
5. Zest about ½ of the lemon
8. Add zest, mint, and beans once Brussels sprouts have started to brown
9. Mix and cook for about 2-4 more minutes
10. Add salt and pepper to taste
11. Remove from heat and serve with extra lemon juice over top