Gluten-free Chorizo and White Bean Stew with Crispy Cavolo Nero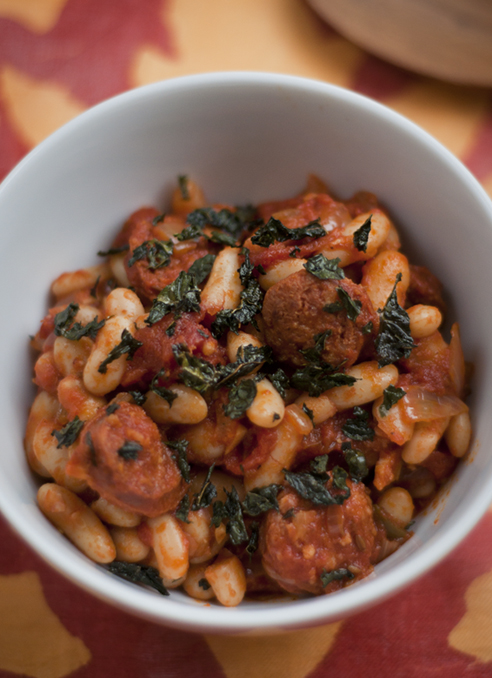 Free from: gluten, eggs, dairy, yeast and soy
My photography stint at Finca Buen Vino, Spain last week has made me a little crazy for all foods Spanish. We did have a bit of chorizo as a flavoring in a bean salad, which was delicious and perfect given the warm sunny days. However, back in London, it's cool and dreary and my cooking is veering off towards hearty soups and stews, with chorizo!
This dish comes together very quickly once you've soaked and cooked the beans. Or, you could use pre-cooked big white beans — I buy Spanish beans in a jar versus a can. If you do use pre-cooked beans, you may want to punch up the garlic. Also I would rinse them first.
Beans, by the way, are nutrient-dense containing folate, iron, potassium and calcium. And they are inexpensive. What's not to love?
This dish calls for uncooked chorizo which releases a spicy red oil as it cooks and infuses most of the flavor you get in the stew. The beans are the perfect foil to carry the oily sauce flavors throughout.
A dried and cured chorizo could work but might get too chewy. Unlike Iberico jamon, I did not smuggle back the chorizo. Instead I bought the sausages freshly made at Chef & Butcher  on Marylebone High Street. Not from Spain, but every bit as rich with Spanish paprika and just the right amount of heat.
You don't have to add the crispy cavolo nero chips on top, but it does add a nice texture and herby sweetness that complements the spicy sausage.
This makes about 3-4 main portions. Doubles easily.
Ingredients:
250 grams (1¼ cups) dried white beans — cannellini, butter or gigante
Cold water to cover
6 cloves garlic, peeled and slightly smashed with side of chef's knife blade
1 large shallot or small onion, peeled and cut in half
1 bay leaf
250 grams (8 ounces or two 8-inch chorizo), uncooked, sliced about 5mm thick (¼ -inch)
1 medium onion, peeled and chopped
4 cloves garlic, peeled and chopped
1 hot green pepper, jalapeńo (very hot) or guajillo from Spain (hot); deseeded and chopped
400 grams whole canned tomatoes
water if necessary
Additional paprika to taste
Preparation:
1. Rinse beans then place in bowl, cover with cool water and soak overnight
2. The next day, drain beans and place in a pan with 6 cloves of garlic, shallot and bay leaf. Cover fresh water and bring to a simmer. Cook, covered until tender; about 1 hour.
3. Saute chorizo slices in a pan until they release oil and start to brown. Remove with slotted spoon leaving oil in pan.
4. Saute onion in chorizo oil until they soften and start to get translucent. Add chopped garlic and stir; do not let garlic burn.
5. Add tomatoes, chorizo and beans back to pan with about a ½ tomato can of water. Stir and bring to a simmer and cook partially covered for 30 minutes. Add a bit more water if getting too thick.
Serve with crispy bits of roasted cavalo nero or kale crumpled over the top.