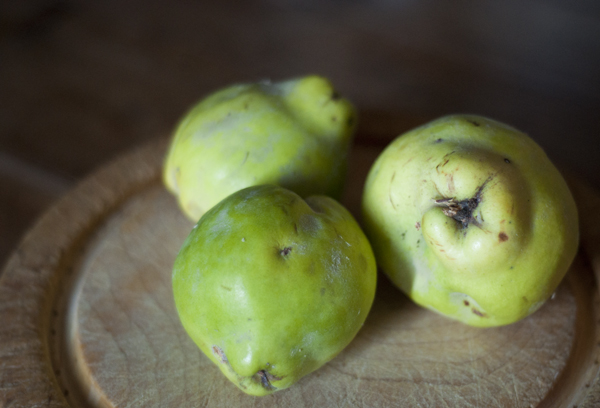 These seductive beauties were shot in the dining room of Finca Buen Vino  (FBV) during my Natural Light- Natural Food photography workshop in Andalucia. Extremely popular in Spain, quince come into their own in the Fall at fincas all over the country, the same time as apples and pears.
The Chesterton's, who own and manage FBV, make quince preserves or marmalade that we happily ate for breakfast on quinoa crackers (ah, that was just me) or with toast and croissant for everyone else. We also savored membrillo —the Spanish version of quince paste — pairing a perfect ruby sliver with manchego sheep's milk cheese.
I've never cooked quince anything myself. It turns out they are difficult to grow in North America as they are susceptible to fireblight (who isn't after all?). And nearly every recipe I've found starts with, "oh this is so much trouble, but well worth the effort"  kind of disclaimer. I for one will probably never make my own quince paste because it's so easy to buy, but a lovely, lumpy pear-like orb whose flesh turns to pale magenta when cooked makes me curious enough to consider playing around with.
If you happen to have a quince tree in your yard, or know someone who does, or live in an area without fireblight, here are some musings on what to do with quince:
Membrillo, Cotognata, Cotignac are the Spanish, Italian, and French versions of quince paste. They are cooked slowly with sugar, sometimes with lemon, cinnamon and/or cloves. Pair with goat or sheep's milk cheese or serve at breakfast with toast and ham.
Quince and Honey Sorbet. Elizabeth David, the sharp-witted grande dame of British cuisine who is oft credited with turning English cookery on its ear, offers a tempting dessert recipe in Is there a Nutmeg in the House. She adds double cream, half and half or yogurt. If I make it I will try coconut cream.
Rosey Poached Quince by David Lebovitz,  the American ex-pat living in Paris and pastry/dessert chef of fine repute. In my life of living without, real pastry is a no-no so I haven't tried any of David's sweet recipes. The more I roam around his site though, I see other recipes that don't contain gluten or dairy or butter. With the holidays coming I need some dessert assistance.
Red Jacket Orchards in New York offers several recipes for quince. I am going to try the Red Cabbage Salad with Quince, Pickled Carrots and Maple-cider Vinaigrette as soon as I find some quince. I guess they figured out how to get around the fireblight.
Seared foie gras and a dab of quince paste on a bit of toast or cracker with dots of reduced balsamic would make an elegant holiday appetizer.
Marmalatha Kythoni– the Greek version of Quince Jam. Most quince jam recipes are essentially made from quince and sugar. I would guess the flavors of the jam, like wine, vary given where the quince are grown.
Spicy poached quince tumbled in rice or quinoa pudding instead of raisins.
Quince syrup made with fresh lemon or lime stirred in a tall glass filled with ice, some good whiskey, a splash of soda and a sprig of mint. Wow this might work with some premium tequila as well if you make the syrup with lime.
Quince compote with dried apricots or cherries. Add some toasted, chopped, marcona almonds for crunch and drool over ice cream if you can eat it or lemon sorbet if you can't.
"Quince" Restaurants
Quince– a Michelin-starred Italian restaurant in Jackson Square, San Francisco. The chef, Michael Tusk, was recently given a Beard award as 'best chef-Pacific' by the James Beard Foundation. On a recent menu they offered tortelloni tellicherry pepper, castelmagno cheese, honey, and quince.
Cotogna– the more rustic warehouse cum farmhouse offspring of Quince, SF where lunch is priced as dinner which makes dinner reasonable and lunch expensive. I've only eaten lunch there and it was expensive, but quite good. They are known for spit-roasted suckling pig, which was crispy and succulent. Sadly I could not try the suckling pig ragout over pasta but others raved.
Quince at the May Fair in London- Modern Ottoman food served in an opulent dining room by TV personality and award-winning cookbook writer (Purple Citrus & Sweet Perfume) Silvena Rowe. Her first restaurant that opened in June did not get glowing reviews in either The Guardian or The Independent but some of the criticism was more about service than the food. The question is can her passion for the food of her Turkish grandfather translate into toney Eastern Mediterranean cuisine you would expect at the five-star glitzy May Fair. I'll try it an let you know.
So there you have it. Quince. I had no idea where this post would lead and now I'm on the hunt for quince.