The Miracle of Shirataki Noodles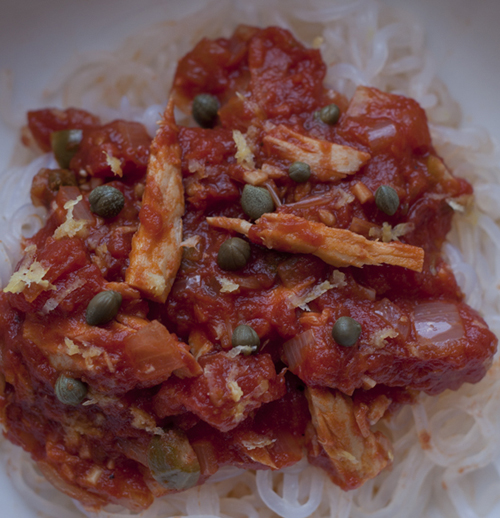 Free from: gluten, soy, eggs, dairy, yeast. Vegan.
A few months ago my comrade in all things food and dieting, Julieta, told me about Miracle Noodles, a virtually calorie and carb-free pasta made from konjac root, sometimes called konnyaku. The noodles, Shirataki in Japanese, are essentially just soluble fibre. That's what gives them the ability to absorb liquid and swell up in your stomach so you feel full. Feel full, no carbs or calories, what's not to love?
Reportedly they have other health benefits such as acting as a detox agent, binding to fat that then gets eliminated, and managing blood sugar, presumably because they don't have any carbs to spike it. I am not going to suggest one way or the other that any of that is true. I just don't know. I do know that I almost always weigh less on a morning after I've had Shirataki the night before. I suppose eating the noodles once a day would be a good experiment, but I'm not that disciplined. What I'm more afraid of is someone telling me that this is all a hoax and they do have carbs and calories like regular pasta. In the mean time, we have replaced even our gluten-free pasta for Shirataki whenever we eat pasta at home.
There are some very minor caveats about eating Shirataki. They come packed in liquid in a plastic bag. If you're concerned about the packaging, that's too bad. The no carb/no cal qualities are more important to me. The liquid is a little smelly. Fishy. No big deal, simply rinse in a colander until the smell is gone. Rinse them in hot water and that's it, no more cooking. Once rinsed, toss them with your sauce. Using them in a stir-fry might be the only reason I'd actually "cook" them.
Where do you find them?
You can order online from Miracle Noodles and Konjac Foods and others. Be careful though. I ordered some on Amazon and never checked the shipping expense. It cost a fortune to move, essentially, a box of water from one place to another.
Look for Asian supermarkets, Japanese especially. I've found two in Soho here in London and they are easy to find in the San Francisco Bay Area. 99 Ranch Market  has stores throughout California, Nevada, Washington and Texas. I need to check them out next time I'm in the States. Julieta has brought noodles to us, in her checked luggage, from 99 Ranch Market in California, before we knew where to buy them in London.
Shirataki Madness
Any dish you would make that calls for pasta or rice can use shirataki instead. Following are some ideas. I will try to get recipes up for these soon but any of your own favorite sauces, curry, or stir-fry dishes will work. Keep in mind that the shirataki have no flavor of their own and rather adopt the flavor of what you add to them. With that in mind, I tend to use flavorful sauces, often spicy, and never too mild.
Pasta al Tonno
The photo above is my version of Pasta al Tonno in tomato sauce. For years Ernie made this dish and I never, I mean never, tried it. For some reason the combination of tuna with pasta did not click for me. Then one evening he was making it and I had nothing else to eat so I was stuck. Suddenly I was a convert. And it's very, very easy to make, especially with Shirataki noodles.
Take a basic tomato sauce, add capers and lemon, and finally, a good jar of tuna. I typically use tuna packed in oil from Spain or Italy. You can see the big chunks. It's worth the price.
Bolognese sauce– Italian meat sauce is perfect. What more can I say?
Green Chicken Curry–  Spicy, creamy coconut milk sauce with hints of lime and coriander and of course bite-sized chunks of chicken. Start with a prepared green curry paste and you are eating in less than 30 minutes. Or make it from scratch, which is quite easy if you have the right ingredients.
Thai Prawns with Garlic and Ginger– my friend Tanya gave me this recipe years ago. Off the top of my head you chop about six cloves of garlic, a big knob of ginger, one or two Thai chilis, a bunch of fresh mint, and a huge handful of fresh coriander. To that you add Thai fish sauce (soy and gluten free), lots of fresh squeezed lime juice, and sesame oil to make it stick. Toss with prawns quickly stir-fried in peanut oil and toss with shirataki noodles and garlic sauce.
Spaghetti con Vongole– Spaghetti with White Clam Sauce. This was one of my father's signature dishes, I'll have to write up the full recipe but in the mean time think olive oil, garlic (lots), white wine, clam broth, fresh scrubbed clams, parsley and lemon. Simply saute chopped garlic in oil, add the liquids and clams, cook until clams open and sprinkle with parsley. Pour the lot over Shirataki noodles, pass more hunks of lemon and enjoy. For a very quick dish use canned, chopped clams.
Pasta con Funghi– I could eat Ernie's wild mushroom sauce several times a week. Ideally, we would get fresh porcinis from our friends Joyce and Randy in Mendocino, CA who go mushroom hunting in late fall and early winter. Or we buy some combination of porcini, chanterelles, and regular brown mushrooms or combine fresh mushrooms with dried wild mushrooms that have been reconstituted. Ernie usually makes this with a couple of punnets (English for little baskets) of fresh cherry tomatoes, some kind of alcohol (brandy works) the mushrooms, fennel seed, and of course lots of garlic. Why can't I eat this dish three times a week? a) it's not mushroom season; b) wild fresh porcini and chanterelles are wildly expensive; or c) Ernie is traveling and not here to make it.
Pasta e Fagioli– I love beans, but I've come to the sad conclusion that I can't eat them too often. For some reason bean carbs make me put on weight overnight. That doesn't keep me from eating them, but it's a trade off. With shirataki, the miracle noodles, I'm not concerned about the carb-on-carb combo pasta e fagioli would normally be. I get my beans and pasta too.
Basic Marinara Sauce
Ingredients:
½ cup extra virgin olive oil
1 medium onion finely chopped
6 cloves garlic, finely chopped
2 large cans (400-450g) whole or chopped tomatoes, preferably San Marzano
1 small can tomato paste
1 small can of water
1 bay leaf
salt and pepper to taste
Preparation:
1. Saute chopped onion in olive oil until translucent
2. Add garlic well minced and stir for a minute
3. Add tomatoes, crushing with your hands if whole as they pour out of the can
4. Add tomato paste and a small can of water, a by leaf, salt and freshly milled pepper
5. Let simmer on low temperature for about 45 minutes, stirring occasionally