Cannellini Bean Soup with Mint and Lemon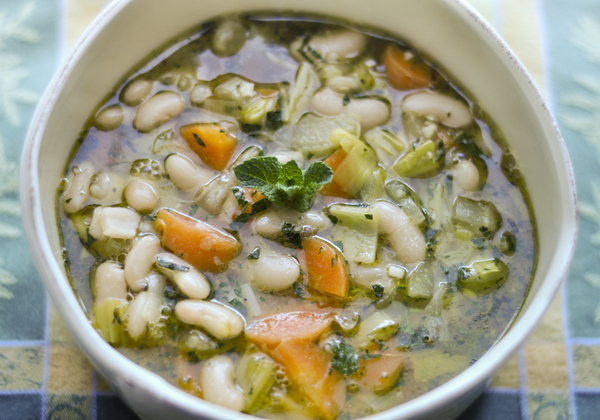 Free from: gluten, eggs, dairy, soy, corn, nuts and yeast. Vegan. Ok for Blood type A.
Cleaning out the cupboards as I packed to move home I came across a bag of dried cannellini beans (among so many other things that will get left behind or given to my friends). Dinner was on the horizon, I didn't feel like going to the store, so I made this soup with what was on hand and it was delicious.
Cooking Dried Beans
Normally you would soak beans overnight in about three times the water. I didn't have the time so I used a Quick Soak Method to prepare the beans for cooking. Rinse the beans; put them in a saucepan and cover with about three times the water. Bring to a boil and cook for two minutes. Turn off the heat and let soak for at least an hour. Whether you soak overnight or use the quick method the beans absorb water which shortens the cooking time. I wonder if you didn't soak the beans could you cook them for say six hours  and get the same results. I don't know why you would do that. Just curious.
Once the beans have soaked, rinse again and put in the pan with about three times the water. I added four big cloves of garlic peeled and crushed slightly with the side of a butcher knife. Don't add salt; the beans will get tough. Cooking time varies depending on the the type and size of beans. For this soup I let them cook about an hour and a half and finished cooking them another 45 minutes in the soup with the vegetables.
Variations:
I'm trying to follow the Blood Type Diet for Blood Type A so I need to avoid nightshade vegetables—tomatoes, potatoes, eggplant and peppers. And meat.
If you don't care, seriously consider adding some bacon or pancetta when you sweat the vegetables. A can of tomatoes or small cubes of potatoes would also work. If you don't have mint, add parsley. Not keen on lemon, a splash of good balsamic or red wine vinegar adds a bit of zest.
You can also add gluten-free croutons. I use ABO quinoa or pea bread that's naturally free- from gluten (more to come later) cut into cubes and sauteed in olive oil and a little salt. Yum!
The point is work with what you have. I think this version is delicious. In fact, I've been eating it for three days without getting bored. The flavors are even more melded now. It also makes me feel a bit virtuous because it's low fat, high fiber and cooked from scratch. Well almost, I did use a gluten and yeast-free vegetable cube for the stock.
And finally, why not double the recipe and freeze some (without the mint or lemon). How handy would that be when you don't have time to cook?
Ingredients:
¼ cup Olive oil
2 leeks
2 celery stalks
4 carrots
3/4 teaspoon dried oregano or 1 Tablespoon fresh finely chopped
Maldon salt flakes or coarse sea salt to taste
4 cloves garlic, finely chopped
3-4 cups vegetable stock
2-3 cups cooked cannellini beans (see above) or 1 big jar (660 grams) or 2 cans
Chopped fresh mint for serving (optional)
Lemon juice (optional)
Preparation:
1. Cover bottom of soup pot with olive oil and warm gently.
2. Remove outermost leaves from leeks; chop off top green portion; cut in half vertically and slice. Add to pan.
3. Wash and trim ends from celery; cut in half vertically and slice. Add to pan.
4. Scrub carrots; trim ends; cut in half vertically and slice. Add to pan.
5. Sprinkle oregano and salt over vegetables and stir. Let vegetables sweat (cook slowly without browning) for about 5 minutes.
6. Add garlic and let cook about 3 minutes being careful not to let the garlic brown.
7. Add the stock and the beans. cover and bring to a boil then turn down the heat and let simmer for 30 minutes if beans are completely cooked or 1 hour if they are not.
8. To serve chop a bunch of mint and toss a handful into pot with the juice of half a lemon. Offer more mint and lemon at the table.