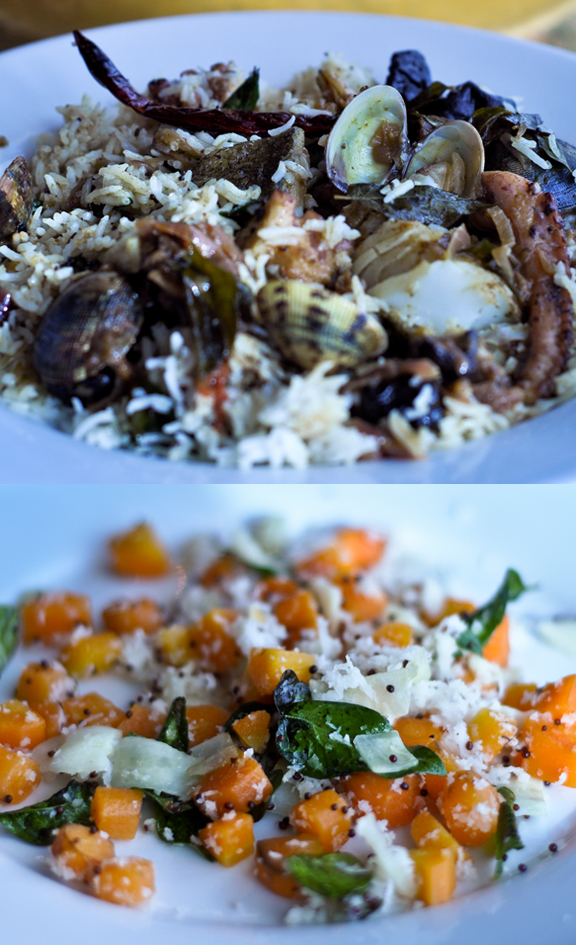 Just north of Notting Hill on the Grand Union Canal in Ladbroke Grove, West London sits the experimental restaurant Dock Kitchen. The converted Victorian Wharf building retains original red brick walls and arches that complement the restaurant interior designed by furniture designer Tom Dixon who also has a store in the basement carrying high-end contemporary lighting, furnishings and accessories. His big copper globes cast warm light across brass and wooden tables. The overall hip space is at once modern and welcoming.
I had been wanting to go to Dock Kitchen for some time. One of my pilates teachers trains one of the backers and she recommended it first. Then, Thomasina Miers of Wahaca and my classmate at Tim Clinch's Natural Food, Natural Light photography workshop said it was a restaurant not to miss while living in London. She may have gone to Ballymaloe culinary school with Stevie Parle the head chef and owner of Dock Kitchen. And finally, the restaurant's website and blog are charming, unpretentious and real.
Stevie Parle's style is to take seasonal foods and exotic ingredients to create dishes inspired by travel but make them his own. In 2010, at 25, he won the Observer Food Monthly young chef of the year award. He's worked at River Cafe, Moro and Petersham Nurseries. Now cooking food built on international cuisines is not wildly unique if your menu draws from one area and is somewhat static, but at the Dock they change the  menu every two weeks. The kitchen is shifting gears constantly. That's the experimental part and it's working. (As I think about it now I think my reaction the first night I went may need to be reconsidered. Read on.)
It was a typical cold, misty evening in late October. I was intrigued by the "fixed, shared" menu based on a recent trip to Istanbul as we had also ate our way through Istanbul last year. However, while mouth wateringly tempting, there were dishes Ernie and I could not eat because they had gluten, or dairy or both. We asked if we could have some of the meze as starters and were told we could not because they were only for the "fixed, shared" menu. So "fixed" really meant no substitutions or variations from the plan and "shared" meant everyone at the table had to choose the fixed menu.
Granted the web site says exactly that but at the time I thought they might have been a bit more understanding given our limitations and obvious enthusiasm. If we were asking for one of the four remaining mains I could see their point, but we simply wanted a taste of the baba ganoush or hummus (I'm not really sure what the meze were but I'm fairly certain eggplant and tahini were involved). And our guest, who has no restrictions, could not have it either because we have food intolerances. At the time I felt they could have been more flexible.
Now as I write this, I think maybe I was a bit too self-centered. They are doing an ambitious thing here and perhaps the only way to pull it off is to be restrictive. (Stevie if you ever read this, I'd love to know what you think.)
Getting back to the actual experience, the open kitchen sits at the back end of the long narrow space, although there are a few tables beyond and a private dining room as well. There's a tandoori oven and a smaller side grill just outside on a large terrace that must be kick-ass in warmer weather. That night , I went out to chat with the Tandoori chef, a friendly chap from Ireland. I had never been that close to a tandoori grill and got a bit excited. To bake the floury little flat breads (we could not eat) the grill chef took blobs of dough, flattened them in his hands and then rolled each with a wooden dowel. He then schlogged water all over and slapped the flattened dough on the inside wall of the tandoori oven. Who figured that out? I tried taking a picture, using Ernie's iPhone (notice not my own) by holding it over, and slightly into, the fire as close as I could without getting singed. In the most charming Irish accent the chef did kindly warn me that if I dropped the phone, the likelihood of getting it back was next to nil. So I stopped.

Despite my initial disappointment over the meze, the meal was excellent. I had a fresh carpaccio of thinly sliced fish with chili, lemon and olive oil and perfectly cooked, tender tandoori quail (I think, it was a small bird) and a savory rice dish studded with pomegranate seeds, lots of cilantro and fragrant spices. The food was so good I knew I had to go back and a) see if the food was consistently as good; b) see if the service was any more flexible and c) try to take some decent pictures in daylight.
Round two (sadly a bit more whining): I invited Melissa Cosby, owner and trainer extraordinaire from Kinesis Studio (where I do pilates and gyrotonic) to say good bye and celebrate her birthday as it turned out. Our lunch was sadly offset by the floor-to-ceiling windows that magnified the heat of the mid-day sun to an uncomfortable broiling level. It was blazing even with the shade pulled down. I asked our waitress if we could move across to the opposite wall and was told those tables were for four not two. The restaurant was not full, it was 1:30 on a weekday, the tables weren't reserved and we were living, breathing, uncomfortably warm patrons who asked nicely to be moved. Shame on them because here I am writing about it.  We stopped her again and Melissa, a bit more directly, said it was really too hot and we wanted to move. The waitress conferred with the host and they then said yes we could move and walked away. She didn't pick up our water bottle or wine glasses. She simply walked away. By the time we gathered our beverages, napkins etc. another couple swooped in and took the table. That was it. I was about to take of my top off I was so hot but instead we just moved our chairs as far away from the window as we could which didn't really help. They need to get an awning  or sun-resistant shades and train the staff to take better care of their customers. The waitress wasn't mean or snotty, she was simply unaware that part of her job and the host's as well was to take care of their customers. At least that's what I was taught from my father when I first started waiting tables at 17. Take care of your patrons the way you would like to be treated yourself. It's not profound. What a lot of kvetching. Sorry, but it clearly left an impression on me.
All that aside, the kitchen turned out one inspired dish after another. The tandoori flatbread looked and smelled divine. Melissa confirmed it was but I didn't try it. We shared two starters. First we had a large, purple, thornless whole Mammole artichoke cooked (or stewed?) slowly in olive oil and served with three little piles of spice: seven spice, sumac from Lebanon and firey chili flakes.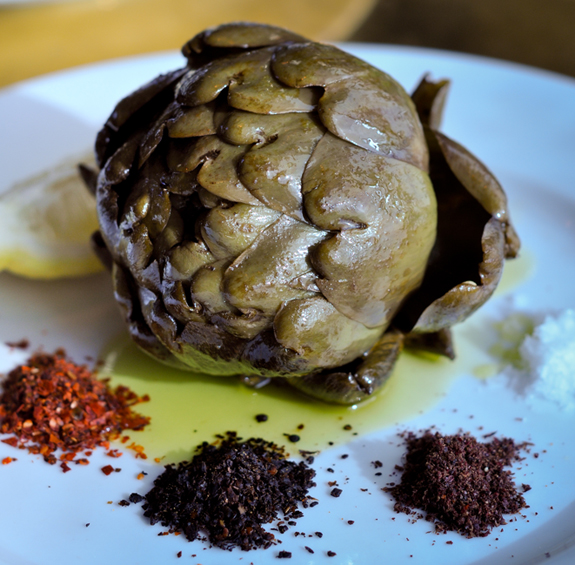 The second starter was called Gnudi Verdi. Essentially the filling of spinach and ricotta ravioli, rolled into a ball, without the pasta. The ricotta was made from sheep's milk which I do eat on occasion despite the casein. The tender globules of richness were deep fried and came sitting in a pool of exquisite Tuscan Olive oil. I had one. I could have eaten them all.
For our mains, Melissa had wild, line-caught Cornish sea bass grilled over charcoal with Swiss chard and anchovy gratin. Beautifully cooked, the flesh was moist and mild. I might have eaten more but was too distracted by my own plate.
I ordered Fish Biryani of cod, clams and octopus. Oh dear, it was one of the best dishes I've ever had anywhere. I had never had octopus so fresh and tender. The spicing was perfect.The rice was aromatic and beautifully flavored. I did not want to share. It came with carrot, white cabbage and coconut Thoran a dish typical of Kerala, Southern India that was studded with toasted mustard seeds and crisply fried fresh curry leaves. I could have licked that dish.
Would I go back to Dock Kitchen? In a heartbeat. The food is outstanding. The staff took my food intolerances seriously, conferring with the kitchen and advising me on what I could and could not eat. Could they be a bit more on their game. Yes I think they could.
By the way, Stevie Parle was not in the kitchen either visit, but the first time was on a Monday evening, then a midday lunch and he travels a lot. I now regret I didn't pick up his Dock Kitchen Cookbook, real home cooking from around the world. Maybe it would have had those meze dishes in it I didn't get to try.
There is an a la carte menu at both lunch and dinner and a working lunch — two courses ₤14.50; three courses ₤18.00. With 48 hours notice you can do a Sunday roast  to share.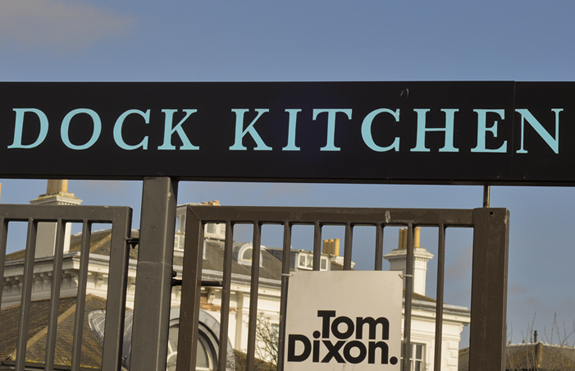 Hours:
Mon-Sat 12-2:30pm, 7-11:30pm
Sun 12-3:30pm
Dock Kitchen
Portobello Dock
342/344 Ladbroke Grove
W10 5BU
+44 (0)208 962 1610