Cannellini Bean Hummus with Tuna Salad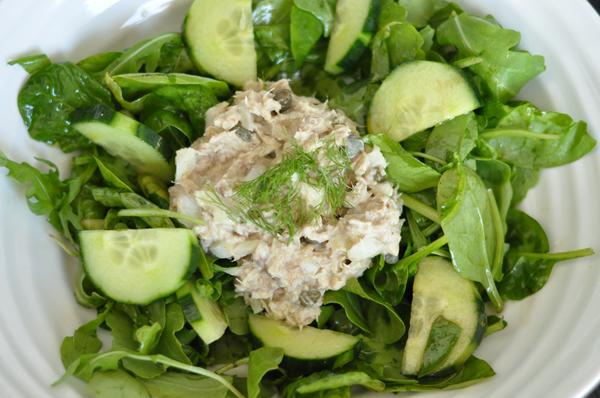 Free-from: gluten, eggs, dairy, soy, yeast, corn and nuts. Vegan (hummus). OK for blood Types A and O*(hummus).
A quick and healthy snack with raw vegetables, or, in place of mayonnaise in salads and sandwiches or even cream cheese with smoked salmon, hummus is one of my go-to  foods. Beans of any kind are low fat, high fiber and protein rich. And as I can't eat eggs, mayonnaise is not allowed. Hummus has a lot less fat than mayo and provides protein and fiber.
I've been dabbling with the Blood Type diet lately (more to come on that) and as I have A+ blood, I'm not supposed to eat chickpeas (which I adore). So I've started making hummus with cannellini beans. I started testing hummus on sandwiches (gluten-free bread of course) which is brilliant, but today I used it to make this tuna salad and 'lo and behold it works. Really well.
And another idea
For someone who can't eat eggs, doesn't like maple syrup  (think pancakes) and can only drink so many smoothies, breakfast options can get tedious. So why not hummus? Lately I've been on a gluten-free quinoa toast/hummus/smoked salmon kick. If I'm going to have hummus for breakfast I usually skip the garlic and paprika.
Following is the recipe for cannellini bean hummus and tuna/hummus salad.
Of course you can substitute chick peas for the cannellini beans.
*Note: I'm trying to adapt to the Blood Type Diet to see if I: feel better; have more energy and lose weight. It's controversial but I've met several people in the UK who swear by it saying they simply feel better and have more energy when they follow it. The the blood type approval here is for the hummus. You would need to check the other ingredients you serve it with to ensure they are ok too. For instance Blood Type A's should avoid smoked salmon (big bummer for me); but if you follow Dr. D'Adamo's advice on compliancy and eat 70% of the time for your blood type, then the occasional slice of smokey salmon is probably ok.
Hummus
Ingredients:
1 can organic cannellini beans, rinsed
¼ cup extra virgin olive oil
¾ teaspoon Maldon salt flakes or coarse Sea salt
2 Tablepooons tahini
1 Tablespoon sesame seeds and some extra to sprinkle on top
Juice of one lemon and more to taste
1 medium clove garlic with center removed (optional)
a scant ¼ teaspoon sweet paprika- optional
Preparation:
Put all the ingredients in a blender and whirl until smooth. Taste and adjust as necessary. I usually add more lemon juice and salt. The paprika gives the hummus a slightly smokey flavor. Sprinkle with a few sesame seeds if you like.
Tuna Salad with Hummus
Makes two servings
Ingredients:
Tuna Salad
1 can sustainably fished tuna* (Wild Planet in the US and Fish 4 Ever in the UK)
⅓ cup hummus
Lemon zest and juice of half a lemon
1 Tablespoon chopped fresh or 1 teaspoon dried dill
2 teaspoons extra virgin olive oil
2 Tablespoons capers
Salt and pepper to taste
Green Salad
3 cups washed mixed greens
1 avocado, peeled, seed removed and cubed
½ and English cucumber, washed, semi-peeled and sliced
¼ cup extra virgin olive oil
Juice of half a lemon
*The US and the UK are the largest consumers of tinned tuna. If we want to keep eating tuna I think we have to make eco-friendly choices whenever possible.
Preparation:
1. Drain tuna, put into a mixing bowl and break up with a fork.
2. Add hummus, lemon zest/juice, dill and olive oil and mix well.
3. Gently mix in capers and salt and pepper to taste.
4. Toss greens, avocado and cucumber (I peel in stripes, leaving some of the skin) in a bowl with olive oil and lemon.
5. Divide green salad on two plates and top each with half the tuna mixture.