Gluten-free Eggplant Parmigiana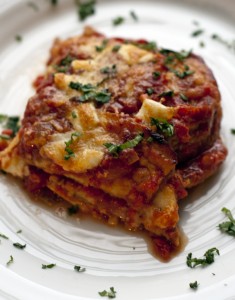 Free from: gluten, dairy, yeast, and soy
I have to admit, I make a pretty mean eggplant parmigiana and it stinks that I can't eat it (dairy and eggs). But my family loves it, so I live a little vicariously through them. Actually, the process of making this dish still gives me pleasure and I do get to inhale the crisply fried eggplant, the meltingly rich buffalo mozzarella blanketed in deep red, tomato sauce.  Ernie eats practically nothing else until it's gone.
In addition, it makes a perfect packed meal for a trip across the pond.  The remains of one such meal saved me from getting caught by an over eager security beagle at SFO when I had some illegal Spanish ham hidden in my carry-on; but that's another story. Like many of the Italian dishes I cook, I learned this from my Dad.
Yield: 8 servings
Ingredients:
2 medium eggplants
2 tablespoons salt for soaking eggplant
2 large eggs
⅓ (75ml) cup unsweetened dairy free milk (rice or almond preferred)
½ teaspoon salt
¼ teaspoon freshly ground pepper
1-2 cups (225-450g) gluten-free flour (I use a mixture of plain and gram)
Oil for frying (I use organic Sunflower frying oil)
3-4 cups (750-1000ml) Basic Tomato Sauce
2, 8 ounce (2, 250g) balls buffala mozarella
1 cup (225g) freshly grated pecorino romano
Preparing Eggplant for Frying:
As I said, my Dad taught me how to prepare eggplant. He learned to make eggplant parmigiana from Tony his first chef at his restaurant, the Driftwood Lounge. Tony was from Italy where he eventually returned to which is how, and why, my Dad became head chef.
Eggplant can be bitter. To minimize this you need to: salt, soak, drain and compress the eggplant before frying. Trim tops and bottoms and peel eggplants completely. After peeling, slice the eggplant lengthwise about a ⅜-inch thick and layer in a big bowl salting each layer as you go. In total, I use about two tablespoons of salt for two medium eggplants. Cover all with cool water and place a heavy plate on top to keep the eggplant submerged.
Let the eggplant soak at least ten minutes, 30 is better. Place a clean dishtowel on a cutting board, then cover that with paper towels. Drain the water from the eggplant then lay the slices in a single layer covering each with additional paper towels until you've used up all the eggplant. Place another cutting board on top.
When I was 11 or so, my father would have me climb up on a chair and sit on the cutting board to press out as much moisture as possible. Then we would sing and I we would kind of dance rocking back and forth on the board. As I got older, this got less practical. Now I put the eggplant, sandwiched between the boards, on the floor and stand on it. Very occasionally, if I'm feeling super fit, I climb on the counter and sit on the boards. It reminds me of my Dad and I remember how we laughed and how his eyes sparkled when we did this.
Preparation:
1. Prepare eggplant for frying (see above)
2. Heat about 1 to 1½-inches of oil in large heavy skillet
3. While oil is heating, blend eggs, milk, salt and pepper in a low shallow bowl
4. Spread flour on a plate
5. Dip drained eggplant slices (one at a time please) into egg; shake off excess
6. Pat in flour on both sides. It doesn't have to be meticulously covered, just get some on there.
7. When oil is hot (you'll see little swirly rivers on the top) carefully place the first slice of eggplant into the oil. It should sizzle a bit. If it spatters wildly, your oil is too hot. If there is no sound at all, the oil is not ready. Continue to add eggplant without overcrowding the pan. Use tongs to turn when slices start to get golden. Remove from oil when second side has cooked and drain on paper towels. Continue to cook until all eggplant slices are done, layering on paper towels as you go.
Note: Do not throw used oil down the drain. Let it cool completely and pour into a jar scraping all the bottom gunk off the pan into the jar. Close the lid and throw away.
Save
Save