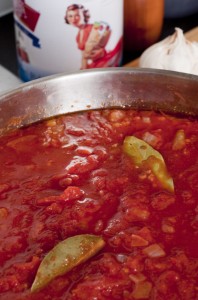 Free from: gluten, eggs, dairy, soy and yeast
There's no excuse for bad tomato sauce. Why is it then that time after time we go to a reputably good Italian restaurant and the sauce tastes like canned tomato soup? For me, if a restaurant makes a good tomato sauce and tasty meatballs (gluten and egg-free of course) then chances are the rest of the dishes will be good.
Ernie and I each have our own preferences for sauce.  I added fennel to this sauce because he loves fennel and he is the only one in the house eating the eggplant parmigiana I'm making tonight. I don't think my father ever put fennel in a sauce, except perhaps when he was making sausage and peppers.
A word on tomatoes. I've made sauce from just fresh plum tomatoes and it was good sure, but parboiling, peeling and seeding fresh tomatoes isn't something I generally have time to do. I grew up on sauce made from tomatoes right off the shelf and that's what I use for basic tomato or bolognese.
In the US we use Pomi brand chopped and crushed tomatoes from Italy. They come in BPA-free packaging and contain nothing but tomatoes. There are no preservatives or salt and the seeds they are grown from are not genetically modified. I like that.
I also use the very trendy, sworn by foodies, San Marzano tomatoes which I must admit are sweet and delicious. If you want some history on the comeback of the San Marzano visit www.sanmarzanotomatoes.org.
Yield: 4-5 cups
Ingredients:
¼  cup (or more) olive oil
1 large or two medium onions, chopped
1 teaspoon fennel seeds crushed with a mortar and pestle (optional)
1 teaspoon dried oregano
1 teaspoon kosher or sea salt
½ teaspoon freshly ground pepper (many, many twists)
6-8 large cloves of garlic chopped very fine
2, 750 gram boxes Pomi chopped tomatoes (or equivalent canned)
2 dried bay leaves whole or crumbled*
*I was taught to put whole dry bay leaves wherever bay leaves were required. I recently made a recipe from Michael Chiarello's Bottega cookbook and the bay leaves were crumbled into the tomato sauce. Who knew?
Preparation:
1. Heat a large heavy skillet over medium heat and add the oil. The oil should liberally cover the bottom.
2. As the oil heats add the chopped onion and the spices and cook until onions become translucent.
3. Add the garlic and stir.
4. Add the tomatoes and the bay leaves.
5. Lower heat and cook covered, stirring occasionally for an hour or more until sauce is thick.