Hot Quinoa Cereal with Fruit and Nuts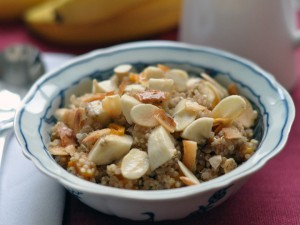 by Tessa Tapscott
Free from: Gluten, Dairy, Eggs, Yeast, Corn and Soy
Quinoa is my favorite grain! Is that weird to say? Well, once you start cooking with quinoa you will know exactly what I mean. It quickly became a staple in my diet once I realized it was another type of grain I could actually eat. And it is so versatile! It's like rice, it's like couscous, its like cornmeal. It's breakfast, lunch and dinner! Not to mention it's a SUPERFOOD.
Quinoa originated in South America and was a primary source of nourishment for pre-Colombian Andean civilizations. It is a complete protein, a good source of dietary fiber, phosphorous, magnesium and iron. And best of all it is gluten-free! If you don't fall madly in love with this grain then maybe eating is not you. I'm sorry if I am sounding a little maniacal, but I just get so passionate about those little seeds. This special week we will offer a variety of ways to prepare quinoa, hopefully you can find at least one that suits you.
Why Quinoa for Breakfast?
I have an obsession with breakfast, so it seemed only fitting that I find some ways to integrate quinoa into my morning meals. One of the easiest ways to do this is to use the quinoa as a basis for hot cereal. I can't liken it to any other type of cereal grain—it has a texture and flavor all its own. There are several different kinds of quinoa. The cream-colored quinoa is the one most commonly found in supermarkets. It has a milder flavor and is not quite as crunchy as the other types. Red and black quinoas have a ruddier, more potent flavor and they tend to be crunchier. I have found that mixing the three kinds of quinoa gives you a nice balance of flavor and texture. This recipe works with all different types of quinoa, you just have to find out which kind tastes best to you.
Ingredients:
2 cups water
1 cup quinoa or a mixture of different types
1 medium banana
1 teaspoon cinnamon
¼ cup chopped dried mango
¼ cup sunflower seeds
¼-½ cup unsweetened almond, coconut or hemp milk
½ cup chopped or sliced almonds toasted
¼ cup dried shaved coconut, toasted
Toppings you may want to try:
Fresh or frozen (defrosted) berries, dried cranberries, dried pitted cherries, walnuts, flax seeds, poppy seeds, honey, nutmeg, brown sugar etc.
Preparation:
1. Bring 2 cups of water and 1 cup quinoa to a boil in a covered medium saucepan
2. Peel, quarter lengthwise and slice banana into small pieces
3. When quinoa comes to a boil reduce heat and add half the banana (this allows some of the banana to soften adding consistancy and flavor the quinoa), the cinnamon, dried mango and sunflower seeds.
4. Simmer for 10 minutes longer stirring occasionally until water is absorbed. The quinoa is ready when the white germ ring separates from the grain.
Serve with remaining banana sliced, milk, almonds and coconut on top.
Play around with different toppings to find what you enjoy best!