Gluten, Egg and Dairy-free Oatmeal Cranberry Chocolate Chip Cookies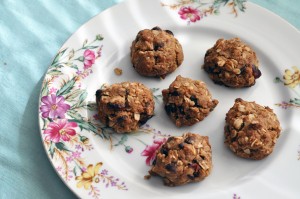 God Bless Fannie Farmer and Ruth Wakefield — the Moms, I believe, of American cookie baking.
The first published oatmeal cookie recipe is attributed to Fannie Farmer and appeared in the The Boston Cooking School Cook Book in 1896 written while she was director of the school (I can't help but wonder if she had students testing recipes, don't you think?).
About 40 years later Ruth Wakefield created the Toll House Cookie, cut a deal with Nestle to put it on bags of chocolate chips (which were developed and marketed because of the Toll House Cookie) and an American food affair was born. Seriously, who among us has not looked guiltily at their hands and realize they have just eaten not one, or even two, but several warm and gooey chocolate chip cookies.
Tess and I developed this recipe based on her desire to combine both cookies with dried cranberries. Our non-intolerant friends stuff them into their mouths as quickly as we do.
The first time we made these we used Earth Balance vegan sticks which produced a chewy cookie but it contains soy, which neither of us can eat. Since then I switched to coconut butter. The results are good, but I think the vegan sticks produced a chewier cookie.
The most recent test was made with Artisana Raw Coconut butter made from raw coconut meat. Earth Balance also sells a coconut spread that is made from coconut oil and is particularly suited for baking. Let the coconut butter sit out (it does not need to be refrigerated) otherwise you'll have a heck of a time getting it out of the container. Of course if you can eat dairy or eggs, use the real thing.
Makes 2 dozen cookies
Pre-heat oven to 375°F (190°C)
Ingredients:
⅔ cup coconut butter, coconut oil or your favorite non-dairy "butter"
¼ cup granulated sugar
¼ cup dark brown sugar
1½ teaspoons Ener-G Egg replacer  and 2 tablespoons warm water or 1 tablespoon ground flaxseed mixed with 3 tablespoons warm water
1 teaspoon vanilla extract
1 cup self-rising gluten-free flour or 1 cup plain gluten-free flour (Bob's Redmill in US or Dove's UK) and 1 teaspoon baking powder and ½ teaspoon baking soda
½ teaspoon salt
¼ teaspoon nutmeg
½ teaspoon cinnamon
1 cup gluten-free rolled oats
½ cup dried cranberries
½  cup semisweet chocolate chips
Preparation:
1. If using coconut butter, soften in microwave or warm oven. In a large bowl beat softened coconut butter or oil and sugar together with an electric beater until well mixed
2. Add egg and vanilla to butter and sugar and mix until well blended
3. Mix gluten-free flour, salt, baking powder, baking soda, nutmeg and cinnamon together with gluten-free oats
4. Add dry mixture to butter mixture and blend well.
5. Fold in cranberries and chocolate chips
6. Form 1½-2 inch balls with your hands (the best way I think; you can try using a spoon, good luck) and place on greased cookie sheet leaving space between the balls. They don't flatten much during baking but I still leave a bit of space between them.
7. Bake on middle rack for about 10 minutes