Moroccan Chicken Thighs with Roast Vegetables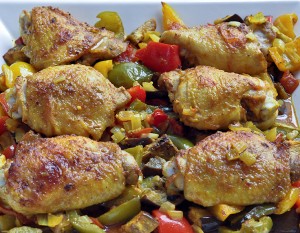 Free from: gluten, dairy, eggs, yeast and soy
In our house, we call this Jackie's Chicken because Ernie's daughter, Jackie (surprise), who lives in Paris and prefers Moroccan food to French, made it for us. I vaguely recall sneaking into the kitchen to lick the pan under the guise of helping to clean up. Thereafter I would whine for it every time she cooked for us.
Eventually she taught me to make it myself because: 1) she got tired of my pathetic whining; 2) having it once or twice a year wasn't cutting it and 3) she could get credit for it here.
Apart from the take-me-to-Marrakech flavors, golden juices and medley of color this dish becomes, it's also easy. You cut up a bunch of vegetables, toss everything in roasting pans, sprinkle with spice and put it in the oven. That's it.
Serve it with rice to sop up all the juices. I usually make brown basmati because I like the toothiness of the rice with the rich fragrant vegetables and because it cooks faster than plain brown rice. White basmati works fine, but I'm under the impression that brown rice is a bit healthier because it's not as refined and therefore doesn't affect your blood sugar as quickly. Oh, and sometimes I make Jackie's coconut rice, not Moroccan but it works (recipe to come).
If you make this in two pans the vegetables have a lot of room to roast and get a little crisp. Depending on the size of your oven you will need to use one or two racks roughly in the middle of the oven.
Size of thighs (something no one wants to talk about) is important. I try to get big thighs for this dish so that the vegetables have time to cook down and start to caramelize by the time the chicken is done. Six honkin', organic, free range thighs weigh two or more pounds total (one kilogram); each thigh weighing in at 6 ounces or 175 grams.
Idea: I make this using fresh lemon zest and juice but want to try it with preserved lemons which real Moroccan recipes use frequently. You could make your own preserved lemons (I've read it's not hard) or get them in a specialty food store. In Paris you can get them easily and here in London I've seen them at Waitrose and of course specialty shops. You add the preserved lemon for the last part of the cooking judging from recipes I've read. I will try it an let you know how it goes.
Makes 4-6 servings
Preheat oven to 425°F/220°C
Ingredients:
1 teaspoon turmeric
2 teaspoons ground coriander
1 tablespoon ground cumin
1 teaspoon sea or kosher salt
1 teaspoon paprika
¼ teaspoon cayenne
½-1 teaspoon freshly ground pepper (several twists from a pepper mill)
1 medium onion, peeled
1 small eggplant
1 zucchini (optional)
1 red and 1 green pepper, seeded
4-6 cloves of garlic, chopped fine (use 6 cloves if you love garlic, less if you're not sure)                                          Extra virgin olive oil for bottom of pan and to drizzle over top
2¼ pounds (1kg) chicken thighs (6 big free range organic)
1 lemon
Preparation:     
1. Mix turmeric, coriander, cumin, salt, paprika, cayenne and pepper in a bowl; set aside
2. Cut onion, eggplant, peppers and zucchini (if using) into roughly one inch or slightly larger chunks.
3. Coat bottom of each roasting pan with about three tablespoons of olive oil.
4. Divide the vegetables evenly between the two pans.
5. Drizzle a few more tablespoons of olive oil over the vegetables and then sprinkle the spice mixture evenly over the tops and mix. I use my hands (clean of course) to get the spices evenly distributed.
6. Place the the thighs, skin side up, on top of the vegetables and turn so they have a bit of spice all  over.                                                                                                                                                                                                             7. Zest one lemon evenly over everything and then squeeze the juice on top as well.
8. Place the pans in the oven and bake for 20* minutes then remove from oven.
9. Stir the vegetables and turn the thighs and place back in the oven. Bake for 20* minutes more.
10. Turn the chicken skin side up and finish baking for another 10* minutes.
*Oven temperatures vary, chicken thighs and roasting pans are different sizes. You'll need to adjust the time for your circumstances.
Tip: We like the thighs to be a bit browned. If they aren't turn the broiler on and let them brown for a minute or two. The vegetables get a little crisped too.