Fresh Fennel Slaw with Chili and Mint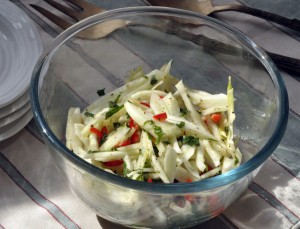 Free-from: gluten, dairy, eggs, soy, yeast
I love cole slaw. When I was a kid my Mom got a Ronco Chop-O-Matic that made chopping cabbage, onions and carrots for coleslaw a snap. We had coleslaw at least once a week. In fact, I took the Chop-O-Matic to college and wowed my roommates with homemade coleslaw regularly. Alas, I can't enjoy mayonnaise anymore because I can't eat eggs so there went the coleslaw. I needed an alternative. This is my quick refreshing slaw replacement.
We had this dish first at FishWorks on Marylebone High Street in London which we discovered while on our flat-hunting trip almost two years ago.
Restaurant diversion: FishWorks does all things fishy: restaurant, store and cookery school (that's how they say it in London). The restaurant serves consistently well-prepared, very fresh fish and shellfish. The wine list offers a good selection at a range of prices. We usually choose a Chablis. The surroundings are nautical but not over the top and the service consistently efficient. You walk through the fish store  at the front where there's always someone to help you (they cut the fish for the kitchen too). Basically you can buy whatever is just off the boat. It is pricey, but I think worth it if you want very fresh seafood. Oddly, the restaurant seems more reasonably priced than the store's prices would suggest. Maybe I'm crazy.
We had the fennel slaw there and then tried to replicate it at home. A mandolin would would make quick work of slicing the fennel, or a Chop-O-Matic, but I don't have either so am left to my own knife skills.
This is not a precise recipe. Fennel bulbs vary in size and your taste for spice is probably different than mine. This gives you a place to jump from. I think coriander in place of mint would work well too in which case I would substitute lime for the lemon.
Serves 2-3 as a side dish
Ingredients:
1 fennel bulb, sliced thin
1 red hot chili pepper, seeded and sliced thin*
A big handful of fresh mint leaves, chopped
½ teaspoon kosher or sea salt
2 tablespoons extra virgin olive oil
Zest of one lemon
1 tablespoon lemon juice (about half a lemon)
*One small thai chili or a larger, milder, bigger red chili could provide the same amount of heat. Be careful when you are cleaning seeds and slicing fresh chili peppers. Wash your hands after preparing or wear little plastic gloves that you can toss at the end. Invariably, I forget to wash my hands after cutting and then my hands burn or worse my lips. Yowza. Be careful.
Preparation:
Mix all ingredients in a bowl. Taste for seasoning and adjust if necessary. It's best to prepare this a bit before you serve it. The flavors meld together and you get the spiciness of the peppers along with the bright, zesty lemony flavors.