Lemony Roast Lamb with Roasted Vegetables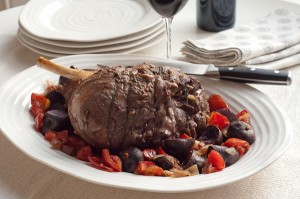 Free from: Gluten, dairy, eggs, soy, yeast
Last week at the Marylebone Farmer's Market, I bought a leg of lamb from the Old Hall Farm, Purveyors of Free Range Home Grown Traditional Rare Breeds and Game out of Kent. That's a mouthful but you run into that a lot here; small farmers sustainably raising rare breed animals free from hormones and antibiotics. They are members of the Slow Food Movement and Rare Breed Survival Trust, founded in 1973 to preserve the UK's native farm breeds.
Having been raised on suburban Long Island, I had the great good fortune of eating  agribuilt beef, pork, chicken and lamb shot through and through with growth hormones and antibiotics. Actually over the course of my lifetime agribusiness and the negative aspects it brings has increased dramatically.
I try really hard not to eat meat like that anymore. For those of us who do eat meat, I believe you are much better off choosing meat without hormones and antibiotics and get grass fed over grain fed if you can. That's a long topic for discussion at a later date.
You can prepare this roast with or without the pan-roasted vegetables. I like the convenience of having the entire dinner all figured out. It's like choosing to wear a dress over a skirt or pants and a top. Cuts the decision making in half.
And if for some crazy reason you don't like cumin you can replace the cumin and oregano with lots of fresh chopped or dried rosemary. Also very Greek.
Pre-heat oven to 220°C or 425°F
Ingredients:
2 kilograms (4.25 pounds) partially boned leg of lamb
4 big cloves garlic cut into slivers
2 fresh lemons
2 tablespoons ground cumin
1 tablespoon dried oregano
2 teaspoons sea salt
1 teaspoon freshly ground pepper
1/2 cup extra virgin olive oil
1 cup dry red wine
With Pan-roasted Vegetables:
600 grams (roughly 1½ pounds) small potatoes, scrubbed (more if you are English)
500 grams ( roughly 1¼ pounds) fresh tomatoes or a 400 gram can of chopped tomatoes
3-4 shallots or 1 onion, coarsely chopped
Preparation:
Note: I happened to get piece of lamb that had most of the bone removed except for the shank. It was then tied to hold its shape. This is perfect for what's to come.
1. If you have a boned or partially boned leg, take several slivers of garlic and shove it inside the meat where the bone has been cut out. Make slits on the outside of the roast and stuff with more slivers of garlic. This will take about two cloves of garlic. For a bone-in roast just do the slits all over the outside and stuff with garlic.
2. Zest two lemons using a microplane (mine is a Cuisipro made by Accutec that has a plastic sleeve to catch whatever you're planing; very nifty). Then squeeze the juice from the lemons along with the zest and pour into a large bowl or a very large zip lock bag that will hold the entire piece of meat.
3. Add all the remaining ingredients — cumin, oregano, salt, pepper, olive oil and red wine — to the lemon juice and zest and stir.
4. Place the meat in the mixture and roll it around to make sure it gets doused all over. Marinate for at least two hours (four is better). You may have to turn the roast in the marinade every 30 minutes to ensure it gets evenly marinated.
5. Place lamb in large roasting pan and surround with the  vegetables if using. Roast for 25 minutes at 220°C (425°F); then turn down the temperature to 160°C (370°F) and stir the vegetables if using and cook for 35 minutes per kilogram or 15-20 minutes to the pound. A meat thermometer placed in the meatiest part and not touching the bone should register 60°C (140°F) when done medium rare. Since legs aren't symmetrical you'll get some meat done more than the rest. Let meat rest for 10 minutes or so before carving.
Be careful on the cooking time, I used a meat thermometer and would have expected this to be done in more time. I took it out with an internal temperature of 140°F. It was tender, moist and the flavor of the lamb was accented with hints of lemon and herbs. I served it with the the vegetables, rocket salad and a 2005 Rioja.