Marylebone Market Sunday Lunch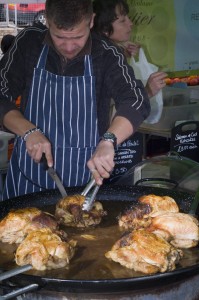 Free from: Gluten, eggs, dairy, soy, yeast
My American friends think we are tonier than we are. As we live in London they think we spend our weekends at museums and the theater. Not exactly. What really makes a weekend satisfying is going to food markets.
Venturing to a part of the city we've never been to or just a few blocks from our door, going to a London market is what gets our juices flowing. Each has a vibe and personality. Borough is all about the food. Camden is edgy. Marylebone, our local Farmer's Market, is a bit reserved, British.  People fuss if they think you've cut in line when all you've done is reach for the perfect parsnip. But you can also see excitement simmering just below the surface when they discover a new veg is in season, or their beloved cheese maker or baker is back after a summer retreat.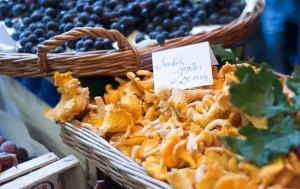 As it is we are spoiled with an overflow of exceptional food shops in Marylebone.  Ginger Pig for meats; La Fromagerie for cheese, produce, oils, olives, wild mushrooms, foie gras and more;  Chef &Butcher  also for meat; Fishworks for seafood; and Waitrose for mainline groceries and cooked chickens hot off the rotisserie. There are also bakeries which we no longer frequent (too depressing) and a chocolatier, Rococo.
Reliable restaurants abound (Fishworks, Fairuz, Getti- they have gluten-free pasta) and fancy ones too (L'Autre Pied, Trishna, Orrery- service dodgy). Eating all over Marylebone is very tasty, but on Sundays we are drawn like lemmings to the Marylebone Farmer's Market. It's one of the few markets from which we actually buy food to prepare or take home and eat for lunch. (Ok so there's some controversy about lemmings flinging themselves off into the sea, but I like the single purpose concept.)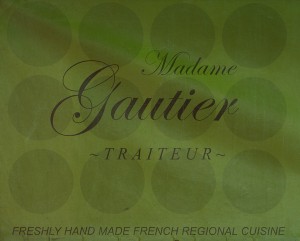 In the parking lot behind Waitrose, the market's home, we always head to Madame Gauthier to see what's cooking. There's usually two giant paella/wok-like pans over gas burners simmering stuffed chickens or beef confit braised for hours in red wine. We've bought the chicken, which is delicious, but it's sad to toss that beautiful, savory, herby-smelling stuffing.
Instead there's Coq Au Vin, stuffed cabbage or peppers, some kind of bean concoction, roasted root vegetables, ratatouille and more. While Madame Gauthier is the name of the business in fact it's Mark Gauthier who does the cooking. They offer cooking classes too, which I haven't looked into but when I've asked they teach classic French cooking skills.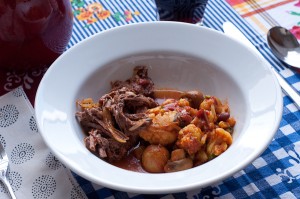 Recently we got braised beef confit that reminded me of pulled pork in texture. The toothy chunks of beef (chuck?) are cooked for twelve hours in onions, garlic, tomato, dijon and red wine. The juicy sauce glistens with a bit of fat. Some may like a bit more flair but I liked it the way it was. Ernie got the stuffed cabbage with ground pork which I have to admit was a notch above the beef in complexity so we shared. I also got a three bean stew with tomatoes and cauliflower, cumin and cardamom. Indian in style and just my kind of side.
By the way, we do go to museums — Miró at the Tate Modern, a punchy, political retrospective. And the theater —We Will Rock You (8/talent; storyline/-1); The Children's Hour (9).