Aherne's Seafood Restaurant

By Tessa Tapscott
It was a grueling journey down some of the narrowest two-way roads we had experienced on our trip to Ireland. With Ernie behind the wheel of a boat of a rental car and handwritten instructions from the charming, but vague,  Irish woman at the restaurant, we managed to arrive at Aherne's Seafood House close to on time and alive.
The interior was comprised of several relatively small, intimate rooms, one of which was a pub, of course, and the others made up the more formal, classic dining areas. We were the only party in our four-table room and though there was another larger party in the restaurant, we hardly noticed them.
Anne Cronin, who was taking care of dining room, asked if we would like some bread, to which we explained that none of us could eat it (no matter how much we would actually like some bread). "We have coeliac-friendly," she exclaimed, so we had to try it.
It came toasted (Anne said it was better that way) and the moment I took a bite I was convinced it was full of butter. This was the best gosh darn gluten-free bread I had ever tasted. It was light and fluffy like a normal bread and dotted with herbs and bits of tomato and garlic. When Anne returned we had to ask about the presence of butter, "No, olive oil, I make it myself." Turns out Anne is the pastry chef by day and waitperson, maître d' by night. She's worked there 30 years and treated us like family. She made sure there was no gluten or butter in our food and sent us home with an extra loaf of bread for breakfast.
Apparently, her boss was also gluten intolerant so she developed her own bread recipe because she found that all the store bought options turn to chalk.
The quality of the bread set the stage for the entire meal. To start, I got a platter of stone crab claws, Ernie chose the Dublin Bay prawn cocktail, while my mother could not pass up raw oysters. All the fish is fresh and comes right off the boats in Youghal (pronounced "Yawl").
Allow me to digress a moment to explain the difference between a Dublin Bay prawn (DBP) and lowly regular prawn. A DBP is a more tender, larger breed of prawn, much more like a langoustine. They are much sweeter and richer as well — definitely something to try while in Ireland. I would have been completely happy ending the meal right then, but the entrée's were still to come!
I chose the sautéed monkfish accompanied by scallops and DBP's in a special dairy-free olive oil and white wine sauce. One of the interesting things about my dish was that the scallops came with their little orangey-pink feet still attached, which I had never had before. They had a different texture than the rest of the scallop and were a little bit sweeter, which was a nice surprise.
Ernie could ordered the monkfish risotto (also made dairy-free) which I never got to taste because he finished it so quickly.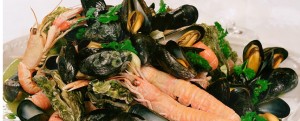 Luckily my mother ordered the massive seafood platter (pictured) that we all shared. It was cooked to perfection, from grilled skate wing and hake to steamed mussels and, of course, more DBP's.
By the end of the meal we were stuffed beyond measure. Luckily our dietary issues kept us from ordering dessert. With good tidings and some more vague directions from Anne we waddled back to the rental car to commence upon another death-defying journey back to the Garryvoe.
Aherne's Seafood Restaurant
163 North Main Street
Co. Cork, Ireland
+353 24 92424