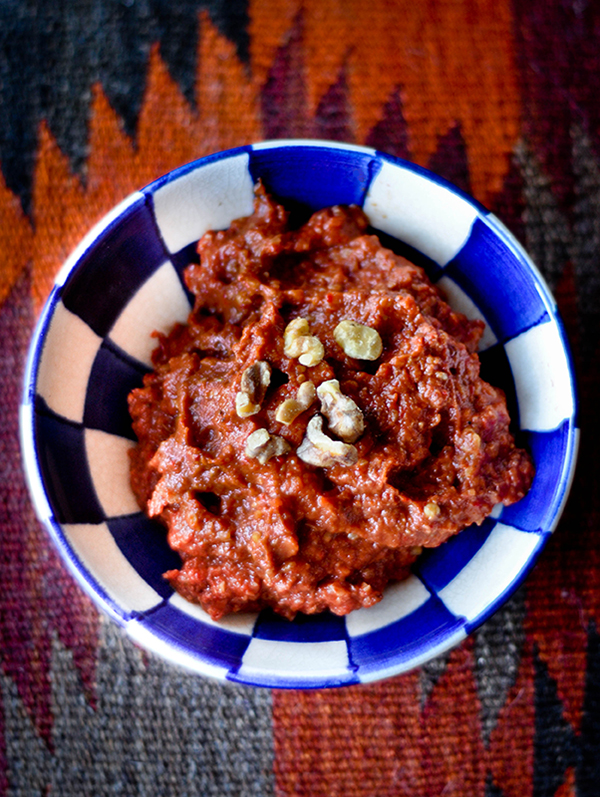 Gluten, dairy, egg, soy, and yeast free.
This simple, spicy spread was inspired by a similar dish we have had at our local Turkish restaurant in Redwood City, New Kapadokia. Unlike anything we had in Istanbul, ezme is from the Southeast region of Turkey and is usually served with other "meze" (dolma, hummus, babaganoush) as tapas or small plates would be with cocktails or wine. As we were in California, not Kapadokia (Capadokia?), we enjoy it as a rather addicting appetizer before dinner. In fact, we keep it at the table to plop spoonfuls on our main course of roast lamb or stuffed eggplant.
I developed this recipe based on the list of ingredients on the menu and overall flavor of the New Kapadokia version. Different kinds of peppers can be used: roasted, in paste, or I suppose even dried flakes mixed with olive oil, to impart peppery aroma and heat. I've used a "Turkish" pepper that I've bought from Tierra Vegetables, at the Ferry Building Farmer's Market in San Francisco. I also use "cherry bombs", technically known as paradicsom, that are all the name implies. Both of these peppers are spicy but not overwhelmingly when tempered by the sweetness of tomato confit.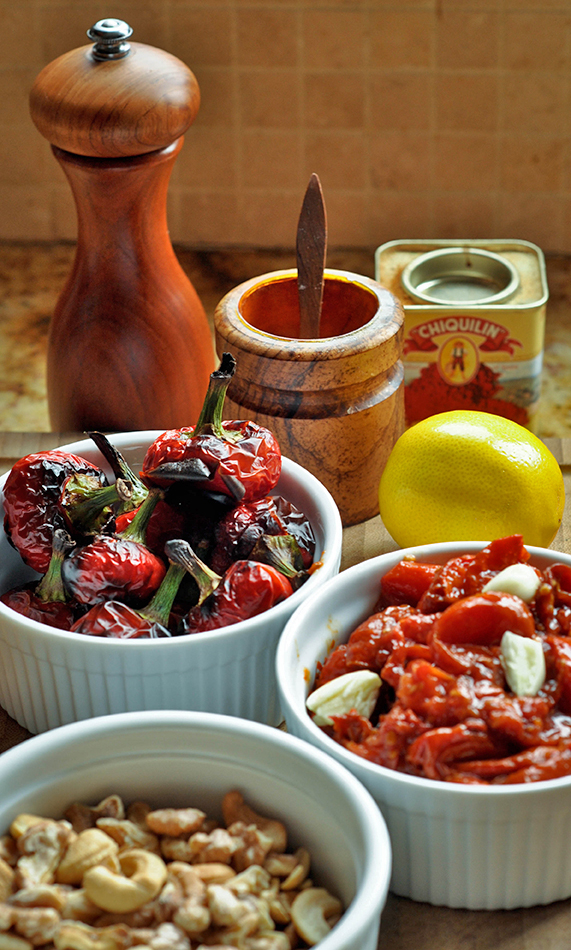 We recently went back to New Kapadokia and while we had an excellent meal, I decided I like my version of ezme even more. Do your own thing; the trick is in adjusting spices to your taste.
In researching this recipe online, it appears there are many versions of ezme.  Some are wildly different from this that call for parsley, cucumbers, and onions and some that call for pomegranate molasses instead of, or in combination with, lemon juice. I didn't have any pomegranate molasses. I'm not sure where to buy pomegranate molasses (online no doubt) and can only imagine taking the seeds from many, many pomegranates to make molasses.  I might try tossing in some pomegranate seeds… that could be good.
I used freshly roasted tomato confit and charred hot peppers. You could try it with tomato paste and pepper paste (look for harissa chili paste), again adjusting the seasoning to your taste.  However, I do think cooking these two primary ingredients — tomatoes and peppers — from scratch is what gives the ezme a truly rich, fresh flavor.
Ezme Ingredients:
1/2 cup tomato confit or 1/3 cup tomato paste
1/4+ cup roasted hot red peppers (Turkish, cherry bombs, even red jalapenos; seeds and veins removed*)
Juice of one big lemon, ideally a Meyer lemon
1 Tablespoon ground cumin seeds plus 1/2 teaspoon whole toasted seeds
2 teaspoons sweet paprika
2 Tablespoons extra virgin olive oil
1/2-1 teaspoon salt flakes
Several grinds fresh pepper
1/2 cup toasted walnuts, roughly chopped
Preparation:
Pulse all ingredients except walnuts in food processor until chunky smooth. Taste and adjust seasoning as necessary. Add the walnuts last and pulse lightly keeping the walnuts chunkier than the rest. Serve with raw vegetables; gluten-free crackers or chick pea pancakes (farinata or socca); or as a condiment for grilled fish and meat. I even use it on toast with bacon for breakfast.
Bonus: Ezme with Roast lamb: Buy a boneless leg of lamb. Cut the string holding the lamb together and flatten out the meat; discard the string. Make slits in the meat on both sides and slather ezme spread into all the slashes, nooks, and crannies. You can add more crushed hot pepper too if you like very spicy. Place the meat in a bowl large enough to hold the meat somewhat flat and cover with dry red wine. Let sit at least three hours. This is best grilled over a fire. You can trim thicker hunks of meat off for use later (in curry for instance) so that the meat is roughly the same thickness for even cooking. A flattened, four pound leg of lamb, three inches thick, will take about 30-40 minutes total time for medium rare. Of course factors such as heat, charcoal vs. gas, how much wine is consumed while cooking, and alignment of the stars might have some bearing on the cooking time. I leave it up to the BBQ guy. It's perfect medium rare.