Gluten-free, Vegan Pumpkin "Pie" with Gingersnap Crust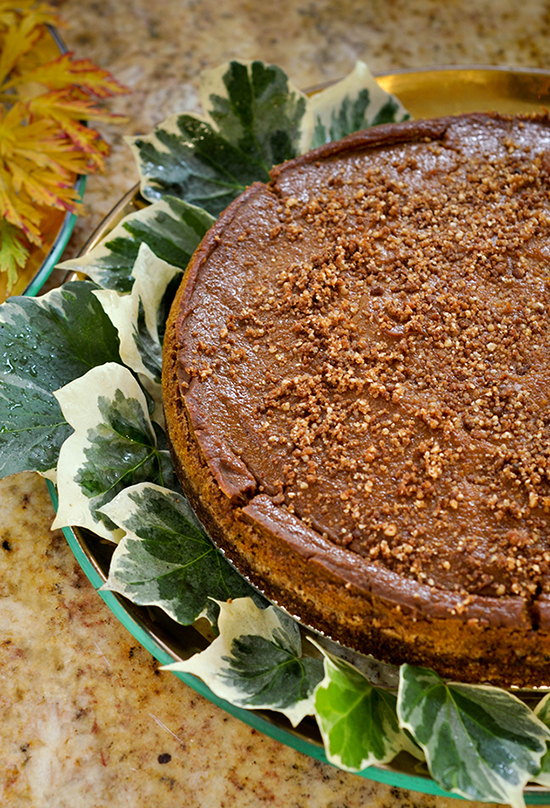 Ok so I missed getting this up before Thanksgiving but pumpkin is good for you all year long. It's low calorie, low fat, full of B vitamins, beta carotene (for Vitamin A), potassium and fiber. It's also smooth and creamy and the perfect foil for ginger, cardamom, nutmeg and cloves. Tess adds it to smoothies. I like pumpkin soup and of course, pie. I'm not sure this is technically a pie as it is made in a springform pan. Is there a name for things made in springform pans?
I used a 9-inch springform pan for this, however if you use eggs, which helps the filling stand up a bit better, you could opt for a 6-inch springform pan and the effect is more like this. (I made this last year.)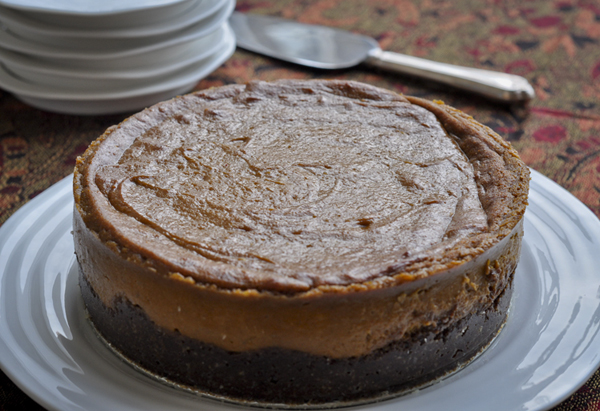 I make gluten-free/vegan gingersnaps for the crust (recipe to come). You can also use packaged gluten-free gingersnaps instead. Tess used the gluten-free/vegan gingersnaps from Mary's Gone Crackers and said the crust was delicious. This year I used ground hazelnuts with the gingersnaps but I've also used almond meal with equally good results.
A word about fat. I can't eat soy, so most types of non-dairy margarine are off limits to me. Instead I use Earth Balance Organic Coconut Spread which is actually a tropical oil blend plus some canola oil.  I combine that with straight coconut oil, which is actually fairly solid. This crust is not as tricky as a true vegan pie crust. If you're not a vegan you can use butter instead of vegan margarine. The point is to make the final mixture moist enough to hold together when squeezed between your fingers, but not too fat drenched.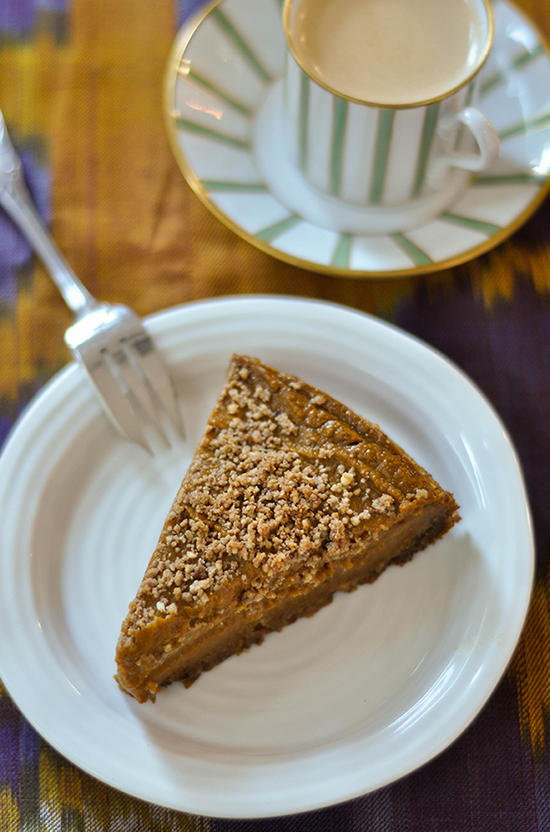 This crust is also great for baked cheesecake and probably some kind of chocolate puddingy filling however I haven't tried that yet. If you end up with too much crust mixture sprinkle some on top of the pie about half way through the baking like I did in picture on top.
Gingersnap Crust
Ingredients:
2-2 1/2 cups gingersnap cookies (enough to make 2 cups of crumbs)
1 cup toasted, ground hazelnuts (or almond meal)
1/4-1/2 cup brown sugar
5-6 tablespoons vegan "butter" or margarine (see notes above)
Preparation:
1. Grind gingersnaps to a small crumb in a food processor or blender.
2. Toast hazelnuts, being careful not to burn them, in a toaster oven or in a frying pan on top of the stove, then grind as for gingersnaps.
3. Place gingersnaps, nuts,  brown sugar and "butter" back in food processor and pulse until evenly blended. The mixture should hold together when squeezed between your fingers.
4. Rub a bit of fat on bottom and sides of springform pan, then press crumb mixture firmly into bottom of pan (or pie tin if using) and partially up the sides. The crust is ready for filling.
Pumpkin Filling
Ingredients
2 cans organic canned pumpkin (15 ounces each)
3/4 cup brown sugar
1/2 cup almond milk
2-3 Tablespoons maple syrup (start with less, taste and adjust)
3 Tablespoons ground flax seed whisked with 5 Tablespoons warm water or use 1 whole egg and two egg whites whipped to form peaks
1 teaspoon vanilla extract
2 teaspoons cinnamon
2 teaspoons ground ginger
1 teaspoon ground nutmeg (I sweep fresh nutmeg on a microplane)
1/2 teaspoon ground cloves
Preparation
Preheat oven to 350ºF
1. Put all the filling ingredients, including flax mixture, into a large bowl and blend with a hand mixer until smooth (if using eggs; don't add yet).
2. Taste and adjust the seasoning. I like a full-flavored pumpkin mixture; you can start with less of each spice and add more to bring it up to desired spiciness. If using eggs, now add the whole egg, then fold in egg whites last.
3. Pour pumpkin mixture into prepared springform pan.
4. Bake 60-70 minutes until pumpkin starts to crack slightly around the edge. Center will be a bit soft to the touch. Let cool at least 30 minutes, then refrigerate for a few hours before serving.