Huevos Rancheros With and Without Huevos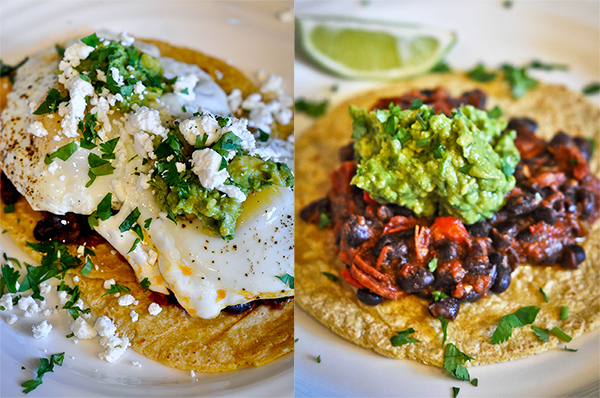 Gluten, soy and yeast free on the left. Dairy and egg free vegan option on the right.
Back when I ate eggs every which way, huevos rancheros was my go-to meal at our local breakfast joint. I loved the little hillock of spicy beans sitting on a chewy, thick corn tortilla; perfectly cooked fried eggs with soft saucy yolks; and to top it all, fresh guacamole and zesty salsa. Nowadays no cheese or sour cream for me; although if dairy isn't a problem, you could add them.
The truth is, huevos rancheros  was my go-to meal at any breakfast stop on the West Coast from Mendocino down to sunny Quepos, Costa Rica where they served the most delicious bottled sauce with your eggs, beans and rice … spicy and sweet at once. (Once I packeda bottle in my carry-on before carrying liquids was banned. Sadly the cabin pressure made one of the bottles jimmy it's little top off and "ay carumba," my beautiful  Costa Rican sauce everywhere. I think I was more disappointed for losing the sauce than having to send my camera to the factory for de-saucing.)
These days I don't eat the huevos, which means the beans really have to stand on their own. Use the previous recipe for Spicy Beans. Or, in a pinch, canned beans with store-bought salsa works.
Serves 2- One with huevos, one without (vegan)
Ingredients: 
3-4 corn tortillas ( preferably made from 100% organic corn)
2 eggs
1 cup Spicy Beans
1 avocado, peeled and sliced, or ½ cup Fresh Guacamole
Crumbled dry goat cheese, about ¼ cup
Chopped fresh cilantro and lime wedges for garnish
Extra salsa to pass
Chunky salt flakes (optional)
 Preparation
1. To warm tortillas, wrap them in a slightly damp fresh paper towel or a clean damp dish towel and place in a heavy pot over a low flame until warm or in a microwave for about 30 seconds, flip, then warm another 30 seconds.
2. Fry eggs either sunny side up ( I cover with a lid to make sure the top cooks a bit) or over easy. If they were my eggs, the yolks would be soft enough to ooze all over. Yum.
3. To build, place 1 or 2 warm tortillas on each plate. Top with a spoonful of beans (mine gets more beans because I don't eat the eggs). Then layer eggs on top of the beans for the huevos ranchero plate. Scatter with crumbled goat cheese if using, top with guacamole or sliced avocado, and sprinkle with chopped cilantro. Serve with extra salsa and lime wedges. Sprinkle with chunky salt flakes if using.