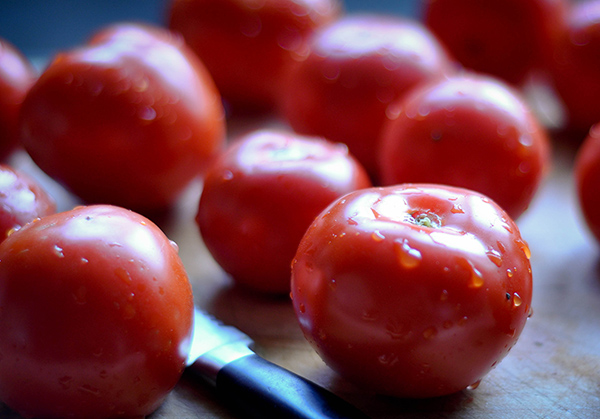 Several years ago in early September I discovered Molino Creek Farm tomatoes — my first dry-farmed tomatoes. My Lord! I don't know if I ever had tomatoes so red; so sweet; so seductively rich with flavor. At first I ate them plain, like fruit bursting with juice that sometimes dribbles down my chin. Then doused with peppery olive oil in big bowls of baby arugula and crunchy salt flakes. And Ernie's favorite, sliced tomatoes with thick wet slices of mozzarella di bufala and more olive oil and bits of fresh basil.
Then a friend turned my head to slow roasting tomatoes. Slow roasting is a bit of cooking magic that can give even not-so-sweet, lackluster, supermarket tomatoes a new persona, a purpose. Merge the magic of slow roasting with the intense flavor of dry-farmed tomatoes and you will be blown away by how simply delicious and appetite whetting they become.
So what's so special about dry-farming? Dry-farming has a long history in the southern Mediterranean. Grapes and olives have been dry farmed in Spain, Italy, France and Greece for thousands of years. The Central California Coast has a similar climate making it perfect for dry farming and has been used particularly well to produce excellent wines from Santa Barbara to Mendocino. The dry-farmed tomato-growing season has virtually no precipitation, forcing the parched little troopers to root deeply into the rich clay soil in search of moisture. The result is a smallish fruit with thick skins, high in sugar content and intense flavor. Dry-farmed tomatoes last until the first rains and keep getting sweeter as the season progresses. If tomato lovers like me are lucky, the season can last until Thanksgiving. I  buy dry-farmed Early Girl tomatoes at the Farmer's Market in San Francisco. Whole Foods usually carries them as well, but I like the frenetic excitement of the usually more laid back Farmer's Market crowd hovering and squeezing in search of the not too soft, not too hard, just ripe fruit.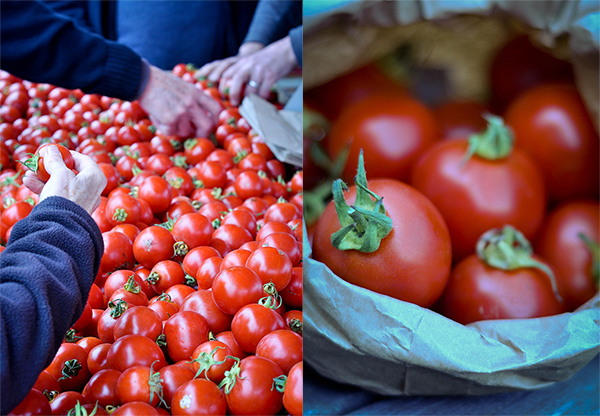 Once you have them, leave them on the counter, don't give them to the produce drawer of your refrigerator. They'll get mealy, lose their essence, disappoint.
The following recipe will not produce the result of a low temperature, slow-roasted cherry tomato with chewy skins you can pop in your mouth like candy. Those are terrific too and there's a method for those here. This recipe retains more moisture and I usually add just a bit to other recipes. I use the name "confit" if you think that means something cooked in fat and some salt. I don't add herbs, although you can, but I'm never quite sure how the tomatoes will be used and garlic or thyme for instance might limit  where the tomatoes end up. This morning for instance I spread a bit on a piece of quinoa toast and slapped a piece of prosciutto on top with a drizzle of olive oil. Also I don't peel the tomatoes. I love the peels on these tomatoes, why would I throw them away?
Dry-farmed Tomato Confit
Yield: 2 cups
Ingredients
2 pounds dry-farmed tomatoes about two-inches in diameter *
1/4- 1/2 cup extra virgin olive oil
1/2-1 teaspoon salt flakes
Preparation
Heat oven to 275º F
1. Wash tomatoes, remove stems and quarter the fruit.
2. Pour about 2-3 tablespoons of olive oil on bottom of thick cookie sheet with sides
3. Spread tomatoes, cut side up on cookie sheet and sprinkle with salt
4. Bake  1 hour at 275º
5. Remove tomatoes from oven and stir into a pile.
6. Turn temperature up to 325º. Return to tomatoes to oven and cook another 15-20 minutes. The tomatoes will be very soft and the juice will have started to caramelize.
7. Remove from oven let cool and then pulse slightly in a food processor. Store in an airtight container for up to one week, but they probably won't last that long.
Look forward to more recipes using the Confit: Salsa, Turkish Ezme, Huevos Ranchero and more.