Quinoa with Butternut Squash and Prosciutto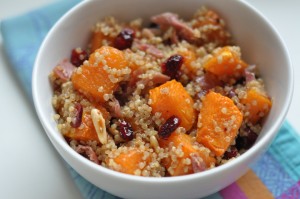 Free from: gluten, soy, dairy, eggs, corn and yeast. Vegan option.
We just got back from the States and there wasn't much to eat in the house. I bought a hunk of butternut squash on my way home from my morning walk and then looked around for what might go with it. Quinoa, perfect.
The wholesome graininess of quinoa would  taste good with the nutty sweetness of the squash. And I had prosciutto. It's saltiness would complement the sweetness of the squash. It all came together quickly for a healthy, warm (it's raining in London) and savory lunch. Or serve it as a side dish with grilled pork chops or chicken.
Yield: 2-3 servings
Pre-heat oven to 375°F or 190°C
Ingredients:
1 pound (450g) butternut squash
1 teaspoon (5ml) ground coriander
½ teaspoon (3ml) sea salt or fleur de sel
¼ teaspoon (2ml) freshly ground pepper
¼ cup (60ml) olive oil
1 cup (250ml) quinoa
2 cups (500ml)water
2 ounces (about 55g) prosciutto (I used organic with no nitrates or preservatives)
¼  (60ml) cup pine nuts, toasted
¼  (60ml) cup olive oil
1 tablespoon (15ml) red wine vinegar
1 teaspoon (5ml) Balsamic vinegar*
¼ teaspoon (2ml) crushed, dried chili flakes
salt and pepper to taste
Preparation:
1. Peel the squash and cut into about 1-inch chunks.
2. Spread the squash chunks in a baking pan large enough to hold them in one layer.
3. Sprinkle coriander, salt and pepper on the squash.
4. Drizzle with ¼ cup olive oil and stir the mixture to evenly distribute oil and spices
5. Place on middle rack of pre-heated oven and bake about 45 minutes to an hour until squash can be pierced easily with a fork. When done remove from oven and set aside.
6. Place quinoa and water in a saucepan and bring to a boil. Turn down heat an cook over medium heat until water is absorbed.
7. Place a little olive oil in a pan and saute prosciutto slices until crisp. Remove from pan and chop.
8. To make the dressing mix ¼  cup olive oil, red wine vinegar, balsamic vinegar, dried chili flakes, salt and pepper.
8. Place quinoa in a serving bowl and pour dressing over top. Add chopped prosciutto, squash, and pine nuts. Taste and adjust seasoning if necessary.
Notes: You may want more dressing than this. If so add olive oil and vinegar bit by bit or make a second batch and add to taste.
You can skip the prosciutto for a vegan/vegetarian dish.