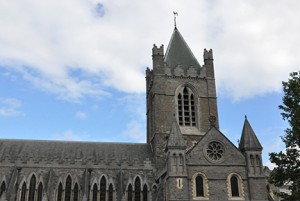 Dublin has changed dramatically since my trip back in '82. As in London, there are so many more creative, healthy and ethnic options for eating than there were then. With champions like Darina Allen of Ballymaloe House and Cookery School there's a focus on buying and eating locally grown and raised foods. That's helped fuel a resurgence of farmer's markets, small butcher and fishmonger shops and the availability of organic, artisanal foods at a much broader level. Combine that with a young entrepreneurial spirit that came of age when financial times were better and is not willing to acknowledge that the Celtic Tiger has suffered a serious wound and that means restaurants and consumers will benefit.
Here's a quick round-up of where we stayed, what we did and where we ate:
Hotel: La Stampa on Dawson Street about midway between Trinity College and St. Stephen's Green. Our room was ornate French Regency in reds and golds overlooking the mayor's house. Not traditional, but very roomy, colorful and rather luxurious. There was a very hip club downstairs that unfortunately closed around 4AM on Saturday. Woke poor Ernie up but I hunkered down in the large, cushy bed (wearing earplugs) and didn't notice a thing.
Dinner Saturday– The Unicorn just off St. Stephen's Green that we found on our way back from O'Donoghue's. An informal, but not too casual Italian restaurant with a subtly lit dining room and great service. The live piano music reminded me of Friday nights at my Dad's restaurant; it added to the warmth of the room without being obtusive We sat next to a couple from Belfast who introduced us to Dublin Bay Prawns — big, tender, sweet langoustine-like critters that we then hunted for the rest of our trip.
I started with Insalata Bianca, a pale green salad of chicory, shaved fennel, pecorino and pear.  The bitterness of the chicory complemented the anise flavor of the fennel. The pear added a touch of sweetness and I suppose the saltiness of the pecorino would have accented the flavors had I eaten it. A bit of salt and a young, green extra virgin olive oil with a peppery bite were perfect.
The chef made me a special lobster risotto with fresh peas to replace the special pasta of the night. No butter, cheese or gluten. The rice was creamy with just enough tooth. I did add some pepperoncini for a little kick. No gluten-free bread available but very willing to accommodate our food issues otherwise.
Unicorn Restaurant
12B Merrion Court off Merrion Row
Dublin 2 Dublin City
Tel:+353 (0)1 662 4757
City bus tour. Ok, I had the mistaken notion that our tour guide would have the gift of gab, but he had no discernible intonation in his voice whatsoever. And sadly, the Dublin we saw was not as interesting as we'd hoped. However, we did not get off at the Guinness museum (couldn't sample a pint) or the Jameson factory (too early for whiskey) which meant the tour focused primarily on the prison.
Perhaps we should have taken the Viking tour where you got to wear a helmet with horns and yell every block or two. They also claimed to go into the water in their bus/boat vehicle. Maybe next time.
Lunch Saturday. Marco Pierre White (MPW) Steakhouse. The name alone was intriguing (I didn't realize he was a celebrity here in Britain) but what attracted us was that they had a contemporary patio out front, with a canopy in case it rained and a hedge-like wall separating you from the crowded sidewalk. Curiously there were pictures of MPW everywhere as well as others in a cool black and white style; on the menu, by the door, on the walls inside. Marco himself wasn't there; he retired from the kitchen in 1999, but he clearly marked his presence and according to the website the chefs are  trained by him in London. I had grilled yellowfin tuna a la Mediterraneene, wild rucola (rocket), olive oil and vintage balsamico and Ernie had the special roast pork loin with grilled vegetables and a salad instead of the sides that came with the dish. Simple but very well executed with excellent service and a reasonably-priced red.
Dinner Sunday. The highlight meal of the trip to Ireland up to that point was our dinner that night at Eamonn O'Reilly's award-winning One Pico Restaurant. Classic French cooking with a modern twist customized to our needs. I think I originally read about One Pico in the New York Times and the restaurant was full of Americans. I asked the waiter about that and his explanation was people from Ireland go someplace warm in August. Silly me.
The menu on Sunday is a prix fix meal that we were not prepared for. That said the chef went out of his way to make  a unique menu for us using some of the main ingredients from the prix fix menu but altering for each of our intolerances.
We both had smoked Irish salmon to start. It was unusually served in a block, not the traditional slices cut against the grain and served with a micro green salad. The unusual cut of the fish made it surprisingly different. The salmon tasted meatier and more rich.
For the main I had  braised beef short rib off the bone that was tender and flavorful with an au jus wine sauce and roast potatoes. It was exactly what I needed. Not complicated, perfectly cooked and rich enough but not too. Ernie had halibut that was pan seared with a saffron risotto and roast vegetables.
And finally I had marinated strawberries with raspberry and lemon sorbet for dessert. I don't know about you but fruit and sorbet is often the only thing I can eat for dessert. And often it's just what you'd expect, fruit and sorbet. Not the case this time. The berries were amazingly sweet perhaps it was from added sugar, but if it was it was just the right amount to bring out the full flavor of the berries. It was about as strawberry a flavor as you can imagine. The sweet/tart sorbets was the perfect complement.
Also have to mention our service was outstanding and on top of that the price was a mere €38 (without wine). A fabulous evening. Bottom line, if we are ever in Dublin again we would go to One Pico in an Irish minute (whatever that is).
Monday: Tess arrived at 7AM a bit bleary-eyed from her flight from California. We ate breakfast at La Stampa in the opulent breakfast room by morning, club by night. I had brought my own coconut milk for coffee, Tropical Banana Bread that I made before we left, walnut butter and gluten-free crackers. I get fruit and fatty meats (bacon, ham, prosciutto)  or smoked salmon and I'm a happy camper.
Trinity College: Off we went to see the Book of Kells, Ireland's National Treasure and the Long Room in the Old Library. The pre-exhibition before you get to see the manuscripts has giant posers of text and blow-ups from the Books, but it was crowded when we were there and a bit difficult to wade through. When you finally get to see the manuscripts on display it was a little disappointing as it was difficult to hover around the small glass case to see the actual texts. Don't get me wrong, the work is incredible and a bit mind-blowing to imagine the monks working on the pages for years.
The Long Room is the main chamber of the Old Library and houses 200,000 volumes. There is also one of the few remaining copies of the 1916 Proclamation of the Irish Republic read by Patrick Pearse outside the General Post Office on April, 24 1916 at the beginning of the Easter Rising.
Literary Pub Crawl: Dubbed the pub, the poet and the pint this crash course in Irish literature was throughly entertaining. We trailed around two very entertaining actors to a collection (five) of pubs where authors including James Joyce, Oscar Wilde, George Bernard Shaw and others got their inspiration or actually even worked. I won a wee bottle of Bushmills whiskey at the end for answering quiz questions.