Lentils with Carrots and Cumin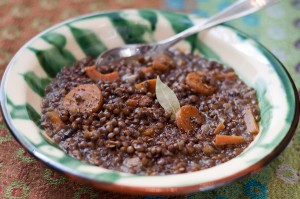 Free from: gluten, dairy, eggs, soy, yeast.
We're expecting a heat wave in London tomorrow, but judging by the grey sky and chilly temperature, I think a warm bowl of lentils sounds more cozy.
Inspired by my friend Julieta who sent me a similar recipe using split peas, but I used lentils because I didn't have the peas. Also her recipe called for a ham bone but I only had lamb which my mother always paired with lentils. So there you have it. I will try Julieta's version with spilt peas and ham soon. If you are a vegetarian or vegan simply don't use the meat.
Ingredients:
¼ cup olive oil
1 onion, diced
2 carrots, sliced
3-4 cloves of garlic crushed (I smash cloves with the side of a chef's knife)
1 bay leaf
1 tablespoon ground cumin
1 teaspoon sea salt
fresh ground pepper
½ cup tomato passata (tomato puree) or 1 large tomato chopped
1 cups lentils, rinsed
4 cups water or vegetable stock
Lamb bone (optional)
1-2 teaspoons cumin seeds
½ teaspoon mustard seeds (optional)
Preparation:
1. Heat olive oil in  large saucepan over medium heat.
2. When oil is hot add onion and carrot.
3. When onion starts to get transparent add garlic, bay leaf, ground cumin, salt and pepper. Cook garlic until soft and onions are transparent. Adjust heat so garlic doesn't burn.
4. Add tomato and stir.
5. Add lentils and water and stir. Bring mixture up to a boil then reduce heat to a simmer.
6. Cook until lentils are tender and turn of heat about 30-45 minutes
7. Toast cumin seeds and mustard seeds (if using) in small frying pan being careful not to burn. Transfer seeds to mortar and pestle and crush just a bit.
If there is meat on the bone you can chop it up and add to lentils. To serve, put lentils in a bowl and sprinkle with toasted seeds.