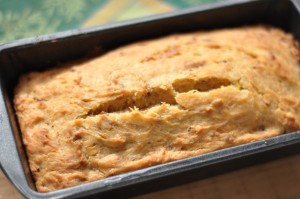 Free from: gluten, eggs (optional), soy, yeast and dairy
In our house, whenever someone notices bananas browning in the fruit bowl, the cry goes out "Make banana bread"! Today  however, I only had two, not so large, bananas and I really didn't want to go out to buy more. I did though want to try the coconut butter I just bought and there were fresh pineapple chunks in the refrigerator. Hmmm, bananas, coconut, and pineapple; take me to Hawaii! I could make this work.
That said, I hadn't made gluten-free banana bread before, so I scanned a bunch of recipes and made it, and made it again, and made it one more time and that's how Tropical Banana Bread was created.
Originally, I used Dove's (UK brand) self-rising, gluten-free flour although you might have a flour blend for quick breads and muffins.  In the US Bob's Red Mill makes and All-Purpose GF baking flour as does Authentic Foods- Bette's Gourmet Four Flour Blend. If the flour is not self-rising you'll need to add two teaspoons of baking powder and a 1 teaspoon of baking soda. I don't know what happens if you use canned pineapple instead of fresh; at the very least I think you should drain it well.
Ingredients:
230 g gluten-free flour (about 1½ cups)
2 teaspoons baking powder
1 teaspoon baking soda
½ teaspoon (2 ml) salt
1 cup (225 ml) fresh, 1-inch pineapple chunks, without the juice
2 medium-sized, ripe bananas, mashed (about 1 cup when mashed)
2 tablespoons ground flax seed mixed with 6 tablespoons (60 ml) warm water to make a slurry
¼ cup (60 ml) vegetable shortening or coconut butter
¼ cup (60 ml) brown or palm sugar
¼ cup (60 ml) granulated or castor sugar (UK);  C&H now makes an ultra fine baking sugar (US)
½ cup (120 ml) toasted** pecans or walnuts roughly chopped (optional)
½ cup (120 ml) shredded, unsweetened coconut (optional)
Preparation:
Preheat oven to 180° C (350°F)
Grease a 4½ x 8½-inch (11 x 22 cm) loaf pan
1. Measure flour, baking powder, baking soda and salt into a large bowl, whisk to blend, and set aside
2. Whirl pineapple chunks in a blender or food processor
3. Soften shortening in microwave or warming oven
4. Put mashed bananas, pineapple, sugar, flax seed slurry, vanilla, and melted coconut butter in a medium bowl; blend by hand or with a mixer until smooth.
5. Add wet ingredients to dry and mix with hand mixer until smooth. The juice from the pineapple is usually enough but if the batter seems stiff like a cookie dough, add about ¼ cup (60 ml) of unsweetened non-dairy milk like almond or rice milk.
6. Fold in nuts and coconut if using.
7. Pour batter into prepared pan and bake for about 50 minutes. I usually check it at 45 minutes. A toothpick inserted in the center should come out clean.
Variations: To make just banana bread, mash 3-4 ripe bananas or enough to make 1½ cups when mashed. Substitute two eggs if  you can eat them or you can use a powdered egg replacer following hte instructions for two eggs. I don't use egg replacer any longer because I'm not supposed to eat tapioca.
Tip: I've noticed this comes out a bit different each time I make it. I attribute that to the ripeness of the bananas or the juiciness of the pineapple; measuring by the cup for consistency helps take care of that.
*To toast the nuts, heat a small skillet on the stove over low heat, add the nuts, and shake the pan gently until nuts just start to give off a lovely nutty aroma. It's very easy to burn the nuts, so watch them very carefully. Alternatively you can can try toasted pistachios.
** Shauna James Ahern of Gluten Free Girl and the Chef recommends you always weigh flour for gluten-free baking as different flours are more or less dense. That means a cup of gram flour may be heavier than a cup of white rice flour. If you are using a self-rising, pre-blended flour measuring is fine. I've just gotten used to weighing the flour; makes me feel like a real gluten-free baker.