Spicy Sweet Potato Wedges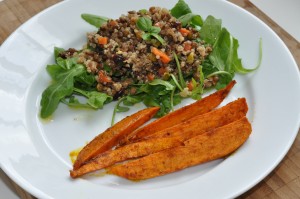 Free from: Gluten, soy, egg, yeast and dairy
I think I was a vegan* when I came up with this sweet potato recipe. Sweet potatoes are loaded with vitamin A and are a rich source of vitamin C and manganese. They provide fiber, don't jolt your blood sugar as white potatoes do and provide iron, calcium and fiber too.
My family loves this recipe I think because we all love this combination of spices. I even make it on Thanksgiving because I don't really like the traditional sweet alternatives.
This, by the way, was served along side a quinoa, lentil and carrot salad with a fresh vinaigrette atop arugula.
*I was vegan for about six months. I ate wholewheat pasta, tofu, soy sauce and bread which contained yeast and beans. Let's just say it was gas city around my house.
Makes four servings
Ingredients:
4 small or 2 large organic sweet potatoes
4 tablespoons extra virgin olive oil
½-1 teaspoon sea salt or fleur de sel
fresh ground pepper (several grindings)
1-2 teaspoons ground cumin
1 teaspoon ground cardamom
1 teaspoon ground turmeric
1  teaspoon paprika
½ teaspoon cayenne
Preparation:
Pre-heat oven to 180 degrees C
1. Scrub sweet potatoes and peel if you simply don't like the peel. I generally leave it on thinking I'm getting more fiber and nutrients.
2. Cut potatoes in half, then quarters, then eights (if potato is very large) and cut crosswise if wedges are ridiculously long.
3. Place wedges in baking pan large enough to hold them loosely. Ideally there is some space between the wedges.
4. Drizzle oil over potatoes, then sprinkle with each of the spices. At this point you can stir with a spatula to evenly distribute the spice and oil but frankly it's much better  if you roll them around with your (clean) hands. You can also test the balance of seasoning this way (lick your finger) and add spice if you think it's lacking.
5. Place Potatoes in a pre-heated oven on middle rack. Set timer for 15 minutes. After 15 minutes turn the wedges and place back in the oven for 15 minutes more or until done. These will be soft, not crunchy like fries.