Crash and Burn or How Not to Eat When You Fly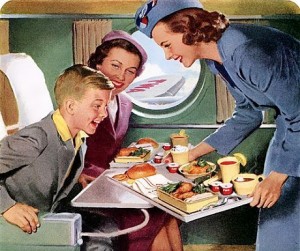 Oh God why don't I follow my own advice? I'm bloated, drowzy, crampy and really uncomfortable sitting at Gate 47 at the Denver Airport. The problem: I ate the airplane food on my last flight. I got bumped to first class and somehow thought the food would be better, different, safe. Apparently not so.
I don't order gluten-free food when I fly because I think that it will be full of dairy or soy or something else I can't eat. Tonight I took my chances with a baked chicken breast, green beans and lettuce. It wasn't overcooked and actually tasted ok. I didn't taste butter; there was no discernible cheese or cream. Clearly there was something that didn't agree with me.
Normally I bring food that I have prepared myself or am certain is ok for me to eat. Why not today? Is it a primal desire to be normal? How could I be so casual?  I didn't use the salad dressing that l know has modified vegetable starch and yeast extract and soybean oil in it. I flatly refused the warm, freshly baked chocolate chip cookie. I may as well have eaten a piece of pizza or cheesecake. I'm an idiot. Don't do what I did. Bring your own food.
Here is what I might normally pack:
•    Fruit, usually apples. They don't get all dented like peaches can.
•    Nuts and seeds. The fat and protein are good to quell your appetite.
•    Sandwiches made on gluten-free bread.
•    Salad. I like tuna or chicken on a bed of arugula with capers, olive oil and lemon. I don't use tomatoes or avocado unless it's a short flight.
•    Gluten-free eggplant parmigiana. Seriously. I can't indulge but Ernie loves it. It's room temperature by the time it's eaten and actually less messy to eat than a sandwich, assuming you bring a fork. I have bamboo forks that don't get caught in airport security.
•    Hard-boiled eggs, peeled if you can have them. Pack in a plastic zip lock sandwich bag with salt and pepper
•    Frittata. Same as the eggplant; eaten at room temperature it's delicious. If you bake them in a muffin tin they can be eaten by hand.
•    Gluten-free, dark chocolate. Need I say more?
•    Protein powder. This is a little trickier but I have a plastic cup with a lid and a wire whisk like thing inside. Put the powder in ahead of time and add liquid on the plane. I see Moms doing this with formula all the time. You can't really blend frozen berries but the plain protein powder (chocolate or strawberry) works on overnight flights for breakfast.
•    Gluten-free crackers. Best to put them in a plastic container or they get crushed to smithereens; at least in my carry-on.
•    Nutrient-packed bars. Not a meal but so much better than succumbing to some unknown food item when you're starving at the airport, or anywhere for that matter. I choose nākd bars from Natural Balance Foods.
Soar safely; bring your own food!.