Gluten-Free Blueberry Oatmeal Pancakes
By Tessa Tapscott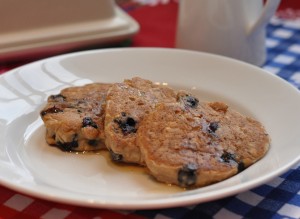 Free from: gluten, egg, dairy and soy
Nothing beats the nostalgic fluffy goodness of oatmeal pancakes. I remember waking up late Sunday mornings to the sounds of metal bowls clanging and the smell of sweet blueberry oatmeal pancakes wafting downstairs. I would quietly sneak upstairs, peer around the corner and watch my mother prepare my favorite breakfast. They are thick, but fluffy and the berries add just the right amount of sweetness. I always begged for Mom's oatmeal pancakes whenever the occasion arose: birthdays, Christmas mornings, the first day I returned home from college.
I worried that trying to find a gluten-free version comparable to the original would yield brick-like cakes and disillusionment. To my delight I have found that these gluten-free oatmeal pancakes are not only delicious, but, in my opinion, they are even better than the gluten-y kind! These can be made gluten-free, but they can also be free of dairy, soy and eggs if you so choose.
Ingredients:
1 ½ cups certified gluten-free rolled oats (I like Bob's Red Mill)
2 cups unsweetened almond, rice, hemp or coconut milk (I chose almond milk)
½ cup gluten free flour mix
½ teaspoon xanthan gum
1 teaspoon baking soda
1 teaspoon baking powder
½ teaspoon salt
1 teaspoon nutmeg (optional)
½  teaspoon cinnamon (optional)*
½ teaspoon allspice (optional)
1 teaspoon honey or agave nectar
1 teaspoon vanilla
2 eggs worth egg replacer** (or 2 eggs)
1 ½ cups blueberries (blueberries are always delicious, but if you can get some other seasonal berries go for it. I think fresh is best, but frozen blueberries work too)
*Mom's note: I used Ener-G Egg replacer or you can mix 2 tablespoons ground flaxseed with 4 tablespoons of water. Also I just used cinnamon and the pancakes were delicious.
Variation:
1 cup chopped apples
½ cup chopped pecans
(this combination is great in the fall and winter and best with cinnamon, nutmeg and allspice)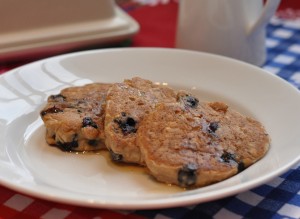 Heat non-dairy milk (on the stove or in the microwave) and stir in oats; let stand while you prepare the dry ingredients
In a mixing bowl, combine flour, xanthan gum, baking powder, baking soda, salt, and cinnamon, nutmeg and allspice if using. Blend with a wire whisk until spices are evenly distributed.
Add milk and oat mixture and stir until well blended.
Stir in vanilla and agave (or honey.
In a small bowl prepare egg replacer of your choice then add this to batter and mix until well blended.
Heat oil in pan or griddle. When hot (drop of water dances across pan) spoon batter onto a hot pan or griddle to make small-ish pancakes about 3 inches (7cm) in diameter. These pancakes are thick and so it's tough to flip a larger cake. (Make a test pancake first to ensure pan is correct temperature.
Cook until edges start to dry, then flip and cook until golden brown. (Make sure your spatula is big enough to get the whole thing under the pancake.)
Serve with your choice of toppings: maple syrup, fruit, yogurt (dairy free of course), or nut butter.
I have always been told that hot fresh pancakes are best served on hot plates so I usually keep the plates in the oven on the lowest temperature then I can store the finished pancakes there so they stay hot until I serve them.
Egg Substitute*
Combine ground 2 tablespoons flax with 6 tablespoons of warm water and let stand for 5-10 minutes, until it is gelatinous.