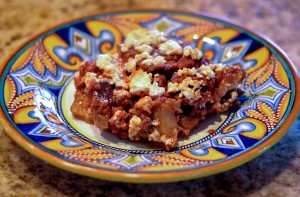 Free from: gluten, cow's milk, eggs, yeast and soy
This is a dish from my childhood. Truth is, I hated moussaka when I was little. For God sakes, it had bits of onion and weird almost slippery beige bits called eggplant. I was truly convinced my family was eating something different than I was or were faking enjoyment to trick me. Luckily I came out of that fog.
This recipe is similar to the moussaka I learned to love as a kid, however I've updated it by adding feta cheese as a substitute for more traditional béchamel sauce.
My Irish mother, who embraced her married-into cuisine, cooked a lot of Greek dishes she learned from my grandfather. I hadn't made moussaka for years and my recollection on the details was a bit hazy. Luckily I've been visiting my Mom, now nearly 85, in Florida. We love yakking about food, my Greek family and how they (mostly the women) tested her, especially in the kitchen.
I also read her well-thumbed Greek cookbooks authored by the women of the Greek Orthodox Church in New York where my parents grew up. Greeks, surprisingly, do use butter when they cook. I've replaced it with olive oil, but if dairy is not a problem you can brown the meat in butter, butter and olive oil combined, or use goat butter if you can. Olive oil has so many health benefits butter can't beat, but you might want to try it because butter is very delicious.
The following recipe is a rendition of my Mother's recipe, with my own twist. Most recipes you'll find for moussaka include a thick layer of béchamel sauce baked to a custardy thickness on top. Given my egg and dairy issues and the fact that my family doesn't do béchamel, I've left it off. That said,  béchamel sounds really good as I'm writing this and I'll try to find or create and egg/dairy-free recipe to try. Stay tuned.
Pre-heat oven to 350ºF
Makes 10-12 servings
Ingredients:
2 medium eggplants
1 tablespoon kosher or sea salt
¼ cup extra virgin olive oil
1 good-sized onion, chopped to yield 2 cups
3-4 cloves of garlic, chopped fine
2 pounds (or nearly 1kg) ground beef or half ground beef and half ground lamb
½ teaspoon ground cinnamon
½ teaspoon dried oregano
½ teaspoon dried rosemary
1 teaspoon salt
Several twists freshly ground pepper (to taste)
1 28-ounce can of chopped tomatoes (Marzano tomatoes tend to be the sweetest)
1 6-ounce can tomato paste
1 small can (from tomato paste) white wine
2 bay leaves
Freshly shaved nutmeg to taste
8-12 ounces feta cheese (sheep or goat's milk)
Grated pecorino (optional)
Preparation:
1. Cut the ends off the eggplant and peel; you can leave every other strip of skin on if you like.
2. Slice each eggplant into 1/3-inch thick slices then layer slices in a big bowl sprinkling with one tablespoon of salt as you go. Cover the eggplant with cool water and weigh down with a heavy plate or bowl so the eggplant is submerged. Let sit for at least 15 minutes (30 is better).
3. Drain the eggplant then layer slices on a cutting board between paper towels* When eggplant is ready set aside until sauce is ready.
4. To make the sauce, heat oil in a large frying pan over medium heat. When the oil is hot add the onions. When onions start to get transparent (2-3 minutes), add the garlic and cook for about 1 minute more.
5.  Add the cinnamon, oregano, rosemary, salt and pepper and stir.
6.  Add the ground meat breaking it up into small pieces while it cooks.
7.  When the meat has lost its redness, add the can of chopped tomatoes, the tomato paste and the white wine. Stir thoroughly to incorporate the tomato paste.
8.  Add the bay leaves and lower temperature. After about half an hour taste the sauce and adjust the seasoning to your taste. Let simmer another half hour, stirring occasionally, and then turn off the heat.
*Preparing Eggplant Slices
I learned to prepare eggplant from my Dad. He learned to make eggplant parmigiana from Tony his first chef at the Driftwood who was from Italy (and eventually returned which is how my Dad became a chef).
Eggplant can be bitter. To minimize this you need to: slice, salt, soak, drain and compress. Depending on the recipe you can either peel the eggplant completely, partially or not at all. For mousakka I peel vertically leaving a strip of skin so you are left with stripes; for parmigiana I peel completely and for grilled eggplant slices or ratatouille I don't peel.
After peeling, slice the eggplant lengthwise about a quarter-inch thick and place in a big bowl salting each layer. In total I use about 1 tablespoon of salt for two medium eggplants. Cover it all with cool water and place a heavy plate on top to keep the eggplant submerged. Let the eggplant soak at least ten minutes, 30 is better. Place a clean dishtowel on a cutting board then cover that with paper towels. Drain the water from the eggplant then lay the slices in a single layer covering each with additional paper towels until you've used up all the eggplant. Place another cutting board on top. When I was 11 or so my father would have me climb up on a chair and sit on the cutting board to press out as much moisture as possible. Then we would sing and I we would kind of dance (on my butt) rocking back and forth on the board. As I got older this got less practical; now I put the eggplant, sandwiched between the boards on the floor and I stand on it. Very occasionally, if I'm feeling super fit, I climb on the counter and sit on the boards; it reminds me of my Dad and I remember how we laughed and how his eyes sparkled when we did this.
Build the Moussaka
1.  Grease a 12 x 9-inch pan with olive oil then spread a few spoonfuls of sauce in the bottom of the pan.
2.  Place a layer of eggplant evenly over bottom of the pan overlapping the slices slightly then cover liberally with the meat sauce.
3.  Crumble half the feta over the top of the meat sauce.
4.  Repeat with next layer of eggplant, sauce and feta.
5.  Bake for 1 hour at 350º, then let sit for about 20 minutes before serving.
Enjoy with a Greek salad and a good glass of red.