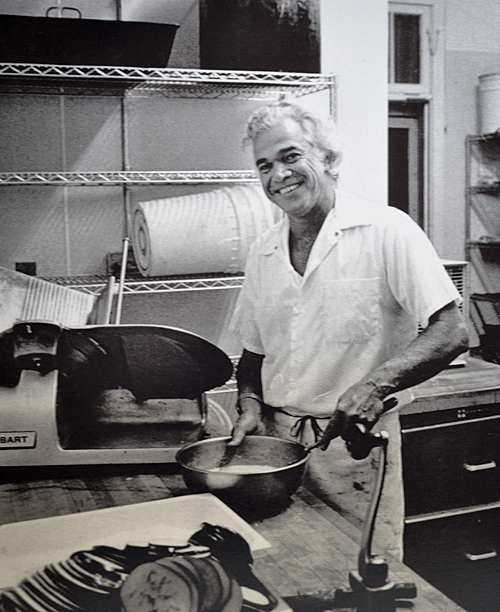 When I was about 11, I dislocated and broke my ankle and couldn't go to school. With a full leg cast, a wheel chair and crutches it was deemed I couldn't negotiate the halls or classrooms of Wantagh Elementary.
Sequestered, as I became, with just my schoolbooks, I Love Lucy and Queen for a Day I became bored and anxious for the days to pass. Although at the end of Queen for a Day when the audience wildly clapped for the poor woman with the most dreadful tale, and watching the clap-o-meter did give me a jolt of adrenalin I must admit.
That's when I started cooking with my Dad, Alexander the Greek. Tuesday was his day off at the restaurant and nearly every Tuesday without fail he would play golf and then come home to cook. Depending on how long he may have hung out at the 19th hole might influence if he took a nap first or if we could get cooking right off the bat.
I'm guessing the meals were planned, and that my mother had included Tuesday's provisions in her weekly shopping trip because I don't remember rushing off to the store to get something to cook (that I do far too frequently now). No, we would go into the kitchen and my Dad would tell me what to pull from the refrigerator, while he pulled spices and oil from the cabinets.
We made stuffed green peppers with avgolemeno (egg and lemon) sauce, dolmathes (stuffed grape leaves), moussaka, eggplant parmigiana, veal piccata, spanakopita, Italian sauces, pastitsa, sausages and more. He tried to teach me to open clams, but I never really got the hang of it.
We'd talk about what we were cooking as we rolled dolma after dolma. He was patient (just like when he taught me to drive) and always in a good mood in the kitchen. He moved from cutting board to stove calmly. It was different from the Driftwood's (his restaurant) kitchen where I would sit and watch perched on an empty beer keg. That was more raucous, in your face, real. I suspect some recipes changed from time to time, yet I now remember them tasting exactly the same time after time and they were always delicious.
When I'm alone in the kitchen cooking I still see his big broad smile and hear his voice.
"Clean as you go."
"Hold the knife like this so you don't cut off your finger."
"Where's your friend (so and so); she should be here. Her family doesn't know how to cook."
"Be very careful when you open the grape leaves carefully, they tear easily."
"Keep stirring or the sauce will curdle."
We cooked together like this whenever I was home or when my parents visited after I had grown and moved out. The kitchen island was his stage and he laughed and cooked and cajoled. I miss him dearly. Cooking is the thread that keeps him close. The picture above was taken in the restaurant making eggplant parmigiana for the week. He was in his element to be sure.