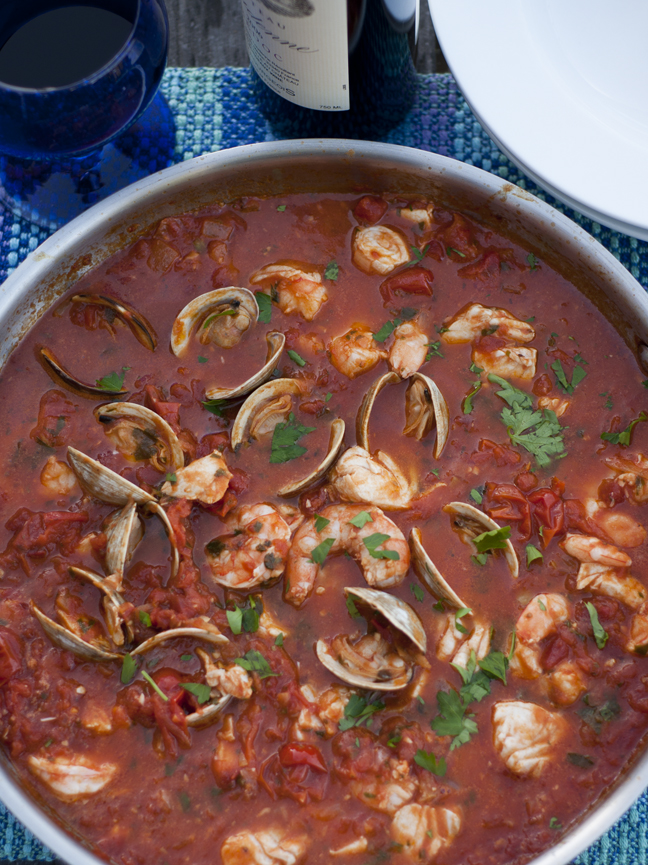 Gluten, egg, dairy, soy and yeast free.
As a kid growing up on the South Shore of Long Island, I hated, really hated, fish. Luckily, by the time I was about 12 I discovered clams — beautiful, hard shell clams from the Great South Bay that were probably pulled from the mud the morning we ate them. We devoured clams raw with cocktail sauce, baked with bits of bacon and green pepper (Clams Casino), in white wine and garlic sauce over linguine (Vongole) and mixed with other succulent marine morsels in a dish like this.
Apparently the bay isn't teeming with clams and oysters and little bay scallops as it did then, but efforts are being made to bring back the clams and it seems to be working. That's a good sign for the Great South Bay as clams filter the water making it a healthier environment for all the marine life. Go clams!
A word on sauce: some people, like Ernie, prefer a thick, rich tomato sauce for this dish; others might like a lighter sauce with the seafood. Adding tomato paste and cooking down the sauce gives you a more tomato-ey result. For a lighter sauce, don't use the tomato paste and don't cook as long.
Serves 4-6
Marinara Sauce
Sauce Ingredients:
¼ cup (or more) olive oil to coat the bottom of a large saute pan
2 medium onions, chopped fine
1 teaspoon fennel seeds whole or crushed with a mortar and pestle (optional)
1 teaspoon kosher or sea salt
½ teaspoon freshly ground pepper (many, many twists)
1 teaspoon dried, crushed chili pepper flakes (more to taste at the end)
6-8 large cloves of garlic chopped very fine
1 little box (punnet) sweet cherry tomatoes
¼ cup dry white wine
2, 28-ounce cans San Marzano chopped tomatoes
1, 6 or 7-ounce can tomato paste
½ -1 can water (use the 28 ounce can)
2 dried bay leaves whole or crumbled*
Zest and juice of 1 lemon
2 Tablespoons chopped fresh parsley
*I was taught to put whole dry bay leaves wherever bay leaves were required. I recently made a recipe from Michael Chiarello's Bottega cookbook and the bay leaves were crumbled into the tomato sauce. I've done this but find the leaves must be very dry or the bay leaf will impart too much bitterness.
Sauce Preparation:
1. Heat a large heavy skillet over medium heat and add the oil. The oil should liberally cover the bottom.
2. As the oil heats add the chopped onion and the spices and cook until onions become translucent.
3. Lower the heat slightly and add the chopped garlic and stir, being careful not to let the garlic brown  or burn.
4. Add the cherry tomatoes and wine; cover and turn up the heat. Cook for about 5 minutes until tomatoes split, then squash the tomatoes with a spoon.
5. Add the canned chopped tomatoes and stir. If using tomato paste add it now with about half a can of water. Add the crushed bay leaves and lemon zest. Stir to blend.
6. Depending on the thickness of the sauce, adjust the heat to keep the sauce simmering. Cook uncovered, stirring occasionally until sauce thickens, about one hour.
7. Add the lemon juice and taste. Add salt and chili flakes to your liking.
Seafood:
16, 2-inch hardshell clams
¾ pound  jumbo prawns (16/20 count)
¾ pound thick fish fillet, halibut or sea bass for example
Fish Preparation:
Scrub clams in a bowl in cool water. Drain and refresh the water until you don't see any sand in the water; set aside. Remove shells, tail and large vein from prawns; rinse and set aside. Cut fish filet into 1-2-inch chunks.
Add the fish chunks to the sauce and let simmer for about 4 minutes. Add the clams, cover and let cook another 3-4 minutes. Clams should start to open; remove clams as they open to prevent overcooking. Add the prawns. Cook about 2-3 minutes until prawns turn pink, add the clams back to the pan and you're done. (discard any clams that don't open). Sprinkle with the chopped fresh parsley and bring the whole shabang to the table to serve.