Gluten and Yeast-free Pizza Crust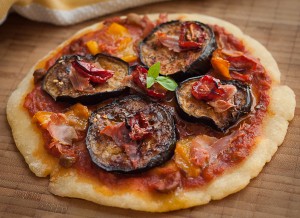 Free from: Gluten, Dairy, Yeast, Soy and Eggs
When Tess was little we had a symbiotic relationship with pizza. She ate the center covered in stringy, melted mozzarella  and I ate the thick outer crusts she left on her plate. No tomato sauce, vegetables or meat. Just dough and cheese. We called it Pizza Bianco.
Woodside Bakery, near where we live, makes delicious wood-fired pizzas and pizza breads (made from the dough) and they were happy to accommodate her spartan taste. The crust is thin on the bottom with a chewy crust at the edge. And as I never ordered pizza myself (too fattening) I had no problem getting Tess her Pizza Bianco so I could nibble (read inhale) the crusts she left behind. Eventually she came of age and learned to enjoy tomato sauce and vegetables and even anchovies on top.
Becoming gluten intolerant dashed eating "real" pizza so now we are always on the lookout for good gluten-free pizza (without yeast for me). The best I've found is from Bruschetta in Kingston-on-Thames about an hour by train from our apartment in Marylebone. Look for a review of Bruschetta soon, but let it suffice to say they guard their gluten and yeast-free recipe for crust and simply will not share. I get it, it's special. But I've been left to my own devices trying to come up with a tasty, chewy crust.
The following recipe has the aroma and flavor of a good pizza base but I have to tell you the perfect texture isn't there yet. At least without baker's yeast. It's dense and chewy but doesn't quite have the air a Woodside Bakery or NY pizza crust would have. That said, it's pretty darn good.
This recipe is adapted from Silvana Nardone's cookbook Cooking for Isaiah which are gluten and dairy-free recipes, but they can contain yeast and eggs.
This recipe uses Quinoa "yeast" or leavening agent which helps enormously but if you can eat real baker's yeast, by all means use it. The quinoa leavening agent is made by Priméal in France. It's been described to me as "wild yeast" and baking powder. It does give a yeasty smell which I love, and bubbles when you proof it. My stepdaughter gets it for me in Paris but you can also buy it from Bien Manger online; their site says they ship anywhere in the world.
Baking the pizza crust on a pre-heated pizza brick works better than not, but you can use a pre-heated cookie sheet.
Ingredients:
8 grams quinoa "yeast"  or 1 packet active dry yeast
1 teaspoon sugar
1 teaspoon salt
¾ cup lukewarm water
2 tablespoons ground flax seed
4 tablespoons plus 1 teaspoon water
2 tablespoons olive oil
1 cup gluten-free bread flour*
½ cup gluten-free rice flour
½ cup quinoa flour
Handful of fresh basil chopped
*You can use your own gluten-free combination or all store-bought gluten-free bread flour.
Preparation:
1. Mix quinoa yeast, sugar and salt in large bowl
2. Add lukewarm water to yeast mixture, stir and let sit for about 10 minutes until bubbles start to rise to the surface
3. While yeast is proofing, beat ground flax seed with remaining water, then add olive oil
4. Add flax seed mixture to yeast mixture and stir well
5. Blend flours together in separate bowl, then add to liquid mixture one cup at a time
6. Mix dough with a spatula until flour is well incorporated. Dough will be sticky; you may need to add a bit more flour to form a ball. Cover bowl with plastic wrap or a dish towel and place bowl in a warm spot to rest for at least 30 minutes. It will rise some with the quinoa yeast, but not like regular yeast dough.
7. While dough is resting pre-heat oven to 250°C (480°F). Put pizza brick or cookie sheet in oven to pre-heat as well.
8. After 30 minutes separate dough into two balls then flatten with your hands into roughly a 5-inch disk. Place disk on a lightly floured sheet of parchment and flatten to about 7 inches in diameter.
9. Transfer flattened dough onto pre-heated pizza brick or cookie sheet and bake for 8 minutes or until dough just starts to brown.
10. Remove from oven and add toppings: tomato sauce, grilled vegetables (I used eggplant, peppers, dry-roasted tomatoes), and prosciutto or Spanish jamon. If using mozzarella add cheeses slices last.
11. Bake for another 8-10 minutes, sprinkle with fresh chopped basil and serve